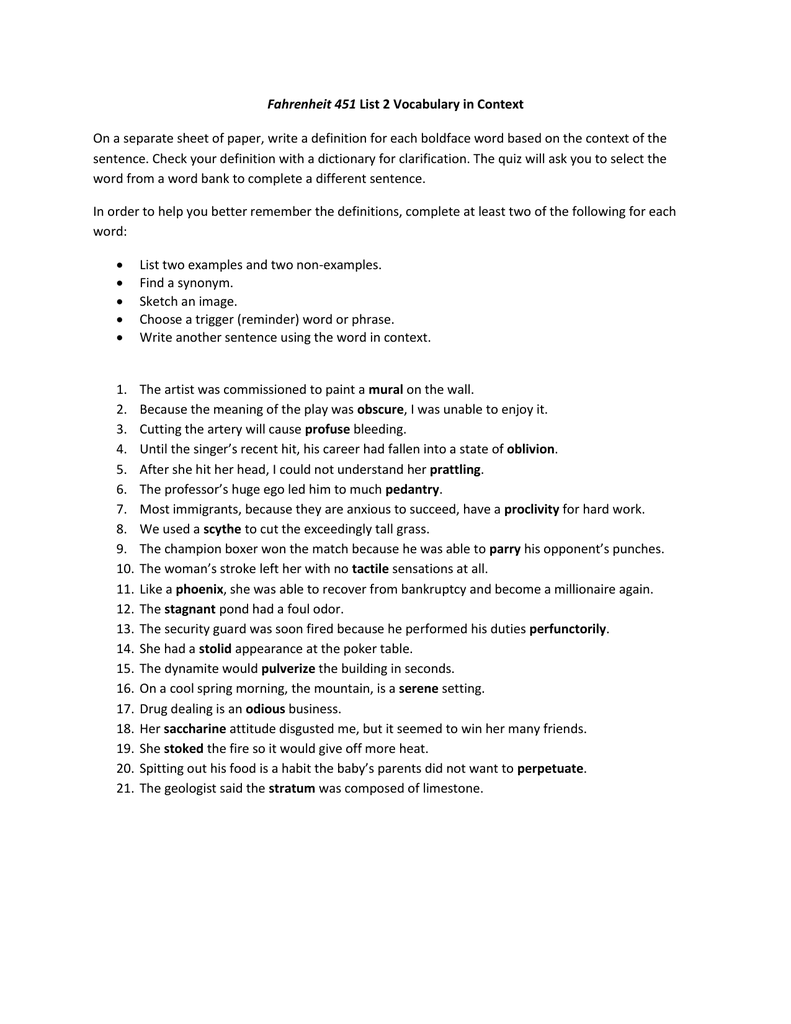 Fahrenheit 451 List 2 Vocabulary in Context
On a separate sheet of paper, write a definition for each boldface word based on the context of the
sentence. Check your definition with a dictionary for clarification. The quiz will ask you to select the
word from a word bank to complete a different sentence.
In order to help you better remember the definitions, complete at least two of the following for each
word:





List two examples and two non-examples.
Find a synonym.
Sketch an image.
Choose a trigger (reminder) word or phrase.
Write another sentence using the word in context.
1.
2.
3.
4.
5.
6.
7.
8.
9.
10.
11.
12.
13.
14.
15.
16.
17.
18.
19.
20.
21.
The artist was commissioned to paint a mural on the wall.
Because the meaning of the play was obscure, I was unable to enjoy it.
Cutting the artery will cause profuse bleeding.
Until the singer's recent hit, his career had fallen into a state of oblivion.
After she hit her head, I could not understand her prattling.
The professor's huge ego led him to much pedantry.
Most immigrants, because they are anxious to succeed, have a proclivity for hard work.
We used a scythe to cut the exceedingly tall grass.
The champion boxer won the match because he was able to parry his opponent's punches.
The woman's stroke left her with no tactile sensations at all.
Like a phoenix, she was able to recover from bankruptcy and become a millionaire again.
The stagnant pond had a foul odor.
The security guard was soon fired because he performed his duties perfunctorily.
She had a stolid appearance at the poker table.
The dynamite would pulverize the building in seconds.
On a cool spring morning, the mountain, is a serene setting.
Drug dealing is an odious business.
Her saccharine attitude disgusted me, but it seemed to win her many friends.
She stoked the fire so it would give off more heat.
Spitting out his food is a habit the baby's parents did not want to perpetuate.
The geologist said the stratum was composed of limestone.