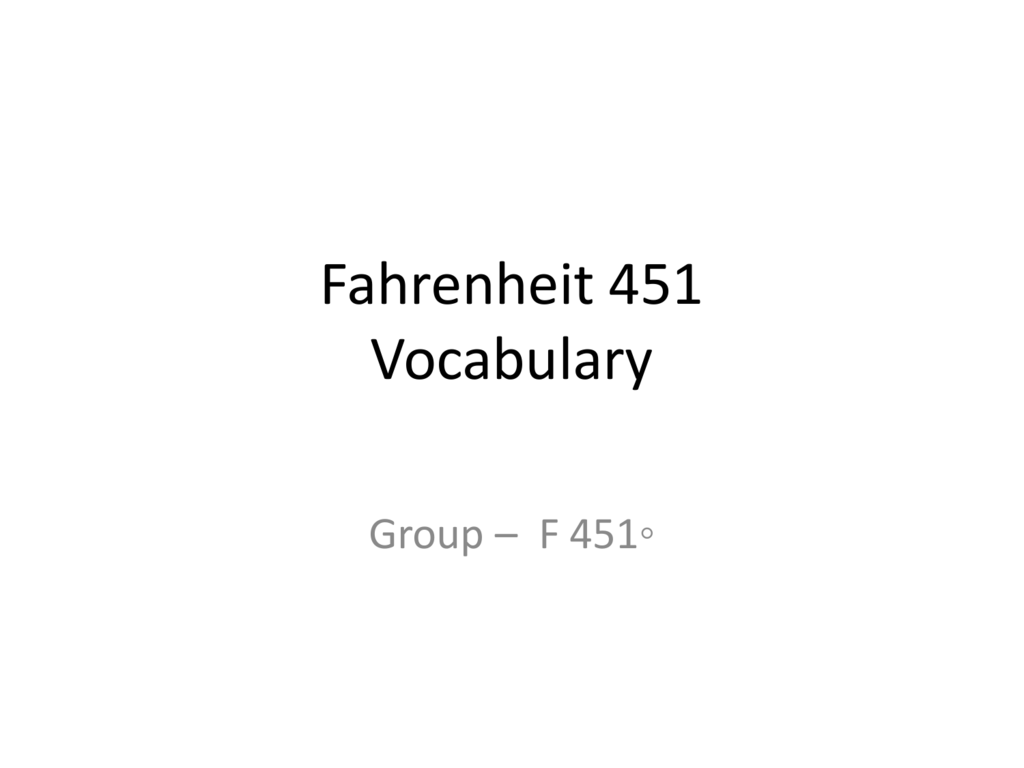 Fahrenheit 451
Vocabulary
Group – F 451◦
stolid
• Unemotional
• The stolid soldiers stood motionless as the
caravan passed.
phoenix
• A legendary bird burned to death, rose
youthfully alive from it own ashes
• Like a phoenix, the flowers returned after the
winter cold.
melancholy
• Sad, depressed
• The melancholy woman stood motionless, her
eyes turned toward the ground.
conjure
• To create or bring about as if by magic.
• Somehow she was able to conjure a delicious
dinner with only a few canned goods and
some herbs.
odious
• Causing or deserving hatred
• He had the odious task of cleaning the horse
stalls.
ravenous
• Extremely hungry
• The students were ravenous after the four
hour exams.
feigning
• To give false impression, pretend
• She's feigning, she's not sick at all.
nomadic
• A group of people moving from place to place,
wandering, without a fixed home
• The nomadic farmers traveled from farm to
farm to plant the seeds in the fields.
dictum
• A statement made with authority,
pronouncement
• The judge's dictum denied a retrial.
exploitation
• To take an unfair advantage
• To get value or use
• The basketball team's height dominance was
an exploitation of the much smaller team.
quibble
• To talk about unimportant things rather than
the subject at hand
• Stop quibbling about who was there and tell
what happened.
Fahrenheit 451
Vocabulary
Part II
Group – F 451◦
subside
• To become less intense
• The flulike symptoms began to subside after a
few days of rest.
sieve
• A utensil used to separate liquids from solids
or larger objects from smaller
• Similar to a strainer
• Use the sieve to remove the lumps from the
flour.
gibbering
• Meaningless speaking
• No one could understand the baby's
gibbering.
submission
• Yielding to superior force
• As a sign of submission, the country removed
their flag and raised the flag of their
conquerors.
intuitively
• Insightful; knowingly
• The children intuitively knew to go inside
when it started to rain.
insidious
• Enticing but harmful
• Subtle with harmful effects
• The investigators uncovered an insidious
scheme to rob people of their savings.
manifested
• To appear to the senses
• To show itself
• The teacher manifested his approval by
nodding his head.
tyranny
• Government under single ruler
• The dictator governed with tyranny and
therefore was not restricted by a constitution
or laws.
Aesthetic
• Having a pleasing appearance
• The pictures were arranged for aesthetic
purposes.
convolutions
• A complication in form, design, structure
• She never finished reading the book because
of the endless convolutions in the plot.