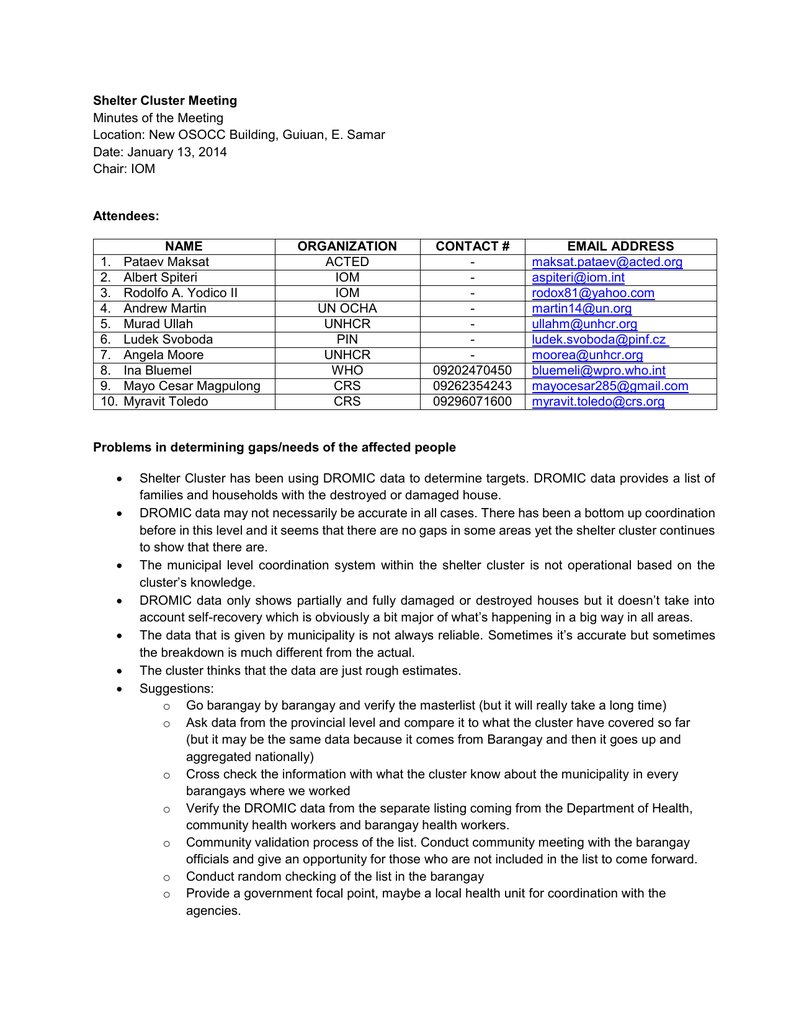 Shelter Cluster Meeting
Minutes of the Meeting
Location: New OSOCC Building, Guiuan, E. Samar
Date: January 13, 2014
Chair: IOM
Attendees:
1.
2.
3.
4.
5.
6.
7.
8.
9.
10.
NAME
Pataev Maksat
Albert Spiteri
Rodolfo A. Yodico II
Andrew Martin
Murad Ullah
Ludek Svoboda
Angela Moore
Ina Bluemel
Mayo Cesar Magpulong
Myravit Toledo
ORGANIZATION
ACTED
IOM
IOM
UN OCHA
UNHCR
PIN
UNHCR
WHO
CRS
CRS
CONTACT #
09202470450
09262354243
09296071600
EMAIL ADDRESS
[email protected]
[email protected]
[email protected]
[email protected]
[email protected]
[email protected]
[email protected]
[email protected]
[email protected]
[email protected]
Problems in determining gaps/needs of the affected people







Shelter Cluster has been using DROMIC data to determine targets. DROMIC data provides a list of
families and households with the destroyed or damaged house.
DROMIC data may not necessarily be accurate in all cases. There has been a bottom up coordination
before in this level and it seems that there are no gaps in some areas yet the shelter cluster continues
to show that there are.
The municipal level coordination system within the shelter cluster is not operational based on the
cluster's knowledge.
DROMIC data only shows partially and fully damaged or destroyed houses but it doesn't take into
account self-recovery which is obviously a bit major of what's happening in a big way in all areas.
The data that is given by municipality is not always reliable. Sometimes it's accurate but sometimes
the breakdown is much different from the actual.
The cluster thinks that the data are just rough estimates.
Suggestions:
o Go barangay by barangay and verify the masterlist (but it will really take a long time)
o Ask data from the provincial level and compare it to what the cluster have covered so far
(but it may be the same data because it comes from Barangay and then it goes up and
aggregated nationally)
o Cross check the information with what the cluster know about the municipality in every
barangays where we worked
o Verify the DROMIC data from the separate listing coming from the Department of Health,
community health workers and barangay health workers.
o Community validation process of the list. Conduct community meeting with the barangay
officials and give an opportunity for those who are not included in the list to come forward.
o Conduct random checking of the list in the barangay
o Provide a government focal point, maybe a local health unit for coordination with the
agencies.
Per Agency
ICRC – Relocation sites
 Lawaan – 1.7 hectares of land for 300 households
 Salcedo – 1 hectare of land for 59 households only
 The purchase was not yet done but they met the owner and it's confirmed that she will sell.
UNHCR


6,000 pcs of tarpaulin will be coming towards the end of the month (Jan)
This is for filling the gap like in the upland barangays in Giporlos & Lawaan


5,000 kitchen household kits coming this week
25,000 hygiene kits arrived last week (distributed already with the exception of some that were

going to bunkhouse residence)
Asked for agencies with solar lights (quite useful in bunkhouses without electricity)
IOM
WHO

Asked the cluster who's distributing mosquito nets to provide a health messaging while the
people are lined up in the waiting area.
Debris to Shelter
PIN





Starting to do the preparation for the shelters
They already have the design as well as the specifications
Minimum price for some of this shelter hut is 1,000 euro
Still asking for funds for the debris to shelter project
Running for the chainsaw operation
CRS




Targeting 1,300 houses until May for 4 municipalities namely; Lawaan, Quinapundan, Salcedo and
Giporlos
Qualification for the beneficiaries is still on-going
They identified three groups:
 1st group – Agrarian Reform Beneficiaries (tenants who are part of the agrarian reform
program which should be awarded at least a piece of land from their landlord.
o Targeting Brgy. Bagti and Brgy. Alang-alang in Quinapundan
nd
 2 group – beneficiaries who own at least half a hectare of land
o for verification, CRS requires the landowner to have at least a certification or land
title or award for them to prove that they own the land.
rd
 3 group – beneficiaries who does not belong to the 1st and 2nd group but there is
somebody who is willing to lend him a land.
o The beneficiary is required to present a certificate of occupancy.
The cost per house with labor on it is about 23,000 pesos (500 – 600 US Dollars)






The beneficiary will provide for the cocolumber but CRS will provide with the chainsaw operators,
chainsaw & carpenters
CRS requires at least 2 to 3 persons to help in the construction
They will conduct a series of orientation presenting all the criteria. The community will be the one
to identify who among the group is the most vulnerable based on the criteria.
Vulnerability criteria are lactating mother, pregnant women, 60 years old and above, families with
5 children (5 years old and below) and the house should be totally damaged.
CRS had 5 field officers to conduct house to house validation and interviews for the selected
beneficiaries
Just started the social mobilization last week and is pushing on the first 5 in Brgy. Alang-alang,
Quinapundan.
Other Issues


Five different actors building houses with different specs and using different sizes and designs will
create problems and inequalities.
Suggestion:
o Agencies concern should attend and present their structure in the shelter cluster meeting
for coordination with the other members of the shelter clusters.