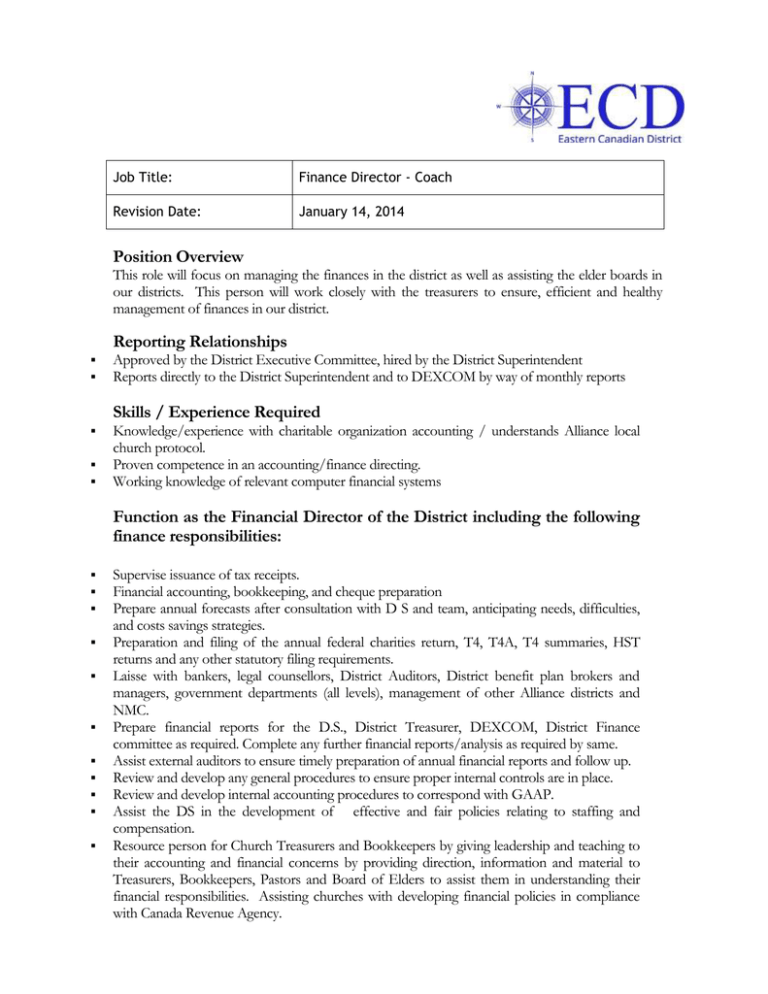 Job Title:
Finance Director - Coach
Revision Date:
January 14, 2014
Position Overview
This role will focus on managing the finances in the district as well as assisting the elder boards in
our districts. This person will work closely with the treasurers to ensure, efficient and healthy
management of finances in our district.
Reporting Relationships


Approved by the District Executive Committee, hired by the District Superintendent
Reports directly to the District Superintendent and to DEXCOM by way of monthly reports
Skills / Experience Required



Knowledge/experience with charitable organization accounting / understands Alliance local
church protocol.
Proven competence in an accounting/finance directing.
Working knowledge of relevant computer financial systems
Function as the Financial Director of the District including the following
finance responsibilities:











Supervise issuance of tax receipts.
Financial accounting, bookkeeping, and cheque preparation
Prepare annual forecasts after consultation with D S and team, anticipating needs, difficulties,
and costs savings strategies.
Preparation and filing of the annual federal charities return, T4, T4A, T4 summaries, HST
returns and any other statutory filing requirements.
Laisse with bankers, legal counsellors, District Auditors, District benefit plan brokers and
managers, government departments (all levels), management of other Alliance districts and
NMC.
Prepare financial reports for the D.S., District Treasurer, DEXCOM, District Finance
committee as required. Complete any further financial reports/analysis as required by same.
Assist external auditors to ensure timely preparation of annual financial reports and follow up.
Review and develop any general procedures to ensure proper internal controls are in place.
Review and develop internal accounting procedures to correspond with GAAP.
Assist the DS in the development of effective and fair policies relating to staffing and
compensation.
Resource person for Church Treasurers and Bookkeepers by giving leadership and teaching to
their accounting and financial concerns by providing direction, information and material to
Treasurers, Bookkeepers, Pastors and Board of Elders to assist them in understanding their
financial responsibilities. Assisting churches with developing financial policies in compliance
with Canada Revenue Agency.