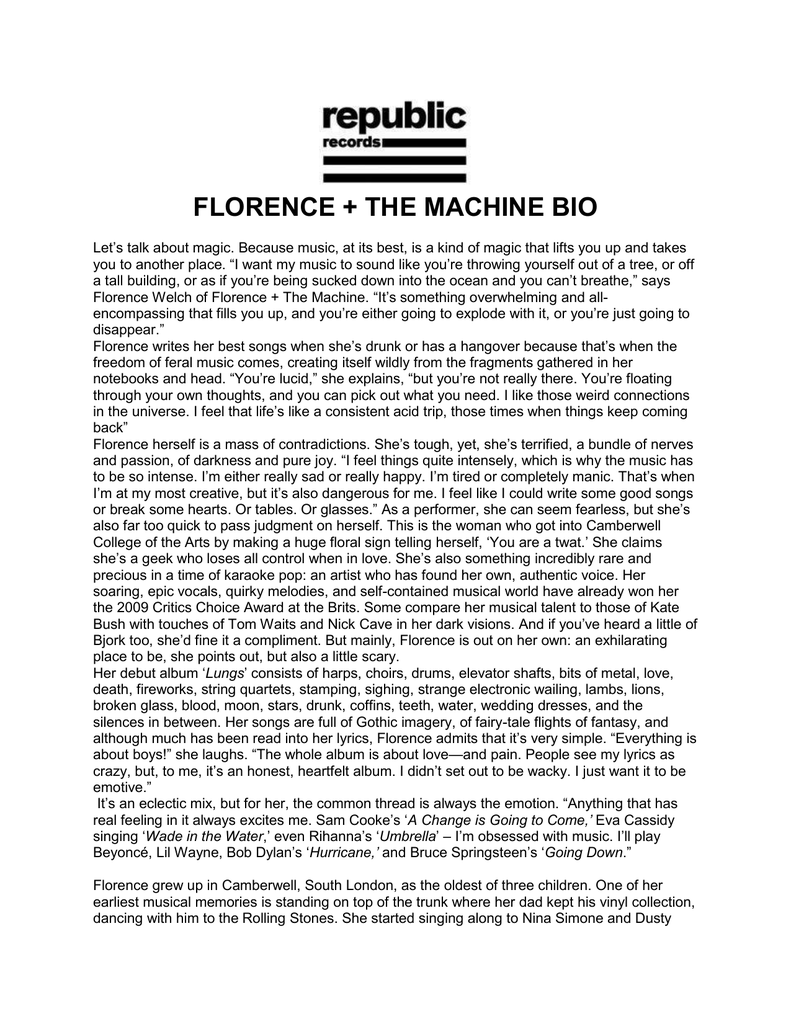 FLORENCE + THE MACHINE BIO
Let's talk about magic. Because music, at its best, is a kind of magic that lifts you up and takes
you to another place. "I want my music to sound like you're throwing yourself out of a tree, or off
a tall building, or as if you're being sucked down into the ocean and you can't breathe," says
Florence Welch of Florence + The Machine. "It's something overwhelming and allencompassing that fills you up, and you're either going to explode with it, or you're just going to
disappear."
Florence writes her best songs when she's drunk or has a hangover because that's when the
freedom of feral music comes, creating itself wildly from the fragments gathered in her
notebooks and head. "You're lucid," she explains, "but you're not really there. You're floating
through your own thoughts, and you can pick out what you need. I like those weird connections
in the universe. I feel that life's like a consistent acid trip, those times when things keep coming
back"
Florence herself is a mass of contradictions. She's tough, yet, she's terrified, a bundle of nerves
and passion, of darkness and pure joy. "I feel things quite intensely, which is why the music has
to be so intense. I'm either really sad or really happy. I'm tired or completely manic. That's when
I'm at my most creative, but it's also dangerous for me. I feel like I could write some good songs
or break some hearts. Or tables. Or glasses." As a performer, she can seem fearless, but she's
also far too quick to pass judgment on herself. This is the woman who got into Camberwell
College of the Arts by making a huge floral sign telling herself, 'You are a twat.' She claims
she's a geek who loses all control when in love. She's also something incredibly rare and
precious in a time of karaoke pop: an artist who has found her own, authentic voice. Her
soaring, epic vocals, quirky melodies, and self-contained musical world have already won her
the 2009 Critics Choice Award at the Brits. Some compare her musical talent to those of Kate
Bush with touches of Tom Waits and Nick Cave in her dark visions. And if you've heard a little of
Bjork too, she'd fine it a compliment. But mainly, Florence is out on her own: an exhilarating
place to be, she points out, but also a little scary.
Her debut album 'Lungs' consists of harps, choirs, drums, elevator shafts, bits of metal, love,
death, fireworks, string quartets, stamping, sighing, strange electronic wailing, lambs, lions,
broken glass, blood, moon, stars, drunk, coffins, teeth, water, wedding dresses, and the
silences in between. Her songs are full of Gothic imagery, of fairy-tale flights of fantasy, and
although much has been read into her lyrics, Florence admits that it's very simple. "Everything is
about boys!" she laughs. "The whole album is about love—and pain. People see my lyrics as
crazy, but, to me, it's an honest, heartfelt album. I didn't set out to be wacky. I just want it to be
emotive."
It's an eclectic mix, but for her, the common thread is always the emotion. "Anything that has
real feeling in it always excites me. Sam Cooke's 'A Change is Going to Come,' Eva Cassidy
singing 'Wade in the Water,' even Rihanna's 'Umbrella' – I'm obsessed with music. I'll play
Beyoncé, Lil Wayne, Bob Dylan's 'Hurricane,' and Bruce Springsteen's 'Going Down."
Florence grew up in Camberwell, South London, as the oldest of three children. One of her
earliest musical memories is standing on top of the trunk where her dad kept his vinyl collection,
dancing with him to the Rolling Stones. She started singing along to Nina Simone and Dusty
Springfield at home, expanded her vocal ranges with arias, and then became a pre-teen skatepunk before getting lost in the college party scene. Florence found her own space by going out
to clubs and pubs, by singing onstage and in the bedroom. By the time she left school, she'd
already written songs like 'Kiss With A First' with the intention to make music but didn't know
how to go about it. So, after a year of working behind a bar, going to art school, sleeping off her
hangovers, and convincing her tutors that she was an "installation," Florence wrote 'Between
Two Lungs.' With the birth of this haunting song, it all came together for her. Instead of
percussion, Florence pounded the studio walls with her fists. She built the melody on the piano
even though it was not an instrument she knows how to play, and recorded the backing vocals
first before even writing the top line. It's totally bonkers and unconventional. But, of course, it is
also glorious—a strange but yearning song about losing yourself in love.
"I'd just found my voice, and I just felt euphoric," she recalls. "It's been a real process of me
learning that the way I wanted to do it was actually the right way. This whole album has been
about me having faith in myself." As for The Machine, it's a flexible beast. It can go right down to
Florence and a drum kit or a piano, but as of now, it's a seven-piece band including long-term
collaborators Rob Ackroyd (guitar), Chris Hayden (drums), Isabella Summers (keyboard), and
Tom Monger (harp). "I've worked with most of them for a long time now, and they know my
style, know the way I write. They know what I want." Live, Florence + The Machine become an
entirely different beast. No two performances are ever alike and clad in clothes often culled from
local second-hand shops that day; Florence goes at it like a woman possessed. "It's just this
sense of total freedom," she says. "It sounds so cheesy, but I want to touch people. Not in a
weird way. I just want to help them feel what I'm feeling." And Florence goes beyond that,
entrancing her audience into the world she's built through her music.