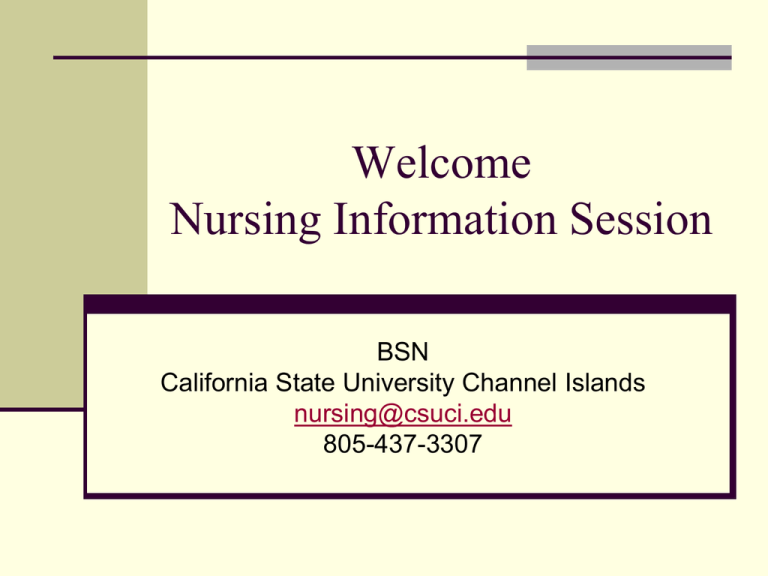 Welcome
Nursing Information Session
BSN
California State University Channel Islands
nursing@csuci.edu
805-437-3307
Nursing Accreditation
 Accredited by Commission on Collegiate
Nursing Education
One Dupont Circle NW, Suite 530, Washington, DC, 20036-1120
 Approved by California Board of Registered
Nursing
Why a BSN?
 Broad base of education in liberal arts and sciences
 Curriculum based on conceptual framework of health



illness with evidence based interventions
Expands career options and is often required for
entry into MSN or Doctoral Programs
Incorporates the expanded roles of the nurse
according to the AACN
Includes the global perspective of nursing
Expanded job possibilities.
At the completion of the BSN program
the student will:
 Function in the role of a
 Follow nursing process to
professional nurse (care
provider, coordinator, health
educator & patient advocate)
 Collaborate as a member or
a leader on a health care
team
promote optimum wellness
in a variety of settings
 Demonstrate commitment to
the profession by engaging
in professional development
and lifelong learning
 Meet eligibility requirements
to take the NCLEX licensing
exam and requirements for
California Public Health
Nurse Certificate
2 STEP ADMISSION PROCESS
One time admission per year
 First Step:
 Second Step
 Admission to the
 Application to the
University
Nursing Program
 October 1 - Nov 30
 In anticipation of
completing all
 Apply on
prerequisite courses
www.CSUMentor.edu
by Spring
 Declare major as pre Application available
nursing
on website in late
 Admission as a preDecember
nursing student does not
 Application period Feb.
guarantee admission to
1-28
the nursing program
Prerequisite Courses
(must be completed by end of Spring Semester) Any course in
progress will be calculated as a B and admissions will be dependent
upon successful completion of the course at this grade level or above
 BIOL 210 A&P I (4)
 COMM 101 PUBLIC
 BIOL 211 A&P II (4)
SPEAKING (3)
 ENGL 105 COMP.
RHETORIC (3)
 ANY GE CATEGORY
B4 (Math)
 CRITICAL THINKING
REQUIREMENT
 BIOL 217 MICRO (4)
 CHEM 110 CHEM OF
LIFE (4)
Cohort Model
The students in the program will use the cohort
model of class enrollment and this will require full
time enrollment. You and your classmates move from
one level of classes to another in a sequential
manner from 200 to 300 to 400. Enrollment in the
nursing program involves full time commitment for
three years including summer sessions between
sophomore and junior year and junior and senior
year. The program may also include evening and
weekend commitments.
Admissions Cycle – thirty-three students admitted
annually in the Fall.
Program Requirements
 Physical Exam
 Proof of Immunity to Rubella, Mumps, Rubeola, Hepatitis B,






Varicella, Seasonal and H1N1 Flu
Current CPR - C certification CPR for Health Care Provider or
CPR for the professional /rescuer
Drug screen
Criminal background check paid for by the student and through
an agency approved by the nursing department.
Evidence of physical and emotional health throughout the
program
Fire Safety Certification
All program requirements must be completed the summer
before admissions - instructions will be sent in the admissions to
the program letter
Impacted Program – What does
this mean?
 A program becomes impacted when there
are more student applicants than spaces
available. Admission to the program's thirtythree seats is based on points accumulated
using supplemental criteria. CSU Channel
Islands has averaged greater than 300
applications for thirty-three seats.
BSN PROGRAM APPROVED
SUPPLEMENTAL CRITERIA (2011)
49 Total Points Possible
 Grade point average in Pre-
nursing courses
(10 points)
 Overall cumulative grade
point average
(6 points)
 English, Reading, and Math
proficiency based on TEAS
score (11 points)
 Proficiency in a second
language (6 points)
 Work or volunteer




experience (4 points)
Previously completed
baccalaureate or higher
degree (4 points)
Residency in preferred
geographic area (4 points)
Current CI student (2 points)
High school participation in
bioscience academy or
nursing pipeline program (2
points)
Enrollment Statistics
Class of 2011
Class of 2012
Applicants: 318
Admitted: 33
Accepted points range: 29-44
Applicants: 268
Admitted: 33
Accepted points range: 29-40
Class of 2013
Applicants: 297
Admitted: 33
Accepted points range: 33-42
Why CSU Channel Islands?
 State of the art
simulation lab
 Preparation for
graduate education
 Environment that
promotes student
success
 Small class sizes
Questions ?