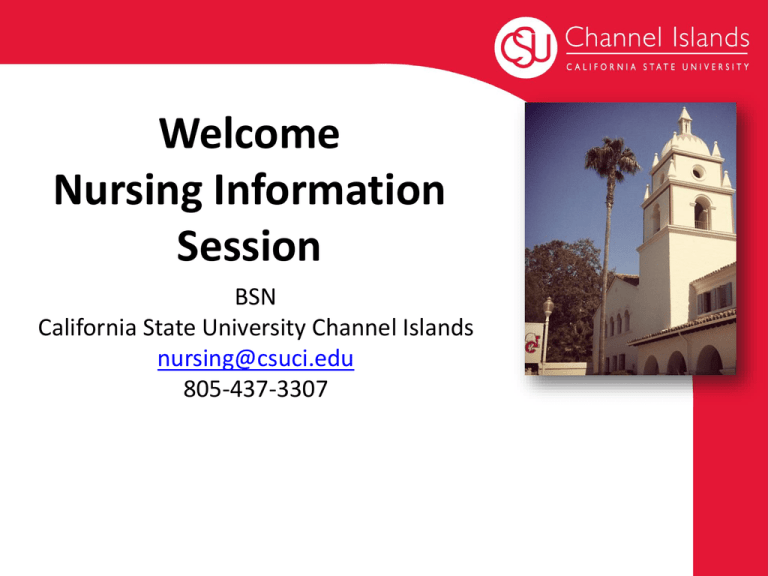 Welcome
Nursing Information
Session
BSN
California State University Channel Islands
nursing@csuci.edu
805-437-3307
Nursing Accreditation
• Accredited by Commission on Collegiate
Nursing Education
One Dupont Circle NW, Suite 530, Washington, DC, 20036-1120
• Approved by California Board of Registered
Nursing
Why a BSN?
• Broad base of education in liberal arts and sciences
• Curriculum based on conceptual framework of healthillness with evidence based interventions
• Expands career options and is often required for entry
into MSN or Doctoral Programs
• Incorporates the expanded roles of the nurse according to
the AACN
• Includes the global perspective of nursing
• Expanded job possibilities.
At the completion of the BSN
program the student will:
• Function in the role of a
• Follow nursing process to
professional nurse (care
promote optimum wellness in a
provider, coordinator, health
variety of settings
educator & patient advocate)
• Demonstrate commitment to the
• Collaborate as a member or a
profession by engaging in
leader on a health care team
professional development and
lifelong learning
• Meet eligibility requirements to
take the NCLEX licensing exam
and requirements for California
Public Health Nurse Certificate
2 STEP ADMISSION PROCESS
One time admission per year
• First Step:
– Admission to the
University
– October 1 - Nov 30
– Apply on
www.CSUMentor.edu
– Declare major as prenursing
– Admission as a pre-nursing
student does not
guarantee admission to the
nursing program
• Second Step
– Application to the
Nursing Program
– In anticipation of
completing all
prerequisite courses by
Spring
– Application available on
website in late December
– Application period Feb.
1-28
Prerequisite Courses
•
•
•
•
BIOL 210 A&P I (4)
BIOL 211 A&P II (4)
BIOL 217 MICRO (4)
CHEM 110 CHEM OF LIFE
(4) (course content
includes general,
biochemistry, inorganic &
organic chemistry)
• COMM 101 PUBLIC
SPEAKING (3)
• ENGL 105 COMP.
RHETORIC (3)
• Statistics B4 (Math)
• CRITICAL THINKING
REQUIREMENT
(Prerequisites must be completed by end of Spring Semester)
Any course in progress will be calculated as a B and
admissions will be dependent upon successful completion of
the course at this grade level or above
Program Requirements
• Physical Exam
• Proof of Immunity to Rubella, Mumps, Rubeola, Hepatitis B, and
Varicella
• Current Tdap and Seasonal and H1N1 Flu vaccinations
• Current CPR - C certification CPR for Health Care Provider or CPR for
the professional /rescuer
• Proof of Health Insurance
• Drug screen
• Criminal background check paid for by the student and through an
agency approved by the nursing department.
• Evidence of physical and emotional health throughout the program
• Fire Safety Certification
• All program requirements must be completed the summer before
admissions - instructions will be sent in the admissions to the
program letter
Impacted Program – What
does this mean?
• A program becomes impacted when there are
more student applicants than spaces available.
Admission to the program's 33 – 45 seats is
based on points accumulated using
supplemental criteria. CSU Channel Islands has
averaged greater than 300 applications for
thirty-three seats.
• The Fall 2012 admitted 44 seats with greater
than 400 applicants.
BSN PROGRAM APPROVED
SUPPLEMENTAL CRITERIA (2013)
• Grade point average in Prenursing courses
(10 points)
• Overall cumulative grade point
average
(6 points)
• English, Reading, and Math
proficiency based on TEAS
score (11 points)
• Proficiency in a second
language, up to (6 points)
• Work, volunteer or military
experience (4 points)
• Previously completed
baccalaureate or higher
degree (4 points)
• Residency in preferred
geographic area (4 points)
• Current CI student (6 points)
• High school participation in
bioscience academy or
nursing pipeline program (2
points)
49 Total Points Possible
Enrollment Statistics
Class of 2012
Applicants: 268
Admitted: 33
Accepted points range: 29-40
Class of 2013
Applicants: 297
Admitted: 33
Accepted points range: 33-42
Class of 2014
Applicants:356
Admitted: 33
Accepted Points range: 34-42
Class of 2015
Applicants: 436
Admitted: 42
Accepted points range: 31-42
Cohort Model
• You and your classmates move from one level of classes
to another in a sequential manner from 200 to 300 to
400.
• Enrollment in the nursing program involves full time
commitment for three years including summer sessions
between sophomore and junior year and junior and
senior year.
• The program may also include evening and weekend
commitments.
• Admissions Cycle: 33 - 45 students admitted annually in
the Fall. The Fall 2012 class admitted 44 students.
Why CSU Channel Islands?
• State of the art
simulation lab
• Preparation for
graduate education
• Environment that
promotes student
success
• Small class sizes
Questions ?