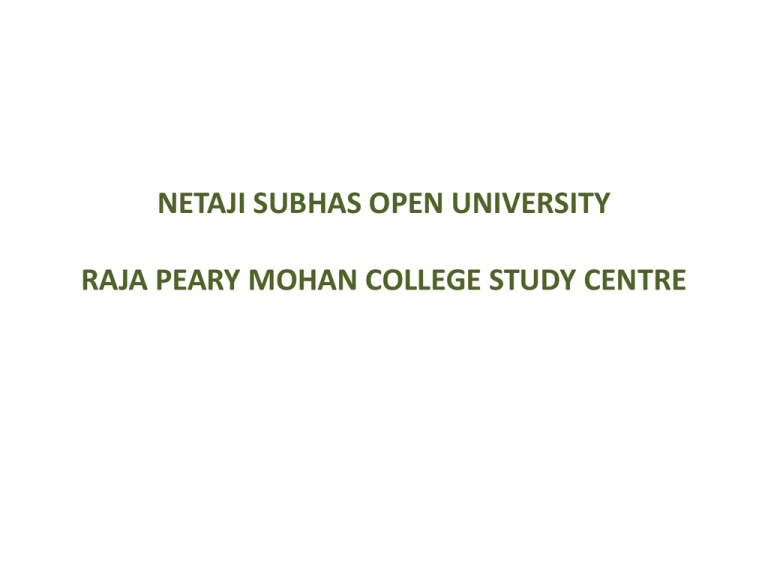 NETAJI SUBHAS OPEN UNIVERSITY
RAJA PEARY MOHAN COLLEGE STUDY CENTRE
Netaji Subhas Open University is the premier State
Open University in India. The year 1997 was the birth
centenary year of Netaji Subhas Chandra Bose and
the then Chief Minister of West Bengal made an
announcement at a State function that an Open
University would be set up soon and dedicated to
Netaji's hallowed memory.
The Higher Education Minister, Govt. of West Bengal
spearheaded the idea after his visit to the Open
University in U.K. Under his instruction was set up a
ten-member steering committee headed by late Dr.
Bhaskar Ray Chowdhury, former Vice-Chancellor of
Calcutta University.
Following this, a State Act (W.B. Act (XIX) of 1997
and Recognised by U.G.C.) was passed on the 20th
August 1997 in favour of opening a University for
imparting Distance Education
Netaji Subhas Open University was established by bifurcating
Netaji Institute of Asian Studies (NIAS) and in terms of the Act of
West Bengal State Legislative Assembly and was housed in Historic
building of Sri Sarat Chandra Bose, elder brother of Netaji till the
beginning of 2014.Presently it has shifted to a spacious building at
Salt Lake City.
The University started functioning with effect from July 1998
Semester, only with the Bachelor's Degree Programme in Arts &
Commerce to provide an opportunity of higher education in the
vernacular medium to various disadvantaged groups of aspiring
learners. It is the tenth Open University of the country and the
ninth State Open University
Vision
Netaji Subhas Open University, the only State Open University of West
Bengal, has been contributing substantially towards the building up of
quality human resource base of the State and collaborating with other
open universities of the national and state levels towards the
improvement of the quality of distance education and to promote and
develop appropriate technology to create the distance education
scenario of an international standard in our country, keeping in view
the demands of the knowledge-seekers for education appropriate to
the twenty first century.
Mission :
To spread higher education in different parts of the state and to co-operate with
other universities NSOU provides access to higher education and to different skill
enhancing educational programmes. In this mission Netaji Subhas Open University
1. provides quality education in a flexible mode to serve the aim of establishing an
equitable knowledge society within the state, and
2. provides higher education through distance learning through the language of the
state, i.e. Bengali
3. makes education affordable to the disadvantaged
4. provides facility for lifelong education to intending learners
strives for upgradation of technology without compromising the basic values of the
society
5. contributes to the development of the state and the nation and to motivate
learners to strive for secular, scientific and democratic education.
Methods of Instruction
The University makes use of several methods to provide maximum possible
exposure of the students to the course-contents and to each instructional
programme.
1. To start with, printed self-learning material packages and contact
programmes involving face-to-face interaction with academic counsellors are
available.
2. Eventually Audio-materials, Audio-visual presentations, Teleconferences
and occasional discussion sessions through T.V. Network have been
introduced.
3. Radio-counselling in collaboration with IGNOU is arranged on every fourth
Sunday of the month between 4.10 p.m. and 5.10 p.m. through Gyan Vani.
Transmission through GYAN-VANI F.M. Channel (105.4 MHz) operating every
day from 6 a.m. to 12noon and 1 p.m. to 11 p.m.
Raja Peary Mohan College, Uttarpara, Hooghly, felt the need
of the adult earning- learning students of the Society and
after necessary resolution adopted by the Governing Body,
signed a MOU in the year 2006 with NSOU.
Initially only Postgraduate students were admitted and
Personal Contact Programme for History and Bengali were
conducted at this Centre.
Later, NSOU headquarters decided that the Centre should
admit students to the Bachelor's Preparatory Programme
and the Bachelor's Degree Programme in the year 2008 and
the Centre started admitting students from the same year.
Thus the Centre conducts the following schedule for the financially
weaker section of the Society to provide them with quality education
and aspire for higher education:
1. Admission to BDP Programme
2. Admission to PG Courses
3. Admission to BLIS Course
4. Admission to MLIS Course
5. Admission to Post Graduate Diploma Course in Journalism & Mass
Communication
6. Admission to Post Graduate Course in Public Relation & Advertising
7. Conducts Personal Contact Programme for BDP Courses in English,
Commerce, Botany, Chemistry, Mathematics, Physics and Zoology
8. Conducts Laboratory Counselling & Evaluation Sessions annually for
BDP Science students.
Coordinator
Dr Bulbul Thakur
Field Work- Laboratory Counselling cum
Evaluation Session
WITH THE LEARNERS
Admission to different Courses in NSOU-Raja Peary Mohan
College Study Centre(Code: H-03)
PROGRAMME
SESSION
BDP
PG
PGZO
BLIS
MLIS
PGDJMC PGDPRA
D
MSW
2010
40
50
25
12
04
02
03
11
2012
67
32
24
10
03
03
04
12
2013
78
33
24
09
06
04
03
13
2014
90
42
30
11
09
04
05
12
Admission to the Graduate Programme has an increasing
tendency. After having discussion with the learners we have
learnt that a recent trend has evolved urging parents of
middle class families to ensure perusal of job oriented
courses after school leaving examination, secure a job and
then pursue for higher education to equip for better jobs in
future.
Another serious observation is that students opting for
compensatory jobs after untimely death of their father have
no other option but to pursue higher education in the
Distance Education mode. In this context NSOU-RPMC Study
Centre is contributing to the spread of higher education to
different levels of the Society apart from the financially
weaker section and the backward classes who according to
Government norms are recruited in Government Sector jobs
at an early age and providing them the opportunity for
acquiring higher education for better job offers in future.