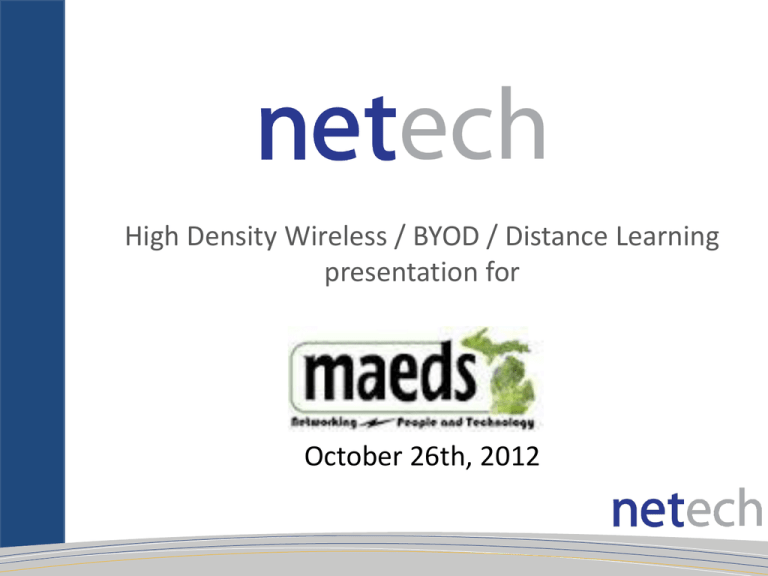 High Density Wireless / BYOD / Distance Learning
presentation for
October 26th, 2012
Introductions
Team Members:
• Mike Martin, Senior Account Executive
• Jeff Whaley, Business Development Manager-Media Solutions
• Dave Benham, Wireless Practice Manager
st
1
Half (BYOD) Agenda
• BYOD challenges
• Importance of an enterprise wireless network
• High client density challenges
• Device profiling and posture assessment
• 802.11n
• 802.11ac
2nd Half (Distance Learning) Agenda
• Toledo Public Schools Overview
• What problems were being solved?
• Considerations both technical and administrative.
• Planning- How was it approached?
• Technical Design
• Implementation and Rollout
• Training, Training, Training
BYOD
• Show of hands:
– How many plan to use BYOD for
instruction?
– How many just have to deal with
students/staff bringing devices and
expecting internet access?
• Prepare yourself…
BYOD Challenges from a network perspective
• Security
• AP Density
– Capacity in high density client areas
• Scalability
• Management
The Importance of an Enterprise WLAN
Security
• User authentication (802.1x) isn't enough in
some environments
– PSK isn't manageable or secure
– EAP-TLS can be too complex and time consuming to
manage
– Machine Auth alone lacks reporting and makes
troubleshooting difficult
• Device profiling is key… Details later in the
presentation.
Features and Management
• Spectrum intelligence
– Be aware of what you're really getting
– Some solutions require APs to be taken offline to
analyze the spectrum
– Be proactive not reactive
•
•
•
•
•
•
•
Top talker report
Busiest APs report
Location tracking
Rate limiting
Troubleshooting tools
Interface groups
Load balancing
Multicast Video
• Understand multicast video over WiFi…
• Multicast must be more efficient than
unicast, right? Not necessarily.
– Packets sent at highest mandatory data rate
– No error correction
• Solutions:
– Implement a wireless solution that
efficiently manages multicast video
– Use unicast video
High Client Density Challenges
Clients using more bandwidth than
you think?
• WiFi is a shared medium
– Bandwidth surge at beginning of class
period
• GPOs
• Deep Freeze
– Print drivers
– AV and application updates
• Roaming profiles
• All of the above = long delays at the
beginning of class time
Bad clients
• Aluminum cases
– WiFi doesn't like it
– Guess what most popular mobile devices are
made of?
• Weaker signal = slower data rate
• More clients with slow data rates means
less bandwidth available for all clients
• Solutions:
– More dense AP deployment
– Beamforming
Device Profiling and Posture Assessment
Device Profiling –
st
1
defense
• Allows different access levels to be
automatically applied to different devices,
even when using the same credentials.
– For example:
• Mobile devices = Internet + AirPlay
• Laptops allowed full access with posture assessment
– No need for certificates, etc.
– Can isolate or deny access to certain device
types as well
Posture assessment – 2nd defense
• Performs additional checks to verify the
workstation is yours before allowing full
network access
– Can validate just about anything on the
device before allowing network access
802.11n – More than just speed
• Reliability
– Making use of multipath to increase SNR
• Capacity
– Faster processors in the APs allow more
clients connect to a single AP
• And of course, speed
– 450mbps with 3x3 @ 5GHz
– 144mbps (20MHz channels) @ 2.4GHz
802.11ac – To wait or not to wait?
• 802.11ac = Gigabit wireless
• 5GHz only
– Similar propagation to existing 802.11n (5GHz)
• 80MHz channels = less available channels.
3, to start.
• More transmitters may have negative
impact on battery life
• Best bet: Use upgradable APs in high
capacity areas, and 802.11n APs
everywhere else, for now.
Q&A
Dave Benham
dave@netechcorp.com
248-679-3213
Classrooms of the Future-Distance Learning
Case Study
Presentation for
October 26th, 2012
Agenda
• Toledo Public Schools Overview
• What problems were being solved?
• Considerations both technical and administrative.
• Planning- How was it approached?
• Technical Design
• Implementation and Rollout
• Training, Training, Training
Toledo Public Schools
Case Study Overview
Case Study Overview
• Large K-12 located in Northwest Ohio
• Faced with reduced Funding and Student
Count
• Needs to increase Educational Offerings to its
students
• Facing Geographical Challenges
What Problems were being
Solved?
Problems to be solved
• In the face of reduced student counts and funding, trying
to find a way to provide advanced course content amongst
its 7 High Schools.
• Being tasked with building advanced learning
environments-(ie. Virtual classrooms)
• Changing Educational times….Kids are learning differently
• Geographic Limitations for providing classes to all seven
High Schools
• Funding forcing hard decisions around available course
content.
Considerations both Technical
and Administrative
Considerations
• Technical–
–
–
–
Network…Am I ready?
Scheduling….what is necessary to make this work
End User interface……simple is best!
Room Layout and Design…….best user experience
• Administrative–
–
–
–
Big Changes for educators……they must be on board
New way to teach…teaching for the future
Be selective with classes…..decide what works best
Planning, Planning, Planning
Planning- How was it
approached?
Successful Planning
• Have all affected parties involved- Develop a planning
team with everyone represented (IT, Facilities, Senior
Leadership, Educators, etc.)
• Room Selection
• Course Selection
• Targeted Educators- They must be excited and onboard!
• District Communications (bell schedule, course scheduling
etc.)
• Network Considerations- Bandwidth and QOS
• This takes time…Not a solution to enter in to quickly.
Technical Design
Technical Design
• Room Selection
– Physical room location
– Security
• Choose the Right Equipment for the best user experience
–
–
–
–
Projectors/Displays/Smart boards
Control Systems
Sound Reinforcement
Video Conferencing Codec
• Room Layout
–
–
–
–
•
Camera Angles
Correct Seating layouts for number of students
Lighting
Acoustics
Network
– Switch Infrastructure
– Back Haul
Implementation and Rollout
Implementation and Rollout
• Timing and Scheduling
• Network complete and tested
ahead of time.
• Leave Time for Testing
• Prepare for Training
Training, Training, Training
Training
•
•
•
•
•
Training for Educator
Training for Room Facilitator (Para)
Training For IT Support
Training For System Administrators
Training Tools- Factor into design
Q&A
Thank You!
Control System
A Solid Business Partner
Why do Customers do Business with Netech?
•
•
•
•
•
•
We understand the public sector!
Experienced Engineering Teams
Flexible and adaptable
Predictable results
Focus on long term relationships and continued satisfaction
Proven approach
Recognition as a Top Cisco Partner
 Cisco's Partner of the Year in 2009, 2010 for State, Local and
Education (SLED)
 Cisco's Central Region Borderless Partner of the Year Award
for 2011
 Cisco's Central Region Commercial Partner of the Year for
2012
Q&A
Thank You!