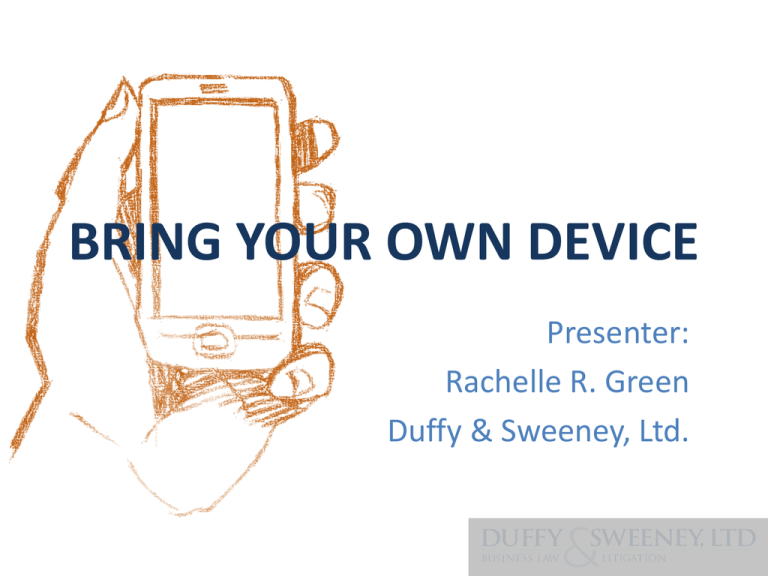 BRING YOUR OWN DEVICE
Presenter:
Rachelle R. Green
Duffy & Sweeney, Ltd.
OVERVIEW
Relatively new phenomena
Cell phones have been in workplaces for years, but huge increase
in use of smart phones and tablets raise new issues re: safety,
security, privacy, and wage and hour compliance
Issues and resolutions vary by company
A New Style of IT –
Data, Data Everywhere…
Mainframe
Client/Server
Mobile, Social,
Big Data & the
Cloud
Internet
Every 60 seconds:
698,445 Google searches
695,000 status updates
98,000+ tweets
217 new mobile web users
168 million+ emails sent
11 million instant messages
1,820 TB of data created
BYOD Adoption
What's
Driving
BYOD
Adoption?
• Consumerization of IT
• Increased Productivity
• Appeal of consumer
technology
• Convenience for users
• Increased accessibility
• Reduced expenses
• Recruiting tool
75% of surveyed organizations
allow employee BYOD!
51% could bring any device,
with little to no policy measures
Only 24% had any sort of
compliance policy in place
Embrace – Allow everyone to use
all devices to access all resources
Embrace
Contain
Business Value
High
BYOD Implementation Scenarios
Contain – Allow some people to
use some devices to access some
resources
Low
Disregard – Ignoring the presence
of personally owned devices in a
corporate environment
Disregard
Block
Low
Gartner, "NAC Strategies for Supporting
BYOD Environments," December 2011,
Lawrence Orans and John Pescatore
High
Security Pressure
Block – Ban the use of consumergrade products or services by
explicitly prohibiting their use in
an appropriate policy
What is Information Governance?
Gartner defines information governance as "the specification of decision rights
and an accountability framework to encourage desirable behavior in the
valuation, creation, storage, use, archival and deletion of information. It includes
the processes, roles, standards and metrics that ensure the effective and
efficient use of information in enabling an organization to achieve its goals"
http://www.gartner.com/it-glossary/information-governance
• Increased Productivity &
Accessibility
• Cool factor/morale
• Convenience/work-life
•
•
•
•
•
•
•
•
Physical & Cyber Security
Confidentiality
Privacy v. monitoring
Data flows/access
Mobile Device Management
NAC
•
•
•
•
IT Infrastructure
Hardware savings
Bandwidth/Network
App selection/development
Employment Issues
•
Wage/Hour
•
Expense Reimbursement
•
Harassment
Global Trade/encryption
•
•
Records & Info Management
Legal Hold/Discovery
http://www.edrm.net/archives/13649
The Implementation Roadmap
Privacy Issue
Spotting
Security Issue
Spotting
The Scope
of BYOD
Defining
BYOD
Components
of a BYOD
program
BYOD Policy
fundamentals
Security Issue Spotting
Enforcement
Trainings
Managing
Devices
Policies
Privacy Issue Spotting
International
Workforce
Access to
Data
Retention
Litigation
Hold and EDiscovery
Other Best Practices
Understand your mobile device population–
Hypo
Make Enrollment Easy
Configure Devices Over-the-Air
Provide Self-Service
Designate Personal Information as Secure
Isolate Corporate from Personal Data
Continuously Monitor
Manage Data Usage
Consider how Policy Impact ROI
Additional Concerns
EEO and Harassment
Records Management and Data Collection
International Challenges
Wage & Hour Risks
Safety Concerns
QUESTIONS?