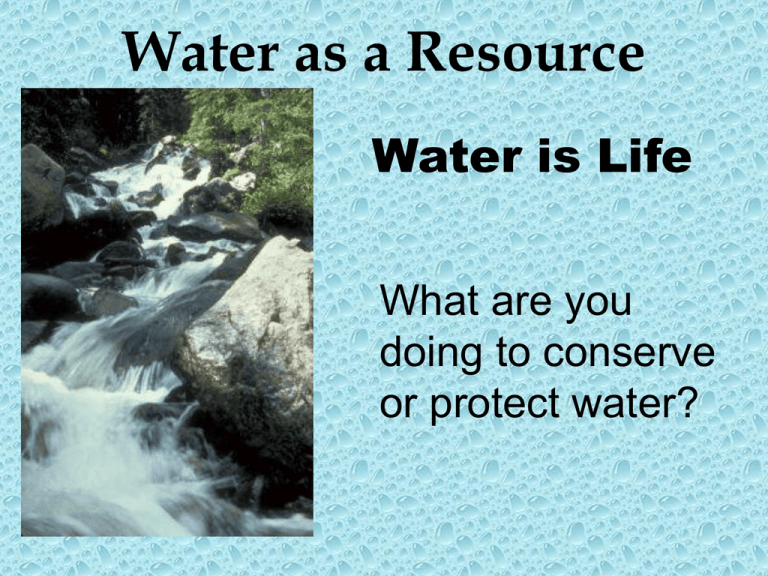 Water as a Resource
Water is Life
What are you
doing to conserve
or protect water?
Water Facts
•
•
•
•
70% of the Earth is water
97.5% of the water is salt water
2.5% is fresh water
30.6% is ground water
– Canada has about 20% of the
worlds ground water
• If on the surface the ground
water would cover the entire surface of
the Earth to a depth of 120m
Water Use in Your Home
1. Speculate on why
Canadians use 210
Litres more water than
Europeans on a daily
basis.
2. What can we do to
lower our water
consumption?
Water Usage
Water Usage
1. Withdrawal Water
•
•
•
Water taken from its natural source and
returned to the source but not in the same
condition.
Example is a thermal-electrical plant,
agricultural and mining activities, consumed
water
Water is returned to the source but changed
Water Usage
2. In stream Water
• Not removed from its source to be used
• Examples are a hydro-electric generating plant
• Water passes through the plant and returned in
the same condition
• Other examples are waste disposal and fisheries
Water Bodies and Systems
• River systems are grouped together by the
bodies of water they flow into called
drainage basins.
• Remember what flows downhill
Water Diversions
• The movement of
water beyond its
normal drainage basin
• Can cause a disruption
of the normal
ecosystem
• Organisms not natural
to an ecosystem may
be introduced
RED RIVER SUB-DRAINAGE BASIN
Run-Off and Pollution
• Industrial waste,
human waste being
dumped into the
water supply
• Chemicals from
fertilizer moving into
the water supply
What to do?
What is your responsibility?