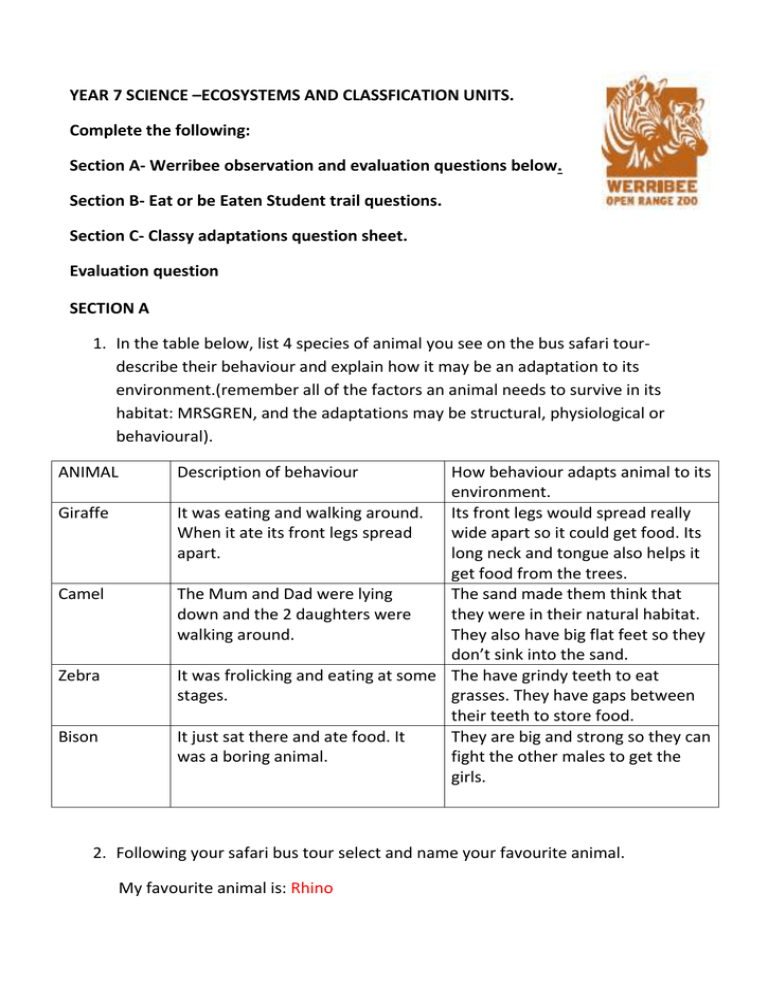 YEAR 7 SCIENCE –ECOSYSTEMS AND CLASSFICATION UNITS.
Complete the following:
Section A- Werribee observation and evaluation questions below.
Section B- Eat or be Eaten Student trail questions.
Section C- Classy adaptations question sheet.
Evaluation question
SECTION A
1. In the table below, list 4 species of animal you see on the bus safari tourdescribe their behaviour and explain how it may be an adaptation to its
environment.(remember all of the factors an animal needs to survive in its
habitat: MRSGREN, and the adaptations may be structural, physiological or
behavioural).
ANIMAL
Giraffe
Camel
Zebra
Bison
Description of behaviour
How behaviour adapts animal to its
environment.
It was eating and walking around.
Its front legs would spread really
When it ate its front legs spread
wide apart so it could get food. Its
apart.
long neck and tongue also helps it
get food from the trees.
The Mum and Dad were lying
The sand made them think that
down and the 2 daughters were
they were in their natural habitat.
walking around.
They also have big flat feet so they
don't sink into the sand.
It was frolicking and eating at some The have grindy teeth to eat
stages.
grasses. They have gaps between
their teeth to store food.
It just sat there and ate food. It
They are big and strong so they can
was a boring animal.
fight the other males to get the
girls.
2. Following your safari bus tour select and name your favourite animal.
My favourite animal is: Rhino
Comment on what you think the outcomes might be for this animal in the wild
if the following conditions occurred in their natural habitat:
a. Humans were allowed unlimited hunting rights: Humans do already hunt
them for their horns even though it is illegal.
b. Trees were removed and a number of roads were created across the
animal's habitat, dividing it into numerous smaller isolated areas. It would
find it much harder to get food as there would be a lot more predators in
the same area. This would limit the amount of food, water and shelter.
3. How would this impact on the food web of the African savannah when
a. All male lions were killed: There would be not as many animals hunted and
it would be a completely different scenario. The numbers of animals would
increase.
b. A decade of drought occurred in their habitat: Lots of animals would die
and many species become extinct.
4. Explain why conservation programs are necessary in many areas of Africa.
Because people are hunting animals which eventually means they would
become endangered and then extinct.
5. Can you name any native Australian animals that are having their populations
preserved by conservation programs? Name at least two and state what is
being done to preserve them. Crocodiles- There is lots of crocodile farms and
they have made hunting them illegal. This is so they don't become extinct.
Cassowary- They have made hunting them illegal and they have preserved
them in zoos and wildlife parks around Australia.
6. What studying/training have the zoo staff had to help them understand the
needs of the animals at Werribee zoo? What type of food you feed them. Their
behaviour. Breeding season.
7. What things do the zoo staff have to understand and be able to do in order to
manage the animals in the zoo environment? Give examples of the specific
needs of three animals:
Animal
Animal needs which zoo keepers have to meet.
Lion
The lion Keeper, who feeds them.
Zebra
They have to feed it and protect it.
Giraffe
They have to make sure it doesn't feel threatened and they need
to feed them.
8. What benefits are gained from us studying animal ecosystems, behaviour and
habitats? If we grow up and decide to be a zoo keeper we will have some idea
on what to do. Also if we go to the zoo we will be able to understand the
animals a lot more.
SECTION B – Eat or Be Eaten
Your challenge was to observe grassland animals interacting together and find
examples of the adaptations they possess to obtain and digest food and avoid
being eaten themselves.
1. Skull analysis
Write in the features that are present on the skulls that you observed during the
Learning Experiences program.
Animal
Dentition
Mandible (lower
jaw)
Eye position
Diet
Type of Consumer
Zebra
Molars
Long
Lion
Canine teeth
Short
Side
Grasses and roots.
Primary
Front
Meat
Tertiary
2. Using specific examples compare the adaptations of a herbivore with a
carnivore for finding food and avoiding predation in the table below.
Examples of adaptations
for finding food
Examples of adaptations
for avoiding predation
Herbivore
They just eat plants,
grasses and other
vegetation.
They are fast and can hide
in some places.
Carnivore
They hunt down animals.
They will eat any type of
meat they can get.
They are very fast and
have long sharp teeth.
3. Develop a food web in the space below that includes organisms that you
observed at the Zoo. Include a key to identify and label a producer, a primary
consumer, a secondary consumer and tertiary consumer within your food web.
Food web:
Key:
4. Describe the impact of domestic livestock on a food web in the African
savannah.
5. Outline what Zoos Victoria is doing to help the Melako community in Kenya to
reduce the impact of their livestock on the wild animals of the savanna.
SECTION C – Classy Adaptations
Animals are classified in many different ways. Classification is often based on an
animal's adaptations. Adaptations evolve over millions of years and are directly
related to the survival of animals in their habitats.
Please classify the following animals by observing their behaviours, identifying their
features and looking at the design of their enclosures.
Common
wombat
Orangutan
Australian
fur seal
Platypus
Baboon
Vertebrate
Western
lowland
gorilla
Vertebrate
Vertebrate
Vertebrate
Vertebrate
Vertebrate
Mammal
Australia
Mammal
Africa
Mammal
Indonesia
Mammal
Australia
Mammal
Australia
Mammal
Africa
Forest and
bush
Jungle or
Jungle or
forest areas forest
Rivers and
river beds
Jungle and
forests
Place in
habitat
In its
burrow
In trees
In trees
Water and
burrow
In trees
Body
temperature
32-37
degrees
Celsius
35.5
degrees
Celsius
29-30
degrees
Celsius
Ocean and
coastal
areas
In the water
and on
coastal land
areas
37.7
degrees
Celsius
32 degrees
Celsius
36-39
degrees
Celsius
Grass, snow
tussocks
and other
plants
Fruit, grass,
shoots,
roots and
insects
Their diets
vary month
to month
Fish and
squid
The live
with
relatives
They live in
a Colony
Shrimp,
crayfish,
insect
larvae and
worms
They are
solitary
It is an
omnivore
so it eats a
range of
foods
They live in
troops
Swinging
from tree to
tree
Forward
Endangered
They swim
to move
They walk
or swim
It walks on
all fours
Forward
Least
concern
Side
Least
concern
Forward
Least
concern
Classification
Invertebrate/
Vertebrate
Class
Country of
origin
Bioclimatic
zone
Period of
activity
Diet
Social
structure
Locomotion
Eye position
Conservation
status (IUCN)
Ambassador
They are
solitary
They live in
groups
called
troops
They walk
It walks on
on the sole its front
of their feet knuckles
Side
Forward
Least
Critically
concern
endangered
for which
Zoo
Victoria's
Conservation
Campaign?
Which of the above classifications would Zoos Victoria be most concerned with and
why?
The Gorilla, mainly because it is critically endangered and if we don't do anything
they will become extinct.
EVALUATION QUESTION: Answer the following as an argumentative piece of
writing. It should be in paragraphs. Make sure you cover the following key points:
a. In your opinion, should animals such as Australian natives and African
natives be kept in zoos?
b. Describe in what situations you think it is acceptable/necessary and when it
should not be allowed.
c. Use examples as evidence to support your ideas, and give detailed reasons
why they should /should not be kept in zoos.
d. Explain what you would see as the future of some species if they were not
kept in zoos.(use an example)
EVALUATION QUESTION: YOUR ANSWER.
I believe that native animals to Africa and Australia should be kept in zoos only
if they were endangered. It should be allowed if there are people hunting them
for their skin, horns etc. But if they are not being hunted and they are not
endangered I see no reason for them to be in zoos. Animals like Rhinos should
be protected in zoos because poachers are hunting them for their horns. They
don't just take the horns they kill the animals. This is why some animals should
be permitted in zoos. If you don't keep some species in zoos they will
eventually be hunted and there would be nothing left. All the animals would
become extinct.
Marking rubric:
VERY GOOD
Criteria
SECTION A
SECTION B
SECTION C
EVALUATION
QUESTION
OVERALL
GOOD
ACCEPTABLE
LOW
NOT
Satisfactory.