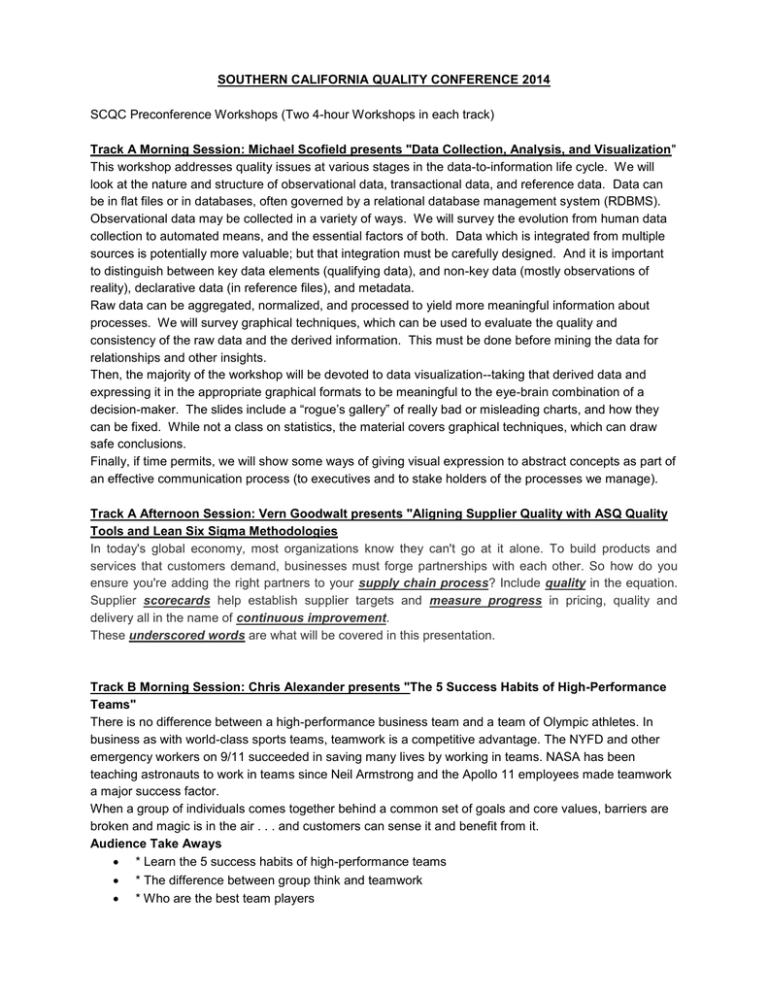 SOUTHERN CALIFORNIA QUALITY CONFERENCE 2014
SCQC Preconference Workshops (Two 4-hour Workshops in each track)
Track A Morning Session: Michael Scofield presents "Data Collection, Analysis, and Visualization"
This workshop addresses quality issues at various stages in the data-to-information life cycle. We will
look at the nature and structure of observational data, transactional data, and reference data. Data can
be in flat files or in databases, often governed by a relational database management system (RDBMS).
Observational data may be collected in a variety of ways. We will survey the evolution from human data
collection to automated means, and the essential factors of both. Data which is integrated from multiple
sources is potentially more valuable; but that integration must be carefully designed. And it is important
to distinguish between key data elements (qualifying data), and non-key data (mostly observations of
reality), declarative data (in reference files), and metadata.
Raw data can be aggregated, normalized, and processed to yield more meaningful information about
processes. We will survey graphical techniques, which can be used to evaluate the quality and
consistency of the raw data and the derived information. This must be done before mining the data for
relationships and other insights.
Then, the majority of the workshop will be devoted to data visualization--taking that derived data and
expressing it in the appropriate graphical formats to be meaningful to the eye-brain combination of a
decision-maker. The slides include a "rogue's gallery" of really bad or misleading charts, and how they
can be fixed. While not a class on statistics, the material covers graphical techniques, which can draw
safe conclusions.
Finally, if time permits, we will show some ways of giving visual expression to abstract concepts as part of
an effective communication process (to executives and to stake holders of the processes we manage).
Track A Afternoon Session: Vern Goodwalt presents "Aligning Supplier Quality with ASQ Quality
Tools and Lean Six Sigma Methodologies
In today's global economy, most organizations know they can't go at it alone. To build products and
services that customers demand, businesses must forge partnerships with each other. So how do you
ensure you're adding the right partners to your supply chain process? Include quality in the equation.
Supplier scorecards help establish supplier targets and measure progress in pricing, quality and
delivery all in the name of continuous improvement.
These underscored words are what will be covered in this presentation.
Track B Morning Session: Chris Alexander presents "The 5 Success Habits of High-Performance
Teams"
There is no difference between a high-performance business team and a team of Olympic athletes. In
business as with world-class sports teams, teamwork is a competitive advantage. The NYFD and other
emergency workers on 9/11 succeeded in saving many lives by working in teams. NASA has been
teaching astronauts to work in teams since Neil Armstrong and the Apollo 11 employees made teamwork
a major success factor.
When a group of individuals comes together behind a common set of goals and core values, barriers are
broken and magic is in the air . . . and customers can sense it and benefit from it.
Audience Take Aways
 * Learn the 5 success habits of high-performance teams
 * The difference between group think and teamwork
 * Who are the best team players


* How to create project ownership
* How to build a high performance team
Track B Afternoon Session: Mark Lindsey presents "ISO 9001:2015 - New Element - Risk
Management as it relates to teams and meetings"
World Café Workshop on how to facilitate the use of the 7 Management & Planning Tools in meetings to
manage Risks and improve performance.
Have you attended meetings where professionals discuss issues but are not able to effectively and
efficiently collaborate to develop Action Plans with shared ownership/commitment? Do you have
ongoing issues that you would like to share and collaborate on to resolve?
This hands-on workshop will improve your ability to facilitate the use of appropriate tools in a team
meeting to determine and focus on the issue's key drivers and outcomes and then develop action plans
along with identifying risks and developing countermeasures to mitigate them. These Tools are covered
in most of the ASQ Certification Exams. Many professionals understand them but few have experience in
applying them in Team settings.
Outline
 Overview of the 7 Management & Planning Tools (Affinity Diagram, Interrelationship
Diagraph, Tree Diagram, PDPC, Matrix Diagram, Prioritization Matrix, Activity Network
Diagram).
 Participants will form into groups based on Industry or other interests and develop an
Affinity Diagram to organize the diversity of issues into natural relationships and
summarize them (provide focus). A master Affinity Diagram will be developed based on
the groups' Affinity Diagrams to summarize the key issues.
 Groups will develop Interrelationship Diagraphs based on their Affinity Diagrams to
determine the Key Drivers and Key Outcomes. A Master Interrelationship Diagraph will
be developed based on the Master Affinity Diagram.
 Groups will develop a Tree Diagram (Action Plan for success) to solve the key issues by
starting with the Key Drivers.
 Groups will develop a PDPC (Process Decision Program Chart) to identify risks and
select countermeasures for the tasks associated with the Action Plans.
 Time permitting; some other Tools may be used in the Workshop depending on
the needs of the Participants.
Takeaways
 Opportunity to share your issues/challenges with other professionals and collaborate on
plans to resolve them.
 Copies of the Tools addressing your issues/challenges to take back to your workplace.
 Knowledge, experience, and confidence in how to facilitate the use of these tools at your
workplace.
 A network/support group that you can reach out to after the workshop.
 Bonus - a fully functional software suite of Quality Improvement Tools.
Note: If desired, companies that send their own teams (employees, suppliers, customers) can be
assigned to the same group to collaborate on the above.