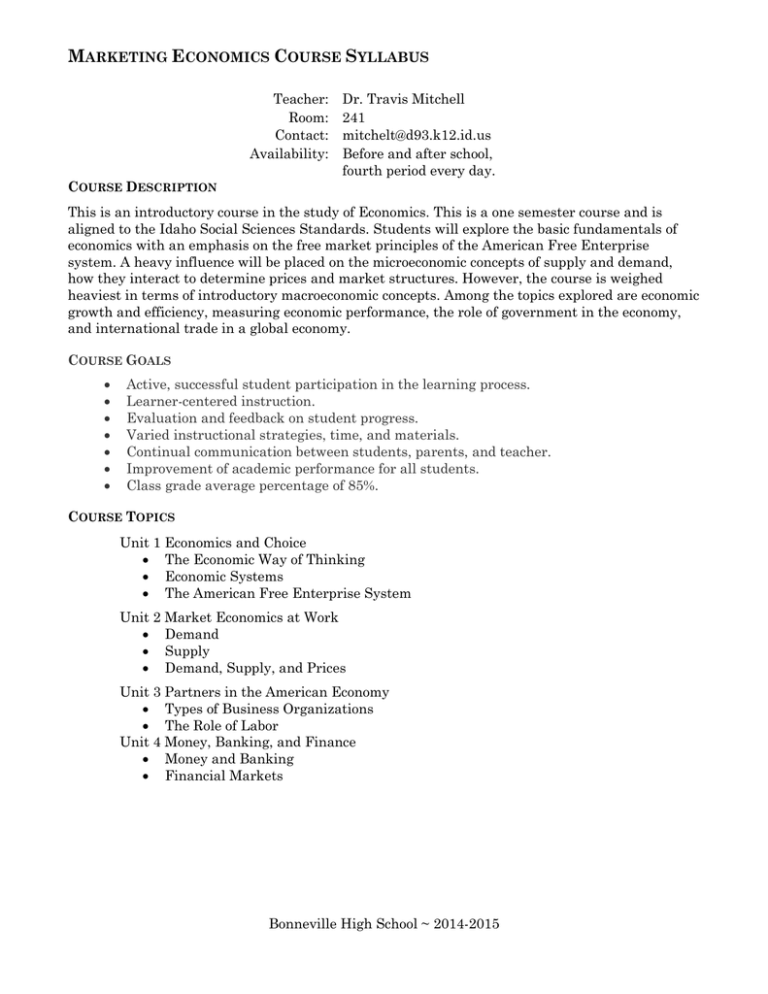 MARKETING ECONOMICS COURSE SYLLABUS
Teacher:
Room:
Contact:
Availability:
Dr. Travis Mitchell
241
[email protected]
Before and after school,
fourth period every day.
COURSE DESCRIPTION
This is an introductory course in the study of Economics. This is a one semester course and is
aligned to the Idaho Social Sciences Standards. Students will explore the basic fundamentals of
economics with an emphasis on the free market principles of the American Free Enterprise
system. A heavy influence will be placed on the microeconomic concepts of supply and demand,
how they interact to determine prices and market structures. However, the course is weighed
heaviest in terms of introductory macroeconomic concepts. Among the topics explored are economic
growth and efficiency, measuring economic performance, the role of government in the economy,
and international trade in a global economy.
COURSE GOALS







Active, successful student participation in the learning process.
Learner-centered instruction.
Evaluation and feedback on student progress.
Varied instructional strategies, time, and materials.
Continual communication between students, parents, and teacher.
Improvement of academic performance for all students.
Class grade average percentage of 85%.
COURSE TOPICS
Unit 1 Economics and Choice
 The Economic Way of Thinking
 Economic Systems
 The American Free Enterprise System
Unit 2 Market Economics at Work
 Demand
 Supply
 Demand, Supply, and Prices
Unit 3 Partners in the American Economy
 Types of Business Organizations
 The Role of Labor
Unit 4 Money, Banking, and Finance
 Money and Banking
 Financial Markets
Bonneville High School ~ 2014-2015
Unit 5 Measuring and Monitoring Economic Performance
 Economic Indicators and Measurements
 Facing Economic Challenges
Unit 6 The Role of Government in the Economy
 Government Revenue and Spending
 Using Fiscal Policy
 The Federal Reserve and Monetary Policy
Unit 7 The Global Economy
 International Trade
 Issues of Economic Development
COLLEGE CREDIT OPPORTUNITY
College credit is available for this course through Eastern Idaho Technical College. To qualify for 3
college credits each student must first enroll in the Tech Prep program, earn at least a B in this
course, and pass a final given by EITC. EITC will send you a letter at the end of the year about
how to transcript the credits. Each credit costs $10
GRADING PLAN
Homework
45%
Tests
45%
Mid-term and Final 10%
Grade Total 100%
HOMEWORK SCORING RUBRIC
100%
of points possible
90%
of points possible
80%
of points possible







Product
shows good
effort.
Turned in on
time.
Handwriting
is legible.
Used
complete
sentences.
Work is
correct.




Product
shows effort.
Turned in
late.
Handwriting
is legible.
Used
complete
sentences
Work is
mostly
correct.




Product
shows effort.
Turned in
late.
Handwriting
is barely
legible.
Used
sentences.
Work has
several
errors.
70%
of points possible
 Product
shows little
effort.
 Turned in
fairly late.
 Handwriting
is barely
legible.
 Used
sentences.
 Work has a
fair number
of mistakes.
60%
of points possible




Product
shows hardly
any effort.
Turned in
very late.
Handwriting
is illegible.
Work is
incorrect.
MID-TERM AND FINAL EXAM
This course will have a mid-term, covering the first half of the material, and a final, covering the
second half of the material. Both tests will have 50 multi-choice questions. Questions from
personal finance lessons will not be included in either the mid-term or the final.
FORMATIVE ASSESSMENTS
From time to time, to determine the level of understanding, students will be assigned quizzes,
essays, and readings. Another assessment will be completion of an Exit Ticket at the end of class.
Each of these is important in forming an opinion of whether more study is required or if the class
can move on to the next concept.
ATTENDANCE
New concepts will be introduced every day; you can fall behind quickly if you have issues with
attendance or tardiness. Class starts on time, students are tardy when they are not in their seats
ready to learn at the bell.
CLASSROOM RULES OF CONDUCT
Expectations








Be ready to learn – Class will start on time; be ready to engage in learning at the bell.
Be a good friend – Be willing to help if you notice a neighbor struggling with a concept.
Say please and thank you – Good manners lead to good friends.
Follow directions – Listen to directions when they are given the first time.
Take risks and make misteaks – Be willing to try, even at the risk of being wrong. Let
yourself get started, then adjust as you go along.
Try new things – Much of what you will learn will be new information or original learning.
You have to start somewhere, don't hesitate.
Raise your hand – To keep good order in the class, raise your hand to ask for a turn. Chaos
is very harmful to learning and will not be tolerated.
Work hard – Do yourself a favor and learn to work hard.
Consequences




Personal time – You and I will take a moment to resolve the issue.
Family time – Continued disruption of learning time will bring a parent or guardian into
the discussion about your behavior and how to resolve the problem.
Time out – You may be assigned detention or Saturday School, even suspended.
Out of time – You may be removed from this class for continuous disruption.
TECHNOLOGY
Technology may be accessed only when permission is given. Otherwise all devices should be put
away during class time. You may listen to music when working on homework, but may not have
music while taking a test. Devices may be taken away if they distract you from your work.
EMERGENCY PROCEDURES
When the fire alarm rings, leave your personal items and exit the classroom in an orderly and
calm manner. The fire exit is to the right, just past the art room to the outdoor staircase. There are
two doors at that exit, please use both. Our class will meet behind the double row of cars to take
roll. When returning, use the doors on the bottom floor as the upper doors are not keyed for entry.
During a lock down, move to the back of the classroom next to the closet door. Sit quietly on the
floor and remain silent until an office staff person opens our door to give us the all clear.
If we have an earthquake, drop to the floor under your desk. It will protect you from small falling
debris.