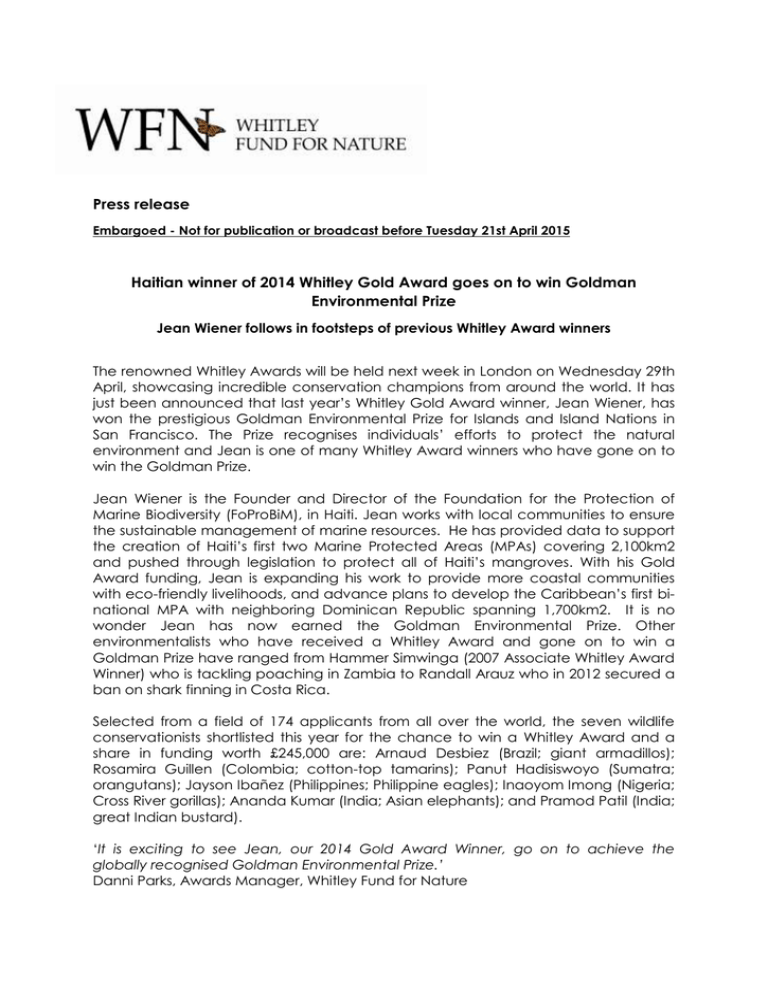 Press release
Embargoed - Not for publication or broadcast before Tuesday 21st April 2015
Haitian winner of 2014 Whitley Gold Award goes on to win Goldman
Environmental Prize
Jean Wiener follows in footsteps of previous Whitley Award winners
The renowned Whitley Awards will be held next week in London on Wednesday 29th
April, showcasing incredible conservation champions from around the world. It has
just been announced that last year's Whitley Gold Award winner, Jean Wiener, has
won the prestigious Goldman Environmental Prize for Islands and Island Nations in
San Francisco. The Prize recognises individuals' efforts to protect the natural
environment and Jean is one of many Whitley Award winners who have gone on to
win the Goldman Prize.
Jean Wiener is the Founder and Director of the Foundation for the Protection of
Marine Biodiversity (FoProBiM), in Haiti. Jean works with local communities to ensure
the sustainable management of marine resources. He has provided data to support
the creation of Haiti's first two Marine Protected Areas (MPAs) covering 2,100km2
and pushed through legislation to protect all of Haiti's mangroves. With his Gold
Award funding, Jean is expanding his work to provide more coastal communities
with eco-friendly livelihoods, and advance plans to develop the Caribbean's first binational MPA with neighboring Dominican Republic spanning 1,700km2. It is no
wonder Jean has now earned the Goldman Environmental Prize. Other
environmentalists who have received a Whitley Award and gone on to win a
Goldman Prize have ranged from Hammer Simwinga (2007 Associate Whitley Award
Winner) who is tackling poaching in Zambia to Randall Arauz who in 2012 secured a
ban on shark finning in Costa Rica.
Selected from a field of 174 applicants from all over the world, the seven wildlife
conservationists shortlisted this year for the chance to win a Whitley Award and a
share in funding worth £245,000 are: Arnaud Desbiez (Brazil; giant armadillos);
Rosamira Guillen (Colombia; cotton-top tamarins); Panut Hadisiswoyo (Sumatra;
orangutans); Jayson Ibañez (Philippines; Philippine eagles); Inaoyom Imong (Nigeria;
Cross River gorillas); Ananda Kumar (India; Asian elephants); and Pramod Patil (India;
great Indian bustard).
'It is exciting to see Jean, our 2014 Gold Award Winner, go on to achieve the
globally recognised Goldman Environmental Prize.'
Danni Parks, Awards Manager, Whitley Fund for Nature
-EndsMedia contacts:
For further information or to arrange interviews contact Firebird PR: Jane Bevan or
Susannah Penn at Firebird PR on +00 44 01235 835297 / +00 44 07977 459547 or via
email to sp@firebirdpr.co.uk
Notes to Editors:











Journalists and media interested in attending Whitley Awards 2015 press conference
can contact Firebird PR for further information: Jane Bevan or Susannah Penn at
Firebird PR on +00 44 01235 835297 / +00 44 07977 459547 or via email to
sp@firebirdpr.co.uk
Joint Whitley Award and Goldman Prize winners to date are: Jean Wiener 2015,
Randall Arauz 2010, Dmitry Lisitsyn 2011, Hammer Simwinga 2007, Silas Siakor 2006,
Alexander Peal 2000, Ka Hsaw Wa 1999
The Whitley Fund for Nature (WFN) is a UK registered charity that champions
outstanding grassroots leaders in nature conservation across the developing world.
The Whitley Awards are prestigious international prizes presented to individuals in
recognition of their achievements in nature conservation. Each Award Winner
receives a prize worth £35,000 to be spent over one year. The charity's patron, HRH
The Princess Royal, presents the Awards each year at a special ceremony in London.
The Whitley Awards have been presented annually since 1994. Since then, the
Whitley Fund for Nature has given over £10 million to conservation and recognised
more than 170 conservation leaders in over 70 countries.
WFN operates a rigorous application process involving expert panel representation
from international NGOs including WWF-UK, Fauna and Flora International and the
World Land Trust. This year, WFN received nearly 200 applications which passed
through four stages of assessment, reviewed at every step by the expert screeners
and panellists who kindly offer their expertise voluntarily.
The Whitley Awards are open to individuals working on wildlife conservation issues in
developing countries. Further eligibility criteria are available from Firebird PR.
During their trip to London to accept their award, winners have the opportunity to
meet the judges, WFN trustees, including Sir David Attenborough and HRH The
Princess Royal. In addition they are able to network with the other finalists, attend
receptions with leading conservation organisations and academics, meet Whitley
Fund for Nature donors and participate in professional media and speech training.
Meeting the media is also a significant event since publicity both in the UK and their
home countries helps raise the profile of their work.
Whitley Award winners join an international network of Whitley Alumni eligible to
apply for Continuation Funding. These follow-on grants are awarded competitively to
winners seeking to scale up their effective conservation results on the ground. These
grants are worth up to £70,000 over two years.
The Whitley Gold Award recognises an outstanding past recipient of a Whitley Award
who has gone on to make a significant contribution to conservation. Joining the
Judging Panel to assist in selection, the Gold winner also acts as mentor to Whitley
Award winners receiving their Awards in the same year.
WFN is generously supported by: Arcus Foundation; Peter Baldwin and Lisbet Rausing;
The William Brake Charitable Trust; The Byford Trust; Sarah Chenevix-Trench; The
Evolution Education Trust; Garden House School Parents' Association; Garfield Weston
Foundation; HSBC Holdings Plc; Icon Films; Interconnect IT; The Rufford Foundation;
The Schroder Foundation; Fondation Segré; The Shears Foundation; The Whitley
Animal Protection Trust; WWF-UK; The Friends and Scottish Friends of the Whitley Fund
for Nature; and many individual donors and anonymous donors.