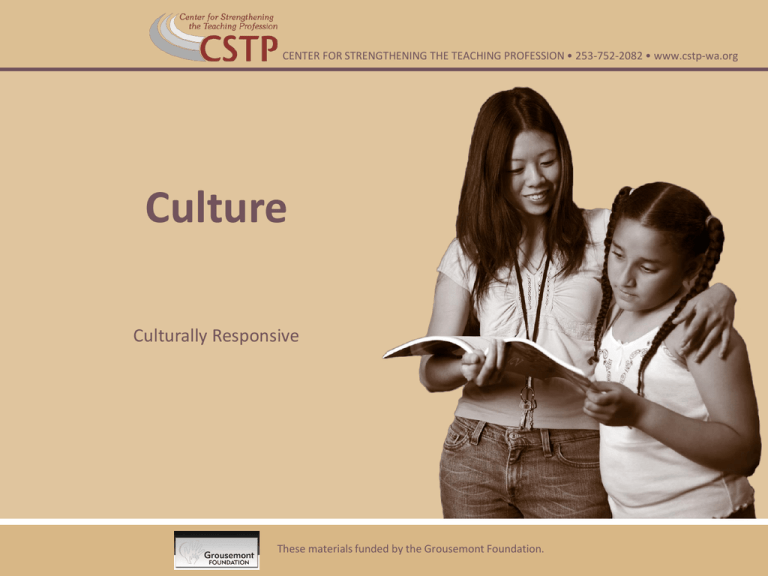 CENTER FOR STRENGTHENING THE TEACHING PROFESSION • 253-752-2082 • www.cstp-wa.org
Culture
Culturally Responsive
These materials funded by the Grousemont Foundation.
Culture
"Culture is who we are and who we are becoming. It is
the food we put on the table, the way we cook it, the
utensils with which we eat it, the relations between the
people who sit at the table and the people who cook
and serve, what is done with the leftovers, what is
discussed during the meal, what music, dancing, poetry
or theatre accompany it, and the social and spiritual
values of those present – for when we say culture, we
include visions, dreams, and aspirations of humanity."
From "The Power of the Word: Culture, Censorship and Voice." Women's World, 1995.
Culture, Another Definition
• The way of life is organized within an identifiable
community or group.
• This includes the ways that community use language,
interact with one another, take turns to talk, relate to
time and space, and approach learning.
• There are group patterns that exist, which reflect the
standards or norms used by community members to
make sense of the world.
(Villegas and Lucas, 2002)
Identity: Race, Culture, Ethnicity
What's the Difference?
•
•
•
•
•
•
•
Race Identity
Gender Identity
Nationality Identity
Religion Identity
Ethnic Identity
Class Identity
Age Identity
How do you see yourself?
How do others see you?
Culture
• Consider and reflect:
– What is the culture of your School District?
– What is the culture of your building or department?
– How might students' and families' cultures conflict
with the culture of school?
Are These Cultural Determinations?
•
•
•
•
Greetings
Eye contact
Proximity
Conversations
(when to interrupt)
Dr. Sharroky Hollie, Executive Director of the Center for Culturally Responsive Teaching and Learning
Think about the various students and groups
in your classes.
What are some of the impediments they have
to learning?
How would you address these in your classes?