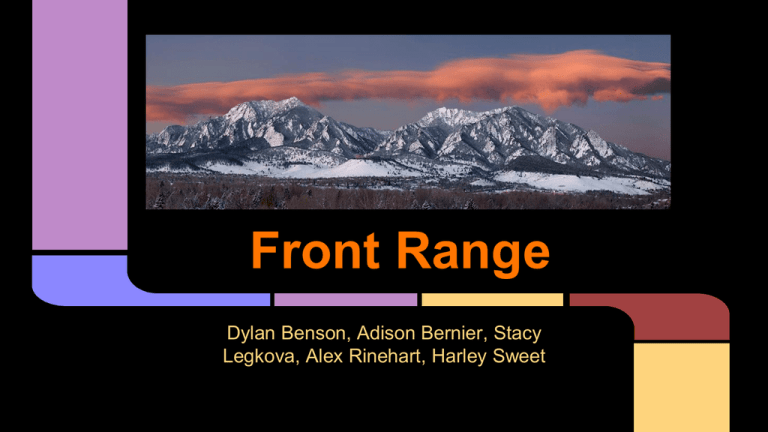 Front Range
Dylan Benson, Adison Bernier, Stacy
Legkova, Alex Rinehart, Harley Sweet
Location
Runs North to South
I-25 runs along the Eastern side
From Cheyenne, Wyoming to Pueblo, Colorado
Western tip of the Great Plains
Separates the Rocky Mountain
region from the Great Plains
Geography
Through out the front range there is a variety of
different land features such as
Sandstone slabs,Quartzite, and yule marble.
South Platte flows through this area.
The weather is forever changing.
Land features
Forests, grasslands, farmland, rivers,
mountains, rivers.
Climate
The Front Range has an average of 70% or 255 days of sunshine
It has a very low humidity
During the winter months, forms of precipitation often come from the Pacific Ocean
During the spring and summer months Gulf, Subtropical, and Land- recycled is where most of
the moisture comes from
Floods are primarily caused from local/isolated thunderstorms and snowmelt
Culture
Spending time downtown in cities such as Colorado
Springs, Fort Collins.
The Renaissance Festival.
The Colorado music festival.
The weather is bipolar.
can go from hot to snowing to hot to cold
Most commonly people speak English and Spanish but
however at ski resorts tourists may speak other
languages.
Flannels are commonly worn.
Green Chile is the most common food in the Front Range.
National Park/ Forests
Pikes National Forest
The Pikes National Forest is located in the Front Range of Colorado, Usa, west of Colorado
Springs and including Pikes Peak.
The forest was named after American explorer Zebulon Pike
The dry climate of Pike National Forest makes it prime wildfire territory
The first recorded fire occurred in the 19th Century, and the forest was recently the location of
the Hayman Fires of 2002 and the Waldo Canyon Fire of 2012
The Pike and San Isabel National Forest was recently awarded a major reclamation project to
fix the damage from the Hayman wildfire.
Top 3 Historical Towns/Cities
● Allenspark
○
○
○
The most beautiful areas in Colorado and arguably one of its best kept secrets. Allenspark was
established in 1896; incorporated in 1917.
Allenspark is located just 17 miles northwest of Boulder at an elevation of 8,450. The western edge
of this small mountain community borders Rocky Mountain National Park.
Allenspark has a story of the clock by Charles Eagle Plumes.
● Fort Collins
○
Travelers crossing the country on the Overland Trail often stopped at Camp Collins, which was
established on the Cache La Poudre River in 1862.
○
The camp was named for Colonel W. O. Collins a commander of the eleventh Ohio Cavalry at Fort
Laramie, Wyoming.
○
The fort was built to protect the important trading post from attacks by native Americans.
○
Fort Collins was incorporated in 1869.
● Fort Lupton
○
○
○
In 1838, lieutenant Lancaster Lupton rode through the Fort Lupton area with his regiment.
He returned a year later and built a trading fort.
The fort had good business until 1844, when a blizzard drove Lupton to California.
Historical Figures
Zebulon Pike
January 5, 1779 - April 27, 1813
Discovered Pike's Peak
Led the Pike Expedition for President Thomas Jefferson
William Larimer Jr.
October 24, 1809 - May 16, 1875
Founder of Denver, Colorado
Byron Raymond White
June 8, 1917 - April 15, 2002
Was an american halfback for the Steelers and the Lions
Was an associate justice of the Supreme Court
Natural Resources
Land
Fish
Wildlife
Biota
Air
Water
Ground Water
Etc.
Waterways
South Platte River
Clear Creek
St. Vrain River
Big Thompson River
Cache la Poudre River
Current Events
Smoke from western fires expected to bring more bad
air to the Front Range.
Fort Collins man gets bear-ied in charges after killing
a bear that was attacking his dog. People of Fort
Collins are outraged.
Robots Rising
Nasa Rover bot exhibition
Recreational Activities
Georgetown Loop Railroad
Gateway Park Fun Center
Rock Climbing
Skiing/ Snowboarding
Camping and Backpacking
Rafting
Mountain Biking
Wildlife Viewing
3 Tourist Attractions
Red Rocks Amphitheatre
Located at 18300 West Alameda Parkway, Morrison, Co 80465
Colorado music hall of fame is at the Red Rocks trading post
Pollstar elected Red Rocks the honor of the best small outdoor venue 11 times, causing
the honor to be named the Red Rocks award
Pikes peak
Discovered and named after Zebulon Pike
14,110 feet tall
Coors Brewery
Located at Ford St, Golden, CO 80401
Adolph Coors established Coors in Golden in 1873
MillerCoors is the second largest beer company in America
Hours are Thursday-Monday: 10am-4pm, Sunday: Noon-4pm (closed Tuesdays and
Wednesdays)
BIbliography
"Colorado.com Colorado Welcomes You." Colorado.com. 21 Aug. 2015.
"Colorado Geography from NETSTATE." Colorado Geography from NETSTATE. 21 Aug. 2015.
"Historical Variability of Valley Bottoms in Colorado Front Range" Historical Variability of Valley Bottoms in Colorado Front
Range. Web Aug. 25 2015.
"Hydroclimatology of the Colorado Front Range." Hydroclimatology of the Colorado Front Range Web. 25 Aug. 2015.
"Department of History." Front Range Arts and Culture -. Web. 25 Aug. 2015.
"Colorado.com Colorado Welcomes You." Colorado.com. Web. 25 Aug. 2015.
"Front Range." – Travel Guide at Wikivoyage. Web. 25 Aug. 2015.
"Man Who Killed Bear in Fort Collins Faces Charges." Coloradoan. N.p., n.d. Web. 25 Aug. 2015
"Colorado.com Colorado Welcomes You." Colorado.com. Web. 25 Aug. 2015.
"Allenspark." Allenspark. Web. 25 Aug. 2015
"Georgetown+co+on+map - Google Search." Georgetown+co+on+map - Google Search. Web. 25 Aug. 2015.