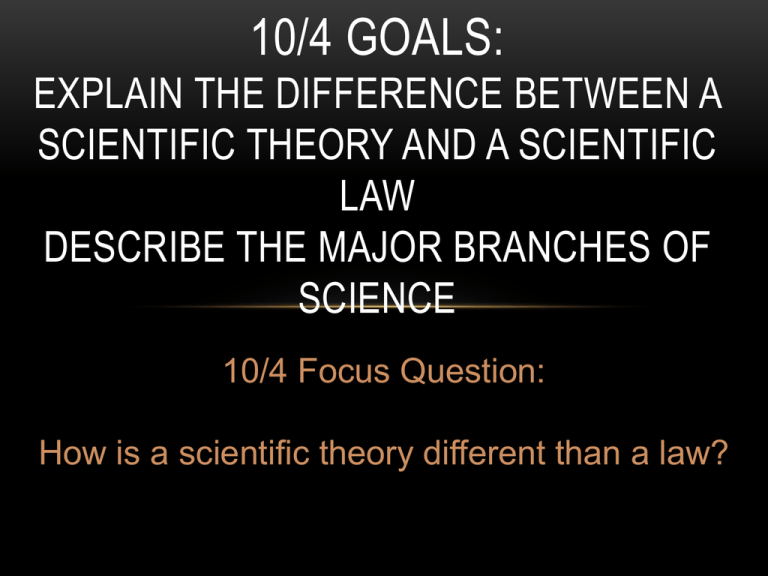 10/4 GOALS:
EXPLAIN THE DIFFERENCE BETWEEN A
SCIENTIFIC THEORY AND A SCIENTIFIC
LAW
DESCRIBE THE MAJOR BRANCHES OF
SCIENCE
10/4 Focus Question:
How is a scientific theory different than a law?
SCIENTIFIC THEORY
• A well tested explanation for a wide range of
observations or experimental results
SCIENTIFIC LAW
• A statement that describes what scientists expect to
happen every time under a particular set of conditions.
THEORY OR LAW
•
There is a direct relationship between volume
and temperature at constant pressure: as
temperature increases volume increases.
THEORY OR LAW
•
•
2
E=mc
(Energy = mass x speed of light squared)
THEORY OR LAW
• Plate tectonics explains the
movement of the Earth's
plates and also explains the
cause of earthquakes,
volcanoes, oceanic trenches,
mountain range formation,
and many other geologic
phenomenon.
THEORY OR LAW
•
Heat is transferred in the direction from substances with higher temperatures to substances
with lower temperatures.
THEORY OR LAW
• Mendelian genetics states
that single traits always
result in a 3:1 ratio between
dominant and recessive
characteristics.
THERE ARE 3 MAIN BRANCHES OF
SCIENCE
1. Earth and Space Science
2. Physical Science
3. Life Science
WHAT ARE THE 3 BRANCHES OF
SCIENCE?
1. Earth and Space Science
2. Physical Science
3. Life Science
ROUND ROBIN CONTEST
•
As a table, you must come up with as many topics as you can that are related to each
branch of science.
•
All members of the team must take turns writing down the topics on one sheet of paper.