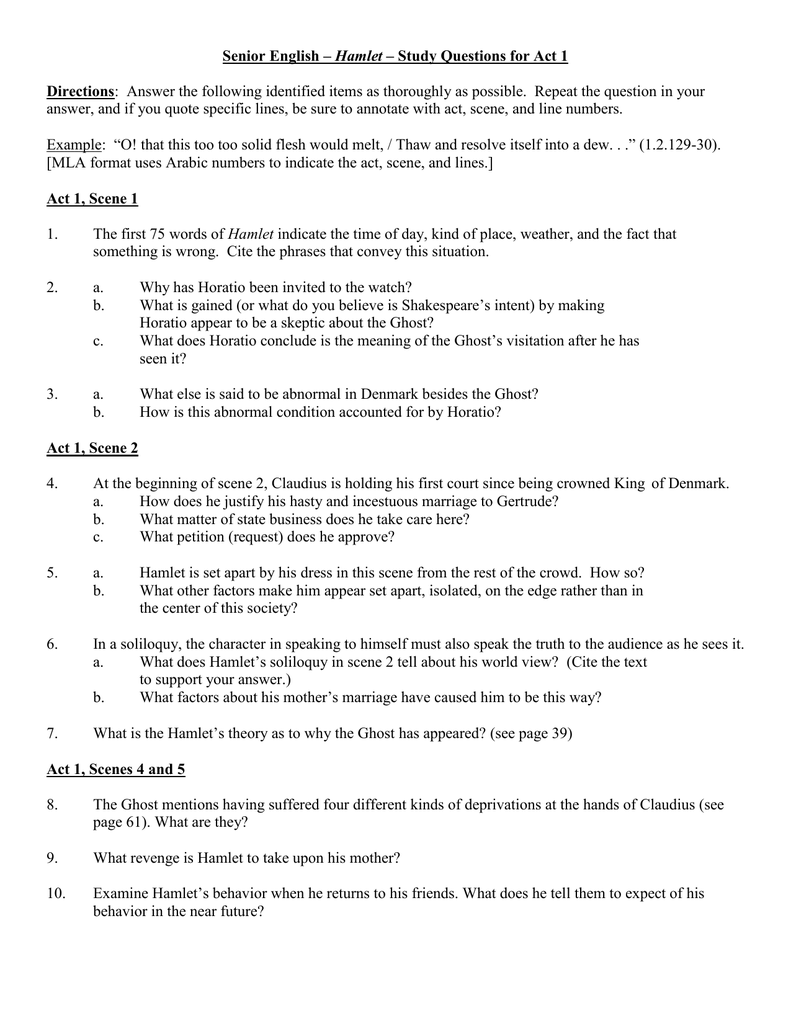 Senior English – Hamlet – Study Questions for Act 1
Directions: Answer the following identified items as thoroughly as possible. Repeat the question in your
answer, and if you quote specific lines, be sure to annotate with act, scene, and line numbers.
Example: "O! that this too too solid flesh would melt, / Thaw and resolve itself into a dew. . ." (1.2.129-30).
[MLA format uses Arabic numbers to indicate the act, scene, and lines.]
Act 1, Scene 1
1.
The first 75 words of Hamlet indicate the time of day, kind of place, weather, and the fact that
something is wrong. Cite the phrases that convey this situation.
2.
a.
b.
c.
3.
a.
b.
Why has Horatio been invited to the watch?
What is gained (or what do you believe is Shakespeare's intent) by making
Horatio appear to be a skeptic about the Ghost?
What does Horatio conclude is the meaning of the Ghost's visitation after he has
seen it?
What else is said to be abnormal in Denmark besides the Ghost?
How is this abnormal condition accounted for by Horatio?
Act 1, Scene 2
4.
At the beginning of scene 2, Claudius is holding his first court since being crowned King of Denmark.
a.
How does he justify his hasty and incestuous marriage to Gertrude?
b.
What matter of state business does he take care here?
c.
What petition (request) does he approve?
5.
a.
b.
6.
In a soliloquy, the character in speaking to himself must also speak the truth to the audience as he sees it.
a.
What does Hamlet's soliloquy in scene 2 tell about his world view? (Cite the text
to support your answer.)
b.
What factors about his mother's marriage have caused him to be this way?
7.
What is the Hamlet's theory as to why the Ghost has appeared? (see page 39)
Hamlet is set apart by his dress in this scene from the rest of the crowd. How so?
What other factors make him appear set apart, isolated, on the edge rather than in
the center of this society?
Act 1, Scenes 4 and 5
8.
The Ghost mentions having suffered four different kinds of deprivations at the hands of Claudius (see
page 61). What are they?
9.
What revenge is Hamlet to take upon his mother?
10.
Examine Hamlet's behavior when he returns to his friends. What does he tell them to expect of his
behavior in the near future?