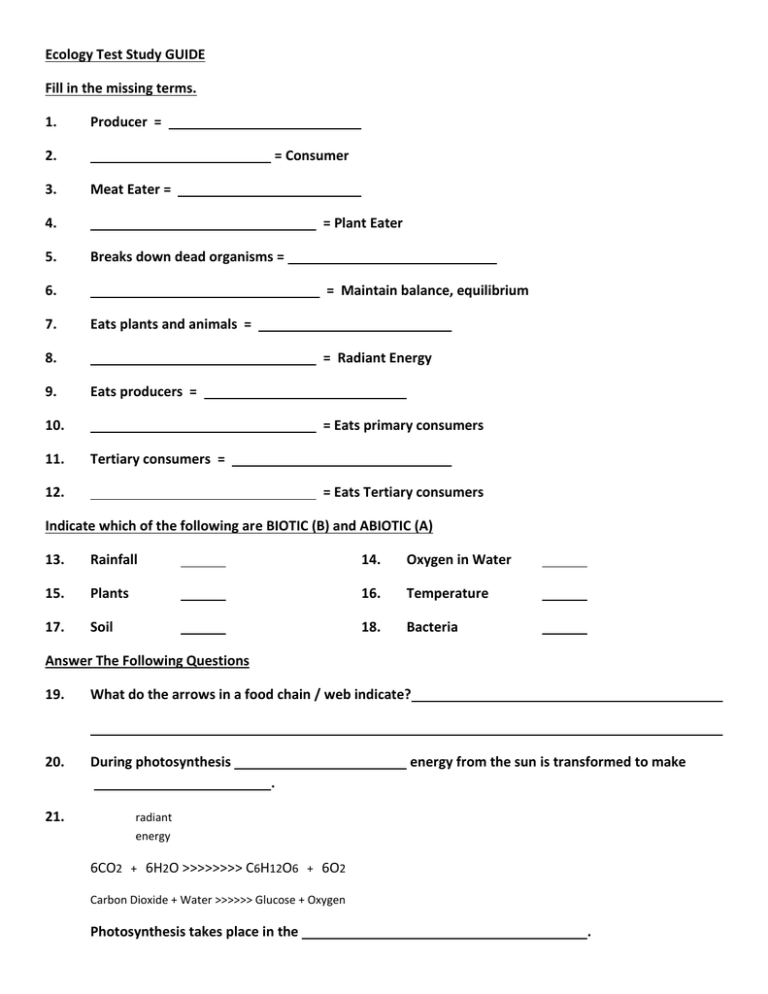 Ecology Test Study GUIDE
Fill in the missing terms.
1.
Producer =
2.
3.
= Consumer
Meat Eater =
4.
5.
= Plant Eater
Breaks down dead organisms =
6.
7.
= Maintain balance, equilibrium
Eats plants and animals =
8.
9.
= Radiant Energy
Eats producers =
10.
11.
= Eats primary consumers
Tertiary consumers =
12.
= Eats Tertiary consumers
Indicate which of the following are BIOTIC (B) and ABIOTIC (A)
13.
Rainfall
14.
Oxygen in Water
15.
Plants
16.
Temperature
17.
Soil
18.
Bacteria
Answer The Following Questions
19.
What do the arrows in a food chain / web indicate?
20.
During photosynthesis
energy from the sun is transformed to make
.
21.
radiant
energy
6CO2 + 6H2O >>>>>>>> C6H12O6 + 6O2
Carbon Dioxide + Water >>>>>> Glucose + Oxygen
Photosynthesis takes place in the
.
22.
C6H12O6 + 6O2 >>>>>>> 6CO2 + 6H2O + ATP
Cellular Respiration takes place in the
23.
.
Available resources can affect an ecosystem's
.
24.
help to recycle nutrients in an ecosystem.
25.
are the base of the ocean's food web.
26.
If foxes that prey on (eat) rabbits disappear from a food web the rabbit population will
27.
Available energy in an energy pyramid
28.
The circulatory and respiratory systems work together to deliver
body cells.
29.
as you move up trophic levels.
to all
can be anywhere on a food web but if often left out.
Label the stimulus (S) and the response (R).
30.
Honey suckle vine grows up (
31.
Sunlight (
32.
A wilted plant straightens up (
) a fence post (
) causes stems to bend toward a window (
) when given water (
).
).
).
Name the type of symbiotic relations described below.
39.
Birds eat insects disturbed as cows eat grass.
34.
The wrasse fish eats parasites off the parrot fish.
35.
Leaches eat the blood of a nutria.
You should be able to pick out a food chain from a food web.
You should be able to predict what would happen if 1 organism is removed from a food web.
You should be able to indicate which trophic level in an energy pyramid has the most energy and which has
the least amount of energy.