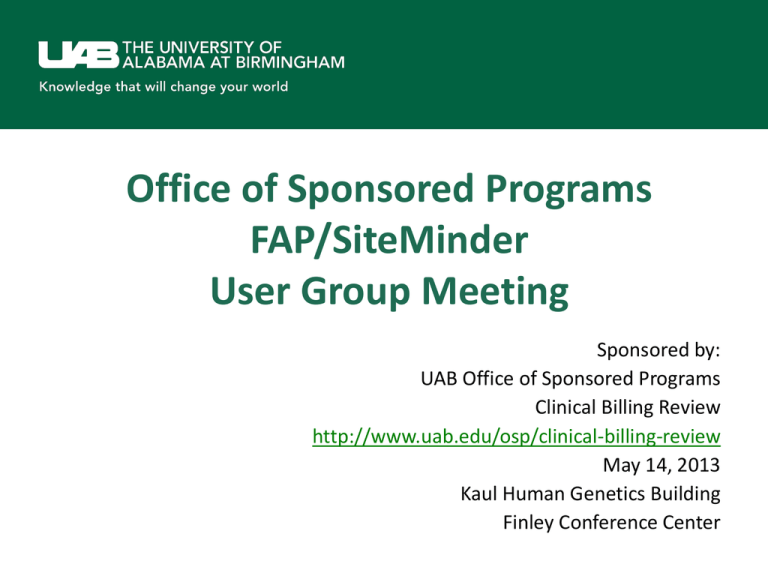 Office of Sponsored Programs
FAP/SiteMinder
User Group Meeting
Sponsored by:
UAB Office of Sponsored Programs
Clinical Billing Review
http://www.uab.edu/osp/clinical-billing-review
May 14, 2013
Kaul Human Genetics Building
Finley Conference Center
Agenda
May 14 FAP/ SiteMinder
User Group Meeting
• Overview of clinicaltrials.gov-Penny Jester
• OIRB questions-Nancy Stansfield
• SiteMinder updates – Ashley Specht
ClinicalTrials.gov: Registration
and Results Reporting
14 May 2013
Penelope Jester, BSN, MPH
Program Director, Department of Pediatrics and Center for Clinical and Translational
Research
University of Alabama at Birmingham
pjester@peds.uab.edu
Avoid common mistakes in
registering clinical trials and
reporting results
4
Tackle the situation from different perspectives
Academic Medical Center
policy/ process
The (very busy) user
Avoid common mistakes in registering clinical
trials and reporting results
5
What are the common mistakes??
•
•
•
•
•
•
•
Studies are not registered
Incorrect Responsible Party is listed
Records are not 'approved' or 'released'
Records are not 'updated'
Study is overdue for results reporting
CT.gov QA comments are not addressed
Clinical trials…what?!?!
6
Strategies to Consider
for Registration
Strategies for Registration
Full Service
Self Service
Automated System:
eIRB system identifies applicable trials
 Mapping to ClinicalTrials.gov fields
 System notifies Investigators of applicable trials
 System emails ClinicalTrials.gov to obtain user account
 Sends reminders via automatic compliance monitoring
8
Strategies for Registration
Full Service
Self Service
Department Administrators fulfills
registration role
or
PRS Administrator fulfills registration
role
 Identifies applicable trials
 Registers (sends to RP for release)
 Update as needed
9
Strategies for Registration
Full Service
Self Service
Add on to existing system:
eIRB application includes CT.gov module
- identifies applicable trials
- identifies the RP
- directs PIs to appropriate resources if questions
 Continuing review eIRB application
- Update reminders
- Tracks primary endpoint completion
 Compliance also monitored via PRS
administrators
10
Strategies for Registration
Full Service
Self Service
Investigators are 'on their own'!
11
Background: Responsible Party (FDAAA)
The Responsible Party (RP) defined as…
•
•
IND / IDE holder
If no IND/IDE:
–
–
The industry, cooperative group, consortium or
other external sponsor that initiated the study
If initiated by a Principal Investigator
• The grantee institution
• If no external funding, the PI
12
Background: Responsible Party (FDAAA)
RP can be designated to another party that:
•
•
•
•
Is responsible for conducting the study
Has access to and control over the data
Has the right to publish the trial results, AND
Has the ability to meet the requirements
Example of RP designation
•
–
–
PI initiated study at Institution X funded by NHLBI
Institution X is the grant recipient (X = RP)
Institution X can designate the PI as the RP
13
Strategies to Consider: Managing the RP
•
Who is designated the RP at your institution?
–
–
•
Institution vs. the Principal Investigator
Ensure your institutional policy addresses this
If the RP is designated to PI, how do you
acknowledge this?
–
–
Rely on policy
Require PI to acknowledge responsibilities per
protocol
•
•
•
Letter outlining responsibilities
Embed in eIRB CT.gov section of application
Require this prior to IRB approval
14
Strategies to Consider: Managing the RP - 2
•
The Responsible Party has to release the
record!
–
–
–
Draft template language and use in every
communication with Responsible Parties
Check the CT.gov 'Problems List' for 'Never
Released'
Interesting in publishing? Remind Investigators
that registration must be complete before 1st
subject is enrolled to be compliant with ICMJE!
15
Strategies to Consider for Results
Reporting
•
Integrate a 'smart form' into your system that
tracks primary endpoint completion
–
–
•
Check the CT.gov 'Problems List' for 'Late Results
– per FDAAA'
–
•
Ask if this is still realistic
If overdue for results reporting, initiate a consistent
means of communication
Communicate to Investigators via a heavy hitter if you
need to (e.g. Institutional Official)
ClinicalTrials.gov Results Database Train-theTrainers workshops
16
Strategies to Consider for
Registration and Results
Reporting: the BASICS
Questions that cause '?'s
What is FDAAA?
• Food and Drug Administration Amendments Act
(FDAAA) (Sept 27, 2007)
• Scope: Expanded current clinical trial
registration requirements with new results
reporting provision
• Added enforcement provisions and penalties
• Impacts all Applicable Clinical Trials (ACTs)
initiated on or after 9/27/2007 or ongoing as of
12/26/2007
18
FDAAA (con't)
• Two main categories
– Trial Registration no later than 21 days after
enrollment of the first subject
– Results Reporting within 12 months of the
primary completion date
• Includes AE reporting
• Extensions sometimes permitted
19
FDAAA (con't)
• What is an Applicable Clinical Trial (ACT)
– Intervention (drug, biologic, device)
– FDA-approved drug, biologic, and/or device
– IND/IDE
20
FDAAA (con't)
• What is not an ACT?
– Not conducted and manufactured within US
FDA jurisdiction
– Phase I
– Pilot
– Observational
– Behavioral
– Registries
21
Exceptions to FDAAA?
If this is not an applicable clinical trial,
registration and results reporting may still be
done based on PIs preference, industry's
request, NIH request, or journal's requirement
** Once registered, CT.gov states record
cannot be removed
22
Objective: Starting from scratch!
• Obtain access
• Complete registration
• Update every 6 months
– May update as needed
• Report results within 12 months after last
subject meets primary endpoint
– May request extension
23
Obtain access
• Contact local PRS Administrator
• Obtain temp password and login ID
• Have protocol available
– Complete a worksheet prior to entering data*
• Select 'Create'
• Complete required data fields
24
Complete registration
• Answer each question.
• If "WARNING" followed by a statement appears,
this means you cannot approve and release the
record until the issue is resolved.
• If "Note" appears followed by a statement, this is
guidance that something doesn't look quite right,
but may be fine. You are not prevented from
registering.
• After clicking on the "Edit", clicking on the blue
field name, provides a link to additional information
or descriptions about the data required for the
fields.
25
Complete registration (con't.)
Pay attention to:
• Spelling
• When describing intervention, be sure to include
dose, frequency and route of administration (if
applicable)
• Outcome Title: are they measurable?
• Outcome Time Frame: give clear time points
• Outcome Description: explain exactly how the
Outcome is being measured; add scoring
scheme, if applicable
26
Questions that cause '?'s (con't)
• Difference between Intervention and Arm
– Intervention: describe each intervention one
time, providing sufficient details to explain
dose, route, frequency
– Arm: An arm may include 1 or more
combinations of interventions
27
Update registration
• Every 6 months: REVIEW
– Change date defined as Record Verification
Date: (current month and year)
– Review entire record, paying close attention
to Primary Completion Date and Study
Completion Date
– If a new version of the protocol has been
generated during the prior 6 months, be sure
that the CT.gov record reflects the changes.
28
Update registration (Con't)
• As required changes or at the 6 month
update:
– Update when enrollment met: Update under
Study Design Enrollment: ## – from
Anticipated to Actual.
29
Results reporting
• Start early!!
• Expect requests for clarification from
ClinicalTrials.gov after first attempt
• Report results for all applicable clinical
trials within 12 months after the last
subject meets the study required primary
outcome (s).
30
Critical to remember:
• These results are being posted for the
public to view:
– Keep the results reporting as simple as
possible: report in a way that they are clearly
understood by the layman (when possible)
– Must match the truth: consistent with
manuscript
– Only report the required analysis (matching
the outcome of the study)
31
Results reporting: key problem
areas
• Make sure numbers match!
• Use correct Units
• Describe measures clearly (do not include
results in description)
• Complicated study analysis
– Consult with statistician
32
Requesting an extension
• If reporting the primary outcome now
compromises the secondary outcome
• If there are extenuating circumstances
• If there are unique issues related to the
analysis of reporting an outcome
33
Support
• Email questions: register@clinicaltrials.gov
• http://clinicaltrials.gov/ct2/manage-recs/
• Http://prsinfo.clinicaltrials.gov
• Penny Jester (pjester@peds.uab.edu) 996-7800
• Linda Austin (laustin@uabmc.edu)
• Consult with statistician
34
What gives you headaches?
35
The future
• Require more protocols to be registered
and results reported
• Training of UAB staff
• Education of faculty
36
Thank you
&
Questions
SiteMinder Reminders
Ashley Specht
Program Manager II
knightae@uab.edu
205-996-9754
SiteMinder Reminders
• Clinical billables
• Protocol-driven clinical billable services are protocol
required clinical activities performed during the conduct of
a clinical trial that are billed through HSF/MSO or UAB
Hospital (PFS) billing offices.
• Protocol-driven clinical billable services can be activities
billed to the sponsor AND/OR to insurance (clinically
indicated/standard of care).
• Please note that studies that are all SOC still need to go
through FAP review and may have to be managed in
Siteminder.
SiteMinder Reminders
• Research Visit Outline
• After populating your 1's in the Siteminder budget build,
and before finalizing your study, it is important for your
research team to review the way the visits are labeled in
Siteminder and what activities have been assigned to each
of those visits
• In order to thoroughly review the Siteminder study budget,
you can print out a Research Visit Outline (RVO) to review
with the team.
SiteMinder Reminders
• Research Visit Outline
• From the desktop, click on Research Visit Outline under the
UABHS Reports
• Enter your Siteminder study number
• You can choose "All Visits" to see all the visits or you can
choose the specific visit you'd like to review.
• Study Budget
• We would like to ask that study staff please not add any
visits or activities to the Siteminder study budget build. If
something needs to be revised, please let us know so that
we may do that for you (there is a specific way that
information must be populated in these fields).
SiteMinder Reminders
• Finalization:
• When you are ready to finalize your study in Siteminder,
please send an email with the following:
• A statement that study is ready to be finalized
• IRB number
• OSP Assigned # (formerly Link#/Proposal#), if applicable
• At that time, we will review your study build and budget for
completeness . We will then change the budget status to
finalized.
SiteMinder Reminders
• Siteminder Access:
• SiteMinder can be accessed from any computer behind the
UAB Health System firewall.
• Siteminder only functions in Internet Explorer 7 or below. It
will not function properly in Firefox, Camino, Safari, or Google
Chrome.
SiteMinder Reminders
• Scheduling Appointments in Siteminder
• Please remember to schedule your appointments in
Siteminder by 5pm before the date of service
• Screening Visits
• The scheduling by 5pm before the date of service
requirement is waived when study association and
scheduling of a study visit for a patient occur on the same
day
• Keeping Visits in Siteminder
• Visits are to be kept in Siteminder within 2 business days
after the date of service.
SiteMinder Reminders

CTBN Reports
◦ After a study visit with clinical billables is Kept with
Variations in Siteminder, a CTBN is electronically sent to the
billing office(s)
◦ Coordinators are able to view their CTBN Reports by going
into Siteminder and:




From the desktop, click CTBN Report from the UABHS Reports section
Enter the IRB number
Delete the "Create Date or Range:" and "Thru (if range):" fields
Enter the visit date (or a range of dates) in the "Visit Date or Range:"
and "Thru (if range)" fields
 Click Continue
 CTBN reports should show in a table. The "R" in the column on the far
right indicates "Revised," and this will be the most recent CTBN.
CTBN Performance Reports
04/22/2013 – 05/10/2013
CTBN Overall Performance
04/22/2013 – 05/10/2013
UAB Office of Sponsored Programs
Clinical Billing Review Unit
Siteminder Performance Report Summary
Appointments and CTBNs
Period 04/22/2013 – 05/10/2013
Overall Summary
Total CTBNs Filed
Original
Revised
% On Time
% Late
515
502
13
87%
13%
Total Appointments
% On-Time
% Late
509
82%
18%
Unit CTBN On Time %
CTBN YTD
Performance
Units 80% and
Above Through
May 2013
002-Gyn/Onc
003-Radiation Oncology
008-Nephrology
011-AVRC
012-Microbicide
015-Card:Nuc
025-Cardiology - MRI
031-Neuro-Multiple Sclerosis
060-OB/GYN-MFM
078-Hypertension
026-GI/HEP
066-OTOL
036-Neuro-Epilepsy
009-SOM-ID
010-1917 Clinic
017-Cardiology-EP
069-Surg - Neuro
014-Clinical Nutrition
034-Neuro-Movement Disorder
018-Cardiology-IC
033-Neuro-Stroke
097-Psychiatry
098-Emergency Medicine
007-Nephrology
022-Dermatology
021-Rheumatology/Immunology
067-Surg:CardioVascular
083-OB/GYN:WPMRS
Average
100
100
100
100
100
100
100
100
100
100
99
98
97
95
95
94
91
90
90
88
88
88
88
87
85
83
83
83
SiteMinder 100% Club
PI and Study Coordinators
100% Scheduling and Keeping Appointments
04/22/2013 – 05/10/2013
•
•
•
•
•
•
•
•
008 - Nephrology Transplant
012 – Microbicide
014 – Clinical Nutrition
025 – Cardiology MRI
060 – OB/GYN – MFM
066 – OTOL
078 – Hypertension
096 – Ophthalmology
SiteMinder Training 2013
• Siteminder Initial Coordinator Training
• Next Class , Friday, June 7th
• Location: Cudworth Hall (CEC) Room 305
• Time: 9:00am to 12:30pm
• To Register:
• Complete CBR Siteminder registration form located at
http://www.uab.edu/osp/forms
• and request username at Centernet support at
http://centernetsupport.hs.uab.edu
June & July Meeting dates
Kaul Human Genetics Building
Finley Conference Center
• Wednesday, June 19, 2013: 12 - 1 pm.
• Wednesday, July 17, 2013: 12 - 1 pm.