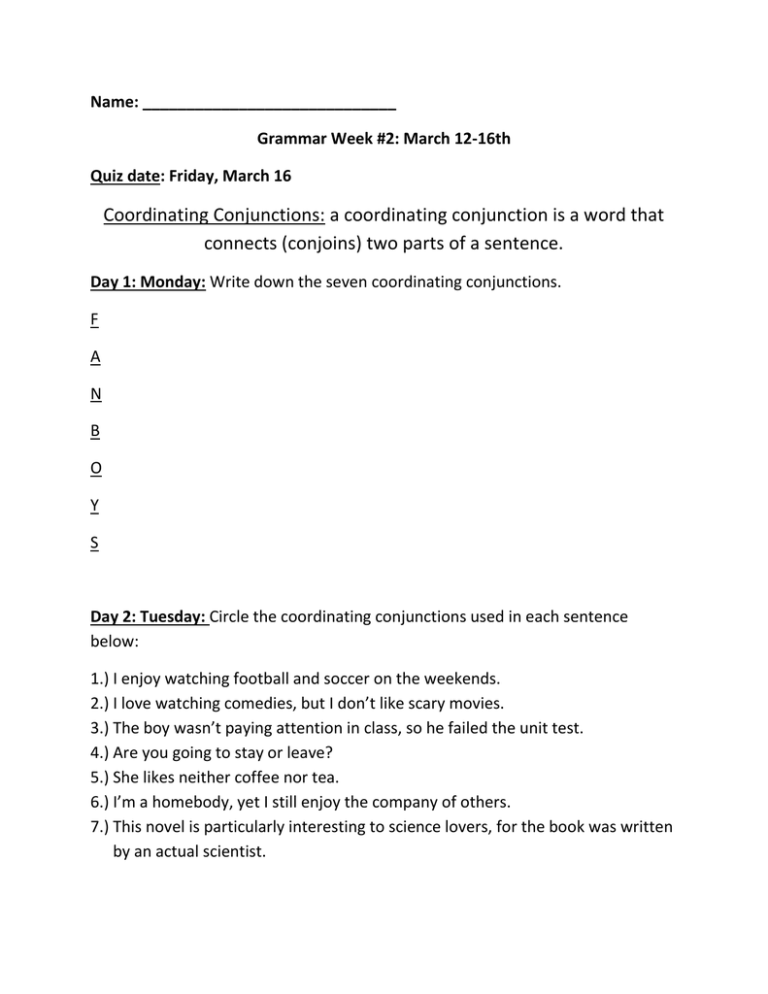 Name: _____________________________
Grammar Week #2: March 12-16th
Quiz date: Friday, March 16
Coordinating Conjunctions: a coordinating conjunction is a word that
connects (conjoins) two parts of a sentence.
Day 1: Monday: Write down the seven coordinating conjunctions.
F
A
N
B
O
Y
S
Day 2: Tuesday: Circle the coordinating conjunctions used in each sentence
below:
1.) I enjoy watching football and soccer on the weekends.
2.) I love watching comedies, but I don't like scary movies.
3.) The boy wasn't paying attention in class, so he failed the unit test.
4.) Are you going to stay or leave?
5.) She likes neither coffee nor tea.
6.) I'm a homebody, yet I still enjoy the company of others.
7.) This novel is particularly interesting to science lovers, for the book was written
by an actual scientist.
Day 3: Wednesday: Fill in each blank with the coordinating conjunction that most
logically links the two parts of the sentence. Insert a comma when appropriate.
Example: Many people desperately want a child, but they are unable to conceive
one.
1. I needed a new dress _____ I asked my mother to loan me money.
2. He went to the movie theater early _____ bought tickets for us.
3. My grandparents think they are helping me _____ their advice is archaic.
4. She is always prepared _____ a disastrous situation.
5. I want either a donut _____ a cookie.
6. She likes neither softball _____ tennis.
Day 4: Thursday: Write your own sentences using each coordinating conjunction.
Make sure you follow the comma rule!
1.
2.
3.
4.
5.
6.
7.