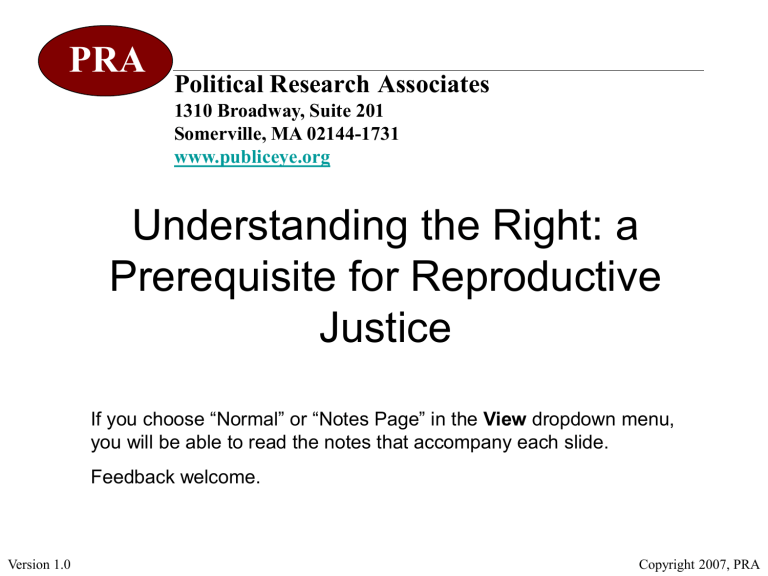 PRA
Political Research Associates
1310 Broadway, Suite 201
Somerville, MA 02144-1731
www.publiceye.org
Understanding the Right: a
Prerequisite for Reproductive
Justice
If you choose "Normal" or "Notes Page" in the View dropdown menu,
you will be able to read the notes that accompany each slide.
Feedback welcome.
Version 1.0
Copyright 2007, PRA
Political Research Associates
www.publiceye.org
Incisive Research for Social Change since 1981
– Focus: on Right-wing social movements
– Publish: Public Eye Magazine, Activist
Resource Kits, and Special Reports
– Website: www.publiceye.org
– Audience: activists, journalists, and the general
public
Reproductive Justice
• Designed and led by women of color to
address their concerns
• Comprehensive approach: including health
care, legal, and social justice issues
• Has potential to address the reality of
multilayered attacks by Right
Where does the "vast right-wing
conspiracy" live?
No one place: The Right is no Monolith
The U.S. Political Right: No Simple Answers
• No one organization "controls" the
Right. No single funder is "behind"
the Right.
• Some large organizations are
important, but many others appear
to be more influential than they
really are.
• Recognize that there are multiple
networks of organizations and
funders with differing and
sometimes competing agendas.
THE RIGHT'S "CULTURE OF LIFE" TEXT / SUBTEXT
HETEROSEXISM
Sectors of the Right: Submovements
Secular Right
Corporate
Internationalists
Business
Nationalists
Economic
Libertarians
National Security
Militarists
Neoconservatives
Condoleezza Rice
Pat Buchanan
Virginia I. Postrel
Donald Rumsfeld
William Kristol
Religious Right
Christian Right
Religious Conservatives
Christian Nationalists
Billy Graham
Jerry Falwell
Christians – Jews - Muslims
Christian Theocrats
R.J. Rushdoony
Xenophobic Right
Paleoconservatives
Patriots
White
Nationalists
Extreme Right
Samuel Francis
Militia of Montana
John Tanton
Timothy McVeigh
Different Primary Targets
While issues of race, gender, and class are intertwined in all
social movements, each sector of the Right will frame its
arguments in a way that highlights a narrower primary target.
Religious Right
Xenophobic Right
Secular Right
Gender & Sexuality
Race & "Elites"
Various targets: Preserve
Economic privilege
The Right did not invent:
•Racism
•Sexism
•Heterosexism
•Classism
•You name it…
But sectors of the Right know how to
use these attitudes and mobilize people
who hold them…
Intersections of targets
gender
sexuality
race
class
Keys to the Right's Interactivity
• They can mobilize multiple bigotries in a
single project
• One frame can be modified to fit new
targets
• Our diverse multiple identities create
opportunities for different targets or
wedges.
Daniel Patrick Moynihan,
author of the 1965
The Negro Family: The Case for National Action
"A community that allows a large number of young men to grow up
in broken families, dominated by women, never acquiring any stable
relationship to male authority, never acquiring any set of rational
expectations about the future -- that community asks for and gets
chaos... And it is richly deserved."
"Save our welfare system and the world
from the exorbitant cost to the taxpayer
for each drug addicted birth."
Project Prevention (C.R.A.C.K.)
Targets
•
•
•
•
Class
Gender
Race
Sexuality
Mobilized Base
• Resentful taxpayers
• Fearful whites
• "Pro-lifers"
Response from CWPE and INCITE!
Immigrant Health Care Challenges Illustrate
Multiple Targets
Targets
–
–
–
–
Race
Gender
Class
Sexuality
Mobilizes
– Population
control
advocates
– Angry
taxpayers
– Nativists
Marriage Promotion
Letter reads:
"Honey, Why don't
you find someone
to marry you.
Have a nice life.
See you around.
W."
WELFARE MOMS
Marriage Promotion
Targets
• Young women
• Single mothers
• Communities of color
Mobilized base
• Resentful taxpayers
• Faith communities
• Fearful whites
Silver Ring Thing: Abstinence Until
Marriage
• Targets:
– Sexuality
– Age
• Mobilizes:
-Parents
-Anti-abortion folks
-Sex-phobic folks
www.silverringthing.com
Intersections of Sectors
Secular Right
Religious
Right
Xenophobic
Right
Opposition to HPV Vaccine
began years ago
• Targets
– Age
– Sexuality
– Gender
"Abstinence is the best
way to prevent HPV.
Giving the HPV vaccine to
young women could be
potentially harmful,
because they may see it
as a license to engage in
premarital sex."
Bridget Maher
Family Research Council,
2005
•
Mobilizes:
-Libertarians
-Christian Right
-Secular Right
Why do we need to understand the
Right?
•Its success can teach us lessons
•Its movements listened carefully to the resentments of
people not achieving the American Dream
•Then they targeted many of us based on various
combinations of vulnerable identities in order to achieve
their goals
•That complexity gives right added political power
•The Right scapegoats and demonizes groups to focus
energy away from real issues
Our concerns mirror their attacks
Building blocks of
the Right's attacks
on women
Building blocks of
Reproductive Justice
Freedom
to decide
to have
children
Sterilization
programs
Ending
Abortion
Erasing
social
safety
net
Limiting
health
benefits
Marriage
Promotion
Abstinence
only
education
Full access to
abortion and
contraception
Support
for low
income
families
Access to
quality
health
care
Defining
our own
families
Comp.
sexuality
ed
Why is understanding the right a
prerequisite for achieving RJ?
•Exposes the structural pervasiveness of
Right's success
•Empowers vulnerable communities to
understand how we are viewed and used
•Highlights that strategic designs require
strategic responses
Reproductive Justice Frame
Individual attitudes
Community values
Institutional
policies and practices
Cracks in the U.S. Right
Paleoconservatives
vs.
Neoconservatives
Culture Warriors
vs.
Economic Libertarians
Neoconservatives
vs.
Theoconservatives
Purists
vs.
Pragmatists
Biological Racists
vs.
Cultural Supremacists
Challenges to RJ Movement



How can we coordinate diverse agendas
of our various groups?
How do we develop strong coalitions with
other social justice movements?
How do we keep to a vision of wellbeing
of all women and children?