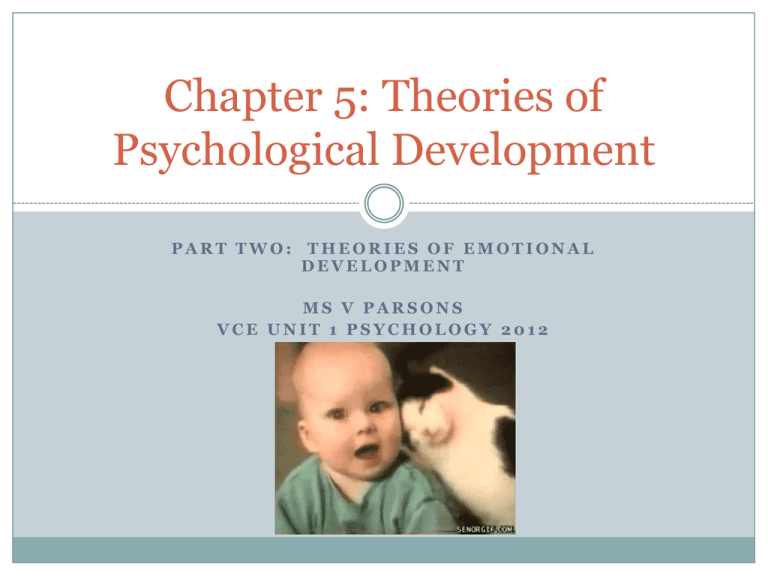 Chapter 5: Theories of
Psychological Development
PART TWO: THEORIES OF EMOTIONAL
DEVELOPMENT
MS V PARSONS
VCE UNIT 1 PSYCHOLOGY 2012
Why so many theories?
 This year we will cover the
following areas of
development:
Perceptual
Gibson
Emotional
Bowlby,
Ainsworth
& Harlow
 Perceptual – Gibson
Psychological
Development
 Emotional – Bowlby,
Ainsworth, Harlow
 Cognitive - Piaget
 Moral -Kohlberg
 Psychosocial – Erikson
Cognitive
Piaget
Psychosocial
Erikson
Moral
Kohlberg
Emotional Development: Romanian Orphans
 http://www.youtube.com/watch?v=UtQ4sPgNoEY
How important is the psychological bond ..or
ATTACHMENT..between infants and their
caregivers in emotional development ?
Definition of Attachment
An enduring emotional tie
to a special person,
characterized by a
tendency to seek and
maintain closeness,
especially during times of
stress.
Roots of Attachment Theory
•
John Bowlby applied
ethology (the study of
behaviour) to infants
•
Infant's innate behaviors are
evolved responses which
promote survival
John Bowlby,
British
psychiatrist (19071990)
Importance of Attachment
•
Implications for infant's
sense of security
•
Affects internal working
model
•
Freud, Erikson,
Behaviorists described its
impact on development
Bowlby's 4 Key Characteristics of Attachment
 Proximity Maintenance-
desire to be near the caregiver.
 Safe Haven-
the ability to be able to return to
the caregiver when scared.
 Secure Base-
from which infant can explore
surrounding environment.
 Separation distress-
anxiety when caregiver leaves
Bowlby's Four Stages of Attachment
Pre attachment phase
•
Birth - 6 weeks
•
Baby's innate signals attract
caregiver
•
Caregivers remain close by
when the baby responds
positively
Attachment in the Making
• 6 wks to 6-8 months
• Develops a sense of trust that
caregiver will respond when
signaled
• Infants respond more positively
to familiar caregiver
• Babies don't protest when
separated from parent
Clear-cut Attachment
•
6-8 months to 18-24 months
•
Babies display separation
anxiety
•
Babies protest when parent
leaves
Formation of Reciprocal Relationship
•
18 mo - 2yrs
•
Toddlers increase their
understanding of symbols
and language improves
•
Toddlers understand that
parents will return
Factors which Affect Attachment
•
Opportunity for attachment
•
Quality of caregiving
•
respond promptly and
consistently
•
interactional synchrony – the
sensitively tuned "emotional
dance"
•
Infant characteristics
•
infant's temperament, special
needs, prematurity, or illnesses
More Factors which Affect Attachment
•
Family circumstances
•
Stress can undermine
attachment
•
Parents' internal working models
•
Parents' own attachment
experiences
•
Parents' ability to accept their
past
Measuring the Quality of Attachment
• Mary Ainsworth researched
• Designed the "strange situation"
•
A lab experiment with 8
different episodes of separation
and reunion
•
Attached infant will:
•
Use mother as a secure base
•
Be soothed by the mother
during the reunion
Mary Ainsworth,
American Psycholgist
(1913-199)
Secure attachment
 http://www.youtube.com/
•
Uses caregiver as a secure base
•
May show distress at
separation, but the baby can
be soothed at reunion
•
60-65% of Australian children
watch?v=QTsewNrHUHU
Insecure-Avoidant Attachment
•
Unresponsive to parent
when she is present
•
Not distressed by
parting
•
Avoids or slow to greet
parent on return
•
20% of Australian
children
Insecure-Resistant Attachment
•
Infants remain close to
parents and not eager to
explore
•
Distressed by separation
•
During reunion, infants are
both clingy and resistant
•
12% of Australian children
Disorganized/Disoriented
Attachment
•
No coherent strategy
for handling
separations or
reunions
•
Baby looks dazed and
confused
•
5-10% of Australian
children
How do the Different Perspectives view
Attachment
Harlow's Attachment Experiment
 http://www.psychexchange.co.uk/videos/view/2097
8/
Harlow's Experiments in Monkeys
 Nonhuman primates can offer
tremendous insights into human
development.
 Of all animals, apes and monkey
are the most closely related to
humans behaviorally,
anatomically, and physiologically.
 Rhesus monkeys share over 90%
of their genes with those of
humans.
Harry Harlow,
American
Psychologist (19051981)
Harlow discovered that baby monkeys deprived
of their mothers (left) would transfer their affections
to a cloth surrogate. When they needed to eat, they would scamper
over to a milk-bearing wire mother, but then quickly return to cuddle
with the softer surrogate.
Harry Harlow 1905-1981
 RESULTS OF THE
EXPERIMENT All the rhesus
monkeys raised in isolation
were

Fearful

Easily frightened

Did not mate

Those artificially inseminated
became abusive mothers
Harry Harlow 1905-1981
 Harlow used this bear
for the fear test.
When Harlow put this
in the cage with the
isolated monkeys, they
were afraid.
Harry Harlow 1905-1981
 The typical response in
the fear test was to
cling to the cloth
mother. (not the wire
mother with the food)
Implications For The
Human Socialization Process
 Parental contact is absolutely
critical to infants' psychosocial
well-being. Critical =
absolutely necessary….won't
happen without it.
 Following WW II, psychologists
coined the term "anaclitic
depression" to describe the clinical
response of human infants to
prolonged maternal separation.