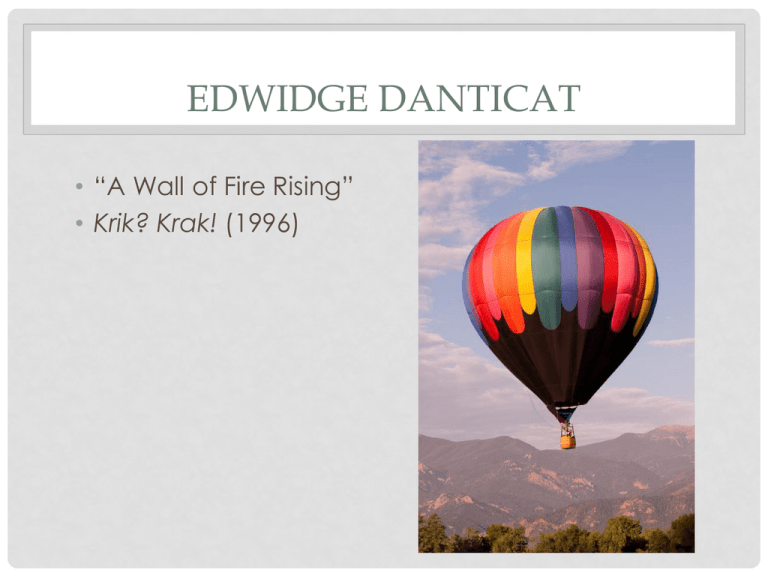 EDWIDGE DANTICAT
• "A Wall of Fire Rising"
• Krik? Krak! (1996)
AUTHOR~EDWIDGE DANTICAT
• Birth-Port-au-Prince,
Haiti January 19,
1969.
• EmigrationBrooklyn, New York
1981.
• Study-Barnard
College for French
Literature 1990,
Brown College for
Fine Art 1993
HAITI
DANTICAT'S WRITINGS
•
•
•
•
•
•
•
•
•
•
•
•
•
•
Breath, Eyes, Memory (novel, 1994)
Krik? Krak! (stories, 1996)
The Farming of Bones (novel, 1998)
Behind the Mountains (young adult novel, 2002,
part of the First Person Fiction series)
After the Dance: A Walk Through Carnival in
Jacmel, Haiti (travel book, 2002)
The Dew Breaker (novel-in-stories,2004)
Anacaona: Golden Flower, Haiti, 1490 (young
adult novel, 2005, part of The Royal Diaries
series)
Brother, I'm Dying (memoir/social criticism, 2007)
The Butterfly's Way (anthology editor)
Create Dangerously: The Immigrant Artist at
Work (essay collection, 2010)
Tent Life: Haiti (essay contributor, 2011)
Haiti Noir (anthology editor, 2011)
Best American Essays, 2011 (anthology editor,
October 2011)
Claire of the Sea Light (novel, August 2013)
DANTICAT ON LITERATURE AND
WRITING
• "Literature is a society mirror. I think that empathy is
necessary for our common surviving. Literature teaches
us to step into the other. Literature doesn't only teach
the secrets of our hearts, but of the others' hearts as
well…."
• "For me, writing has always been about bearing witness
and trying to understand who you are and your writing
context in the world. Being a child of migrants I think my
life was always a kind of search and writing is a way for
me to interpret that search."
HAITIAN CREOLE
• A mixture of French, Spanish, African, and English
called Creole, or "Kreyol"--Danticat was taught French
in school, but spoke Haitian Creole at home. Creole
was her first and primary language; English is her third
language.
• Her writings as attempts to represent the cadence of a
recent speaker of English: getting to the point, listing
important events, incorporating less literary color.
HAITIAN HISTORY
• Dec. 1492: Columbus discovers
Haiti (the island of Hispaniola)
• ca. 1600: Native Carib population
(Taino-Arawak Indians) virtually
wiped out. African slaves begin to
arrive in increasing numbers.
• 1600s: Rise of British, French, and
Dutch activity in Caribbean.
• 1697: The Spaniards cede the
western third of Hispaniola to the
French crown at the Treaty of
Ryswick. Haiti is now called "Saint
Domingue."
HAITIAN HISTORY
• 1697-1791: Saint Domingue becomes the richest colony in
the world. Its capital, Cap Francis, is known as the Paris of
the New World.
• August 1791: The first major black rebellion takes place.
This begins the markings of civil war between the black
dominated north and the mulatto dominated south.
• 1796: Toussaint L'Ouverture emerges as the leader of the
former slaves in the north. He restored order, ended the
massacres, and restored some of Saint Domingue's former
prosperity.
HAITIAN HISTORY
• January 1804: Jean-Jacques Dessalines proclaimed
the independent black Republic of Haiti in the northern
half of the island (the first independent country of
former slaves in the world). The name of the new
country, "Haiti," is the name that had been given to the
land by the former Taino-Arawak peoples, meaning
"mountainous country."
• 1843 to 1915: Haiti sees 22 heads of state, most of
whom leave office by violent means. Rivalry continues
among the whites, the mulatto elite, and the blacks.
HAITIAN HISTORY
• 1915: President Guillaume Sam is dismembered and
the Americans invade the country. They remain for 19
years.
• 1934: The Americans leave Haiti, which is now
prospering once again.
• 1937: Thousands of Haitians living on border of the
Dominican Republic are massacred by General
Trujillo's soldiers. (background to The Farming of Bones)
• 1957: Francois Duvalier ("Papa Doc") was elected
president, terrorized the country, rooting out any and
all opponents to his administration and ensured
HAITIAN HISTORY
• Duvalier's power through his private militia, the tonton
macoutes ("uncle boogeyman").
• 1964: Duvalier changes the constitution so that he can
be elected president for life.
• 1971: Duvalier dies and is succeeded by his son JeanClaude, age 19 (also known as 'Baby Doc'). By this
time Haiti is the poorest country in the western
hemisphere (and remains so to this day).
• 1972: Haitian "boat people" begin to flee to US.
HAITIAN HISTORY
• The rise of Aristide (1990–1991)
• Military rule (1991–1994) - In response to the coup, the United
Nations Security Council passed Resolution 841 imposing
international sanctions and an arms embargo on Haiti.
• The return of Aristide (1994–1996) - In mid-September 1994,
with U.S. troops prepared to enter Haiti by force for
Operation Uphold Democracy, President Bill Clinton
dispatched a negotiating team led by former President
Jimmy Carter to persuade the authorities to step aside and
allow for the return of constitutional rule. With intervening
troops already airborne, Cédras and other top leaders
agreed to step down.
• Preval's first Presidency (1996–2001)
• Aristide's second presidency (2001–2004)
• The 2004 coup d'état
• The second Préval Presidency (2006–2011)
• The Martelly Presidency (2011–present day)
HAITIAN CULTURE
• People: Divisions of race and class between blacks
(about 95% of population) and mulattos(about 5%)
• Language: Nearly all blacks speak Creole. French is
spoken mainly by the mulatto elite, and is the official
language.
• Religion: Voodoo - An animistic African religion that has
been melded with Catholicism. 80% people believe in
Catholicism and 5% people are Protestant; Voodoo is
popular among the farming society. Rituals involve
dancing and drumming ,spirit possessions and the
occasional zombie.
"A WALL OF FIRE RISING"
Guy, Lili, and their son, Little Guy, live in a one-room
shack. They get excited when Little Guy gets to play
a revolutionary at school, and Guy gets extra work
cleaning bathrooms at a plantation. Little Guy
spends all his time learning lines while Guy dreams of
stealing the plantation's hot air balloon. Lili doesn't
approve, but one day she sees Guy flying the
balloon. Guy captures the neighborhood's attention
and jumps out. Little Guy recites the lines from his play
over Guy's dead body.
"A WALL OF FIRE RISING"
• Setting: Haiti. A house near a sugar mill where the
father worked.
• Characters: Guy, Lili and Little Guy, Assad
• Themes: Poverty, freedom, family duties, suffering,
the dangerous power of hope and dreaming.
QUESTIONS FOR DISCUSSION
• Why does Guy steal the balloon? Why does he kill
himself?
• How are gender roles portrayed in the story? What
are the consequences of Guy's death to his son
and wife?
• What are some historical class issues subtly pointed
out by Danticat?
• What do you think is the meaning of the title? How
does the title relate to the story?