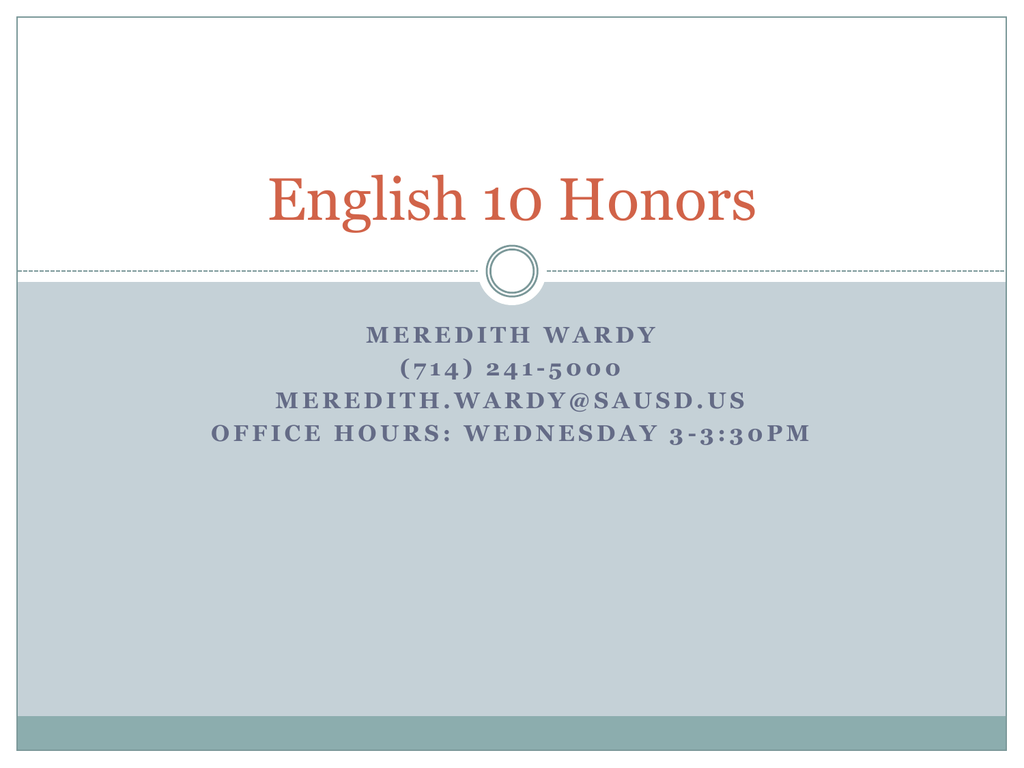 English 10 Honors
MEREDITH WARDY
(714) 241-5000
[email protected]
OFFICE HOURS: WEDNESDAY 3-3:30PM
The year in a (tiny) nutshell:
The year in a (tiny) nutshell:
Unit 1: Narratives (plot, character)
Unit 2: Arguments (point of view, narrator, voice, TKM)
Unit 3: "Change can be Unexpected" (irony and summary)
Unit 4: Response to Literature (symbolism/allegory,
poetry)
Unit 5: Consumer and Workplace Docs (Business letter)
Unit 6: CAHSEE, Research Paper  (test prep, paper)
Unit 7: Drama (The Play—Julius Caesar, and Oedipus)
Unit 8: Society and the Individual—Joy Luck Club
Grading Policies
Grade Categories
 Essays, writing, projects: 35%
 Tests, quizzes: 30%
 Class work, homework: 25%
 Independent Reading: 5%
 Class Participation: 5%
Turnitin.com
Class IDs and Passwords
Period 1:
 ID = 8542159
 PW = Jaguars2017
Period 3:
 ID = 8542171
 PW = Jaguars2017
My website!
 My school website is under the "Teachers" link at
http://www.sausd.k12.ca.us/segerstrom. (Search by
last name.)
 Turnitin.com and other relevant, helpful information
is under the "Links" tab on the left side of the page.
 The 10th Grade Honors Materials link takes students
to relevant documents and PPTs.
Required Reading
Independent Reading
• Reading at home is required.
• IR assignments will be collected every six weeks.
• Some suggested titles: Harry Potter series, Catcher
in the Rye, Fahrenheit 451, The Kite Runner,
Flowers for Algernon, Lord of the Flies, Catch-22,
Divergent series, The Hunger Games, Call of the
Wild
 See list near classroom library for other great
suggestions! Also, visit my website for popular books
and authors!
REMIND APP
 www.remind.com
 A great way to stay in touch and be updated about all
the latest!
 Sign up before you leave if you want to be in the
loop! No obligation, of course.