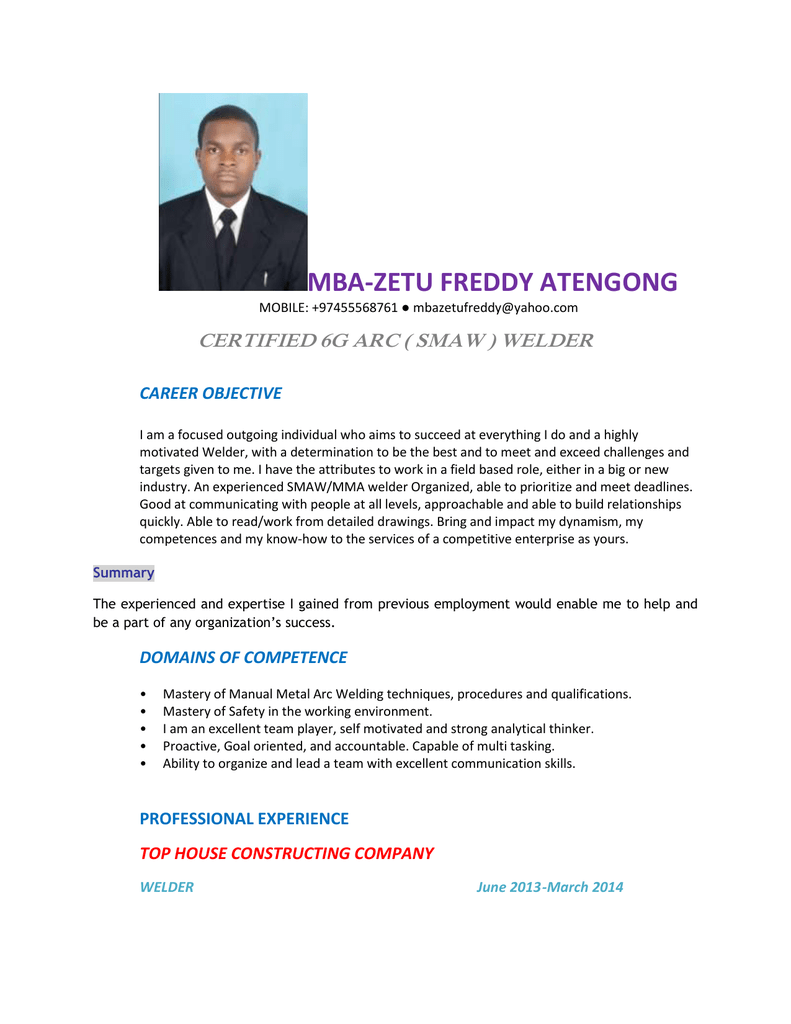 MBA-ZETU FREDDY ATENGONG
MOBILE: +97455568761 ● [email protected]
CERTIFIED 6G ARC ( SMAW ) WELDER
CAREER OBJECTIVE
I am a focused outgoing individual who aims to succeed at everything I do and a highly
motivated Welder, with a determination to be the best and to meet and exceed challenges and
targets given to me. I have the attributes to work in a field based role, either in a big or new
industry. An experienced SMAW/MMA welder Organized, able to prioritize and meet deadlines.
Good at communicating with people at all levels, approachable and able to build relationships
quickly. Able to read/work from detailed drawings. Bring and impact my dynamism, my
competences and my know-how to the services of a competitive enterprise as yours.
Summary
The experienced and expertise I gained from previous employment would enable me to help and
be a part of any organization's success.
DOMAINS OF COMPETENCE
•
•
•
•
•
Mastery of Manual Metal Arc Welding techniques, procedures and qualifications.
Mastery of Safety in the working environment.
I am an excellent team player, self motivated and strong analytical thinker.
Proactive, Goal oriented, and accountable. Capable of multi tasking.
Ability to organize and lead a team with excellent communication skills.
PROFESSIONAL EXPERIENCE
TOP HOUSE CONSTRUCTING COMPANY
WELDER
June 2013-March 2014
Here at the New Doha International airport (NDIA).i am handling a job as a welder. i have
effectively installed stainless steel hand rails posts, glass security barriers
Duties and responsibilities:












Chips or grinds off excess weld, slag, or spatter, using hand scraper or power chipper,
portable grinder, or arc-cutting equipment.
Positions work pieces and assemble figures.
Preheats work piece, using hand torch or heating furnace.
Ignites torch or starts power supply and strikes arc.
Reviews layout, blueprints, diagrams, or work orders in preparation for welding or cutting
metal components.
Connects and turns regulator valves to activate and adjust gas flow and pressure to obtain
desired flame.
Selects and installs torch, torch tip, filler rod according to welding chart specifications or
type and thickness of metal.
Guides electrodes or torch along weld line at specified speed and angle to weld, melt, cut,
or trim metal.
Welds metal parts or components together, using arc welding equipment.
Repairs broken or cracked parts, fills holes and increases size of metal parts, using welding
equipment.
Welds in flat, horizontal, vertical, or overhead position.
Inspects finished work piece for specifications.
ADDAX PETROLUEM
EXPERT WELDER
June 2012– Present
Heavy plant maintenance welder also pipe work. I travelled all over the country on various
contracts for a number of companies and contractors. Also work as a 1G, 2G, 3G, 4G, 6G
Welder.
ALL INDUSTRIAL MAINTENACE SERVICES (A.I.MS)
WELDER
2010 - 2011
Responsible for the design and manufacture of all welding work for the company; responsible
for welding maintenance work on three trenchers from 65 tons to 160 tons. Total strip down
work and rebuilding on digging sticks and chains under carriages and main chassis work.
GENERAL BUISNESS ASSOCIATION (G.B.A)
Heavy plant maintenance welder also pipe work
EDUCATION AND TRANING
•
2013: Working with ALL INDUSTRIAL MAINTENANCE SERVICES as a welder.
•
2012: Completed High School and obtained a BACCALUAREAT DE BREVET DE TECHNICIEN
Certificate in Automobile mechanic.
•
Homologation as a certified welder
-- All Industrial Maintenance Services (A.I.M.S).
•
2011: PROBATOIRE DE BREVET DE TECHNICIEN in Automobile Mechanic.
•
2009: C.A.P IN Automobile mechanic.
PERSONAL QUALITIES
•
•
•
•
Quickly and easily adapt to new technologies alongside a good team spirit.
Very hardworking, respectful, open-minded, reliable and efficient
Good spoken English
French fluently
PROFESSIONAL SKILLS
•
Oxy-acetylene cutting.
•
SMAW/MMA.
•
Able to communicate clearly.
•
Enjoy working with machinery and metals.
•
Physical strength and endurance.
•
Able to concentrate on detailed work for long periods.
•
Able to bend and work in awkward positions.
•
Good vision and hand-eye coordination.
•
Good concentration.
•
Know how to work safely.
•
Able to work alone or in a group.
•
Ability to keep up to date with changing technology.
•
Ability to plan and think in steps and three-dimensionally.
•
Computer skills.
•
Knowledge of metals, relevant product codes, regulations and laws.
INTERESTS
I enjoy reading books as a hobby and occasionally visit the gym to keep fit and swim on a regular
basis.
PERSONAL DATA
Marital Status:
Sex:
Date of Birth:
Nationality:
Visa Status:
Single
Male.
28th January 1993
Cameroonian.
5 Years Work visa (NOC available).
REFERENCES
To be provided on Request.