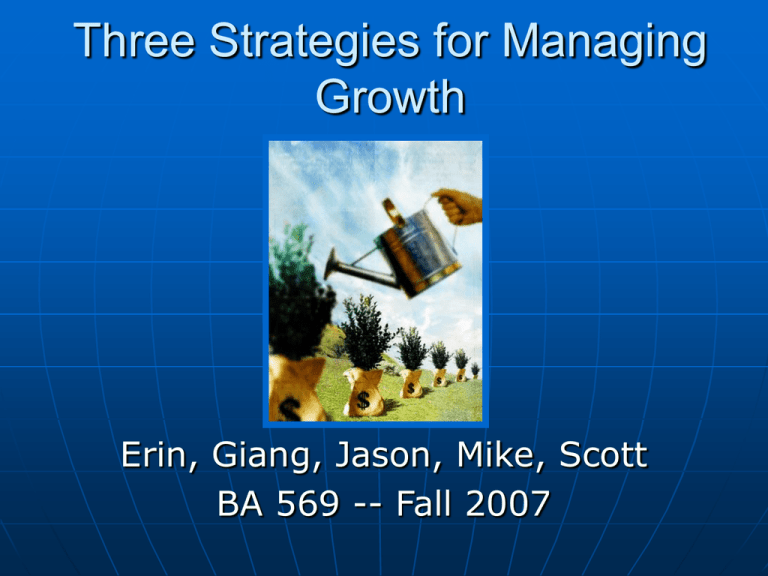 Three Strategies for Managing
Growth
Erin, Giang, Jason, Mike, Scott
BA 569 -- Fall 2007
Agenda
The Three Strategies:




Scaling -- Giang
Duplication -- Mike
Granulation -- Scott
Combining -- Erin
Scaling: Doing more of what you
are good at
What does it start with?
- A coherent vision about
concrete product, technology
and customer segment
- A brief, clear and
understandable vision that
reflects company's
commitment growth
Is it the right the strategy?



Potentially large market
Unique product
Wide distribution system at low cost
How to do it?

Invest aggressively
Specialize and Standardize
Hire the right mix
Adapt the structures
Find ways to learn from customers early

Video:




Creating a Great Strategy:
Business Week
Duplication
"Repeating The Business Model In New Regions"
When you discover what works in one region do the same thing in the next!
Duplication starts with a coherent vision of products, technologies and
customer segments plus goals for geographic expansion
EX: IKEA
"Swedish Design skills and stores that could communicate an appealing
lifestyle to young people everywhere"
Balance standardization and
adaptation
"Package the companies entrepreneurial know-how for new geographic
areas"
Balance Standardization
-Keeping processes and organizational details close to the way they
are done in the original location
Adaptation
-Changing the organization and processes to address the needs of
the local region
Standardized Staffing, Training, and remuneration plans
-Company can rotate employees instead of having to hire and train
new people when sales work in one locale increases
Is Duplication The Right
Strategy!
-The business requires physical presence and the company can repeat its
business model in new geographic markets
EX: For businesses that sell items that the customer wants to see and touch!
-There is a need for local distribution
-A company would shift from a scaling strategy to a duplication strategy when
distribution channels are underdeveloped
-The company can Adapt Its Experiences in product development, manufacturing
and marketing approaches fairly easily
-New trends from foreign markets can lead to better target marketing
Duplicate key parts of the
infrastructure!
• A company needs to externalize or transfer key elements of the
infrastructure
EX: Ikea's European Expansion
-European expansion group, "Knowledge Marines"
Buy Land
Construct Outlets
Design Sore Decor
Hire Employees
-Two months before opening First Year Group would take charge
Training People,
Setting Up Operations
Arranging The Store Openings
Establishing local organization to run the operations
Duplicate Entrepreneurial knowledge
-Site locations
-Store design's and layouts
-Catalog Format
-Logo
-Standardized and documented products
-Personnel selection and training
Be aware Of The Limitations
Of Duplication strategies!


Customer tastes and employee backgrounds are too diverse for one set of
processes and programs to fit all situations
 When Ikea expanded to the US there many subtle differences in
tastes and shopping,
 European sheets did not fit American beds
A company must be able to learn quickly, fixing procedures and products
that don't work and make the people who created them aware of the new
requirements
 Senior management must have the openness and flexibility
necessary for modifying a formula that was a winner back home
 Especially true for young high-growth companies expanding
abroad in highly competitive market
Duplication Challenges!
For a company to utilize
duplication they need to
learn information on
each market they are
entering into







Local market conditions
Mass manufacturing
Mass Marketing
Competitors in each market with
their own strengths and
weaknesses
Currency risks
Regulatory differences
The best way to handle logistics
Granulation Strategy:

gran·ule [gran-yool]
• n. a tiny grain or cell

gran·u·la·tion [gran-yuh-leyshuhn]
• n. A business strategy focusing on
growing select cells within a company
Granulation: SAP

1972 - Founded in Germany in 1972,
• releases R/1

1992 - SAP Scales up
• Launches R/3, becomes global software
juggernaut

1996 - SAP Duplicates
• Reorganizes into industry business units

1999 – SAP Granulates
- Began focusing on Web interfaces

2003 - Launched NetWeaver
Is Granulation the Right
Strategy
for You?

Has your company:
• Exhausted growth through Scaling
& Duplicating?
• Identified a new technology that
could be substituted for your own
product?
• Matured sufficiently to handle
Granulation?
Granulation: Evaluate & Monitor

Obtain external knowledge

Focus on your new industry
Granulation: Learn from
Customers, Partners, &
Competitors

Strategic Alliances
• Share the knowledge

Acquire smaller companies
• Buy the knowledge
Granulation:

Key Takeaway:
• Know the industry you're entering.
http://www.youtube.com/watch?v=MeOk
x0q1qFs
The Original Strategies

Scaling: A company expands their business product
development, new product lines, increasing distribution
channels, to name a few.

Duplication: Using the company's vision to expand
geographically.

Granulation: Aggressively growing select areas of the company.
Combining the Strategies

A company must select the growth strategy of best fit.

The scaling strategy is the easiest strategy to implement.
• The company expands upon its core competencies, with the
company's original vision in mind.

The duplication strategy is more complex because companies
must expand and adapt to a new geographical market.

Granulation is the most difficult strategy
• Involves studying competitors, new markets and opportunities
Combining the Strategies

Some companies apply all three growth strategies at once.
• These are large companies that have different parts of their business in
different stages of growth

A company may first try scaling until it reaches its upper limits to
begin duplication and then eventually pursue granulation.
• Example: Disney

Scaled by expanding product lines from original Mickey Mouse
cartoon to other movie ventures, themed amusement parks, etc.

Duplicated by introducing amusement parks overseas i.e.:
Disneyland Paris

Pursued granulation by growth of their television business sector
(ABC)
Combining the Strategies

Some successful companies implement all three growth strategies
at once
• Example: SAP

First attempted scaling when they developed the R/1, then R/2,
and eventually the R/3, a program that helped companies
integrate resource planning across functions and customersuppliers.

Realized they had over engineered the R/3 and decided to
introduce AcceleratedSAP. Used the duplication process based
on their knowledge of software systems.


SAP
SAP uses granulation by sharing entrepreneurial knowledge in
new business areas for new markets.