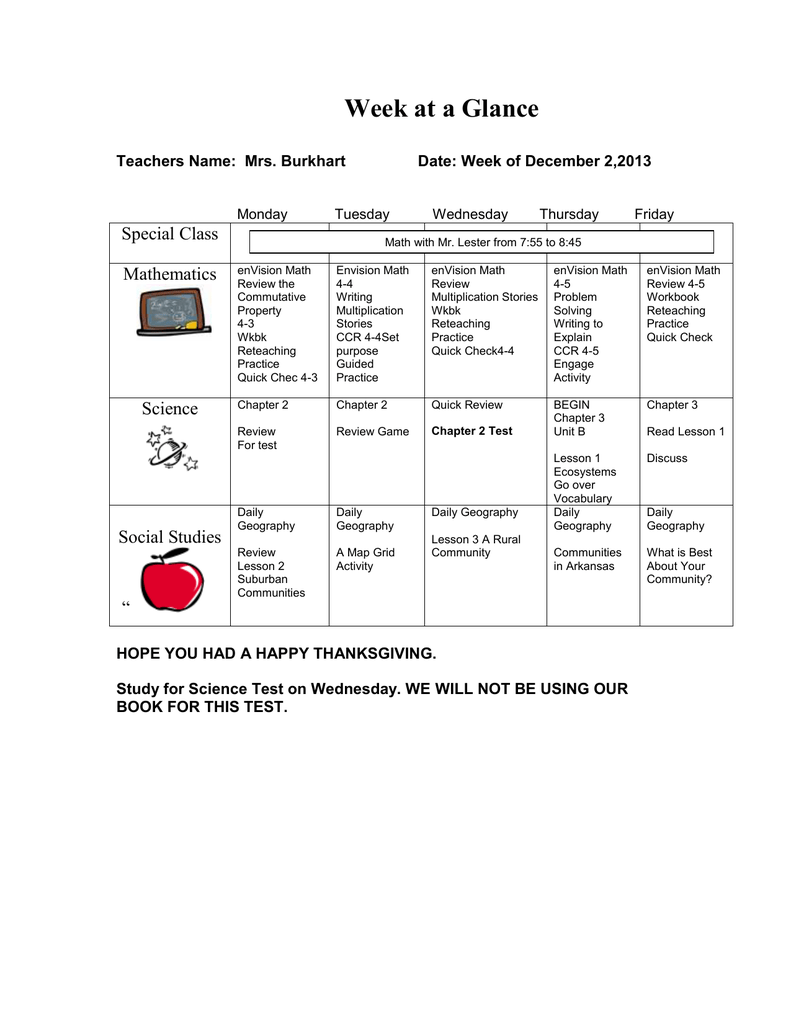 Week at a Glance
Teachers Name: Mrs. Burkhart
Monday
Special Class
Mathematics
Science
Social Studies
"
Date: Week of December 2,2013
Tuesday
Wednesday
Thursday
Friday
Math with Mr. Lester from 7:55 to 8:45
enVision Math
Review the
Commutative
Property
4-3
Wkbk
Reteaching
Practice
Quick Chec 4-3
Envision Math
4-4
Writing
Multiplication
Stories
CCR 4-4Set
purpose
Guided
Practice
enVision Math
Review
Multiplication Stories
Wkbk
Reteaching
Practice
Quick Check4-4
enVision Math
4-5
Problem
Solving
Writing to
Explain
CCR 4-5
Engage
Activity
enVision Math
Review 4-5
Workbook
Reteaching
Practice
Quick Check
Chapter 2
Chapter 2
Quick Review
Chapter 3
Review
For test
Review Game
Chapter 2 Test
BEGIN
Chapter 3
Unit B
Lesson 1
Ecosystems
Go over
Vocabulary
Daily
Geography
Discuss
Communities
in Arkansas
What is Best
About Your
Community?
Daily
Geography
Daily
Geography
Review
Lesson 2
Suburban
Communities
A Map Grid
Activity
Daily Geography
Lesson 3 A Rural
Community
HOPE YOU HAD A HAPPY THANKSGIVING.
Study for Science Test on Wednesday. WE WILL NOT BE USING OUR
BOOK FOR THIS TEST.
Read Lesson 1
Daily
Geography
Mrs. Burkhart's Reading/Language Arts
Week at a Glance
Week of December 2, 2013
Reading
Spelling
Daily Warm Up
Begin The Best
Christmas
Pageant Ever
Daily Warm Up
The Best Christmas
Pageant Ever
Chapter 2
Daily WarmUps
The Best
Christmas
Pageant Ever
Chapter 2
Daily WarmUps
The Best
Christmas
Pageant Ever
Quiz
Reading 1-2
Begin Chapter
3
Chapter 1
The Best
Christmas
Pageant Ever
Chapter 1
Story Elements
Story Elements
Story Elements
Story Elements
Introduce words
for the week
Review words
Review words
Review words
Word scramble
Sentence
Unscramble
Practice
Spelling
Test
Daily Language
Review
Verbs
Daily Language
Review
Verbs
Daily Language
Review
Verbs
Daily
Language
Review
Daily
Language
Review
Details-Stick to
the topic
Details- Taking
out details that
do not belong
Reading a word web
and taking out what
does not belong
Verbs
Details-adding
Verbs
Adding details
ABC Order
Language Arts
Daily Warm-Ups
(Nonfiction)
Writing
Spelling Words – vain, awful, wreck, supper, script, bazaar,
angel, funny, dessert, liar, cheerful, pew, inn, baby, manger
BONUS: rehearsal, unselfish
VOCABULARY–
vain- to have a big opinion of oneself
result- effect; outcome
pester- to annoy someone; to bother
awful- bad or unpleasant
weight- the amount of mass an object has
wreck- ruin; damage
church- a building for Christian worship
pageant- dramatic show of people in costume: a play
shepherd- a person who tends sheep
script- handwriting; written
Teacher Comments: Remember to always read with your child on Monday,
Tuesday, and Thursday nights. Please, sign his/her steno pad (or any
other sheet of paper) and any other homework written and return to school
the following day.