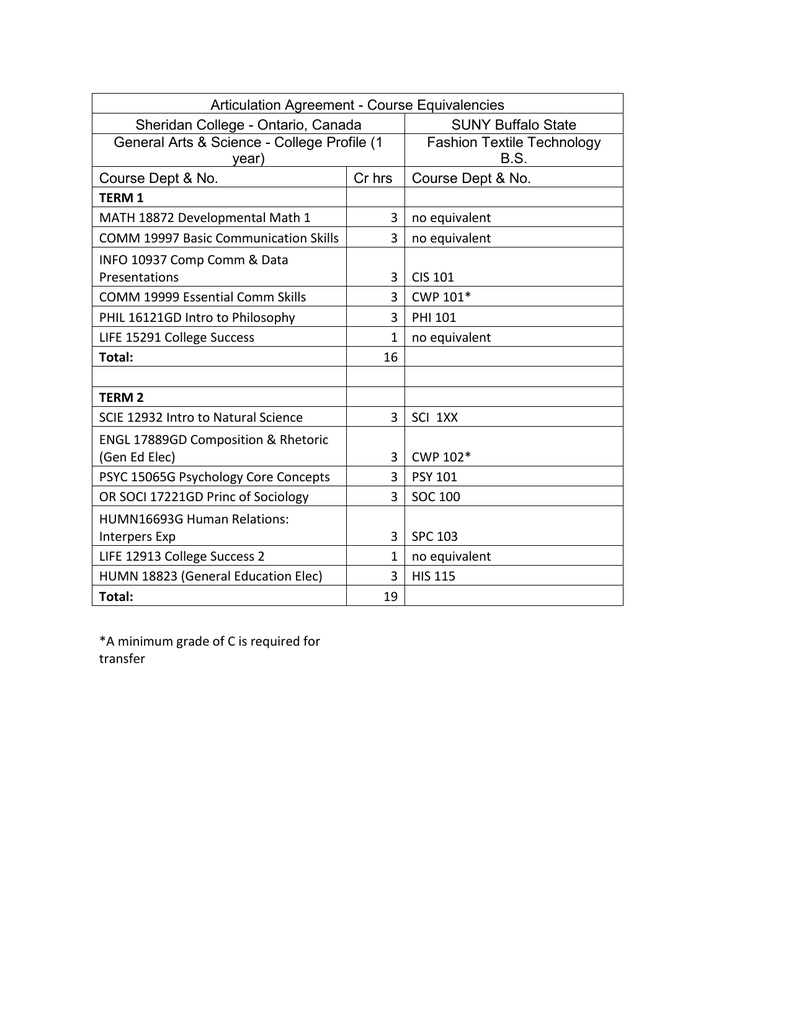 Articulation Agreement - Course Equivalencies
Sheridan College - Ontario, Canada
SUNY Buffalo State
General Arts & Science - College Profile (1
Fashion Textile Technology
year)
B.S.
Course Dept & No.
Cr hrs Course Dept & No.
TERM 1
MATH 18872 Developmental Math 1
3 no equivalent
COMM 19997 Basic Communication Skills
3 no equivalent
INFO 10937 Comp Comm & Data
Presentations
COMM 19999 Essential Comm Skills
PHIL 16121GD Intro to Philosophy
LIFE 15291 College Success
Total:
3
3
3
1
16
CIS 101
CWP 101*
PHI 101
no equivalent
TERM 2
SCIE 12932 Intro to Natural Science
3 SCI 1XX
ENGL 17889GD Composition & Rhetoric
(Gen Ed Elec)
PSYC 15065G Psychology Core Concepts
OR SOCI 17221GD Princ of Sociology
3 CWP 102*
3 PSY 101
3 SOC 100
HUMN16693G Human Relations:
Interpers Exp
LIFE 12913 College Success 2
HUMN 18823 (General Education Elec)
Total:
*A minimum grade of C is required for
transfer
3 SPC 103
1 no equivalent
3 HIS 115
19
SUNY Buffalo State
Remaining courses:
Major:
Required Core Courses (21 cr)
FTT 310 Sewn Products Industry
FTT 110 Survey of Fashion/Textile Industry
FTT 206 Introduction to Textiles
FTT 208 Introduction to Fashion Technologies
FTT 306 Textile Evaluation
FTT 358 Fashion Forecasting and Consumer Issues
FTT 450 Issues in Fashion/Textile Industry
Select 1 of the following concentrations:
Fashion Merchandising
Apparel Design
Apparel Product Development
Fashion/Textile Design Technologies
Any Gen Eds/IF requirements not met
http://catalog.buffalostate.edu/undergraduate/fashion-and-textile-technologybs.htm
Fashion and textile technology majors may spend their senior year studying a
specialty topic at the Fashion Institute of Technology (FIT) in New York City in a
"three-one" program, earning a B.S. from Buffalo State and an associate's degree
from FIT.