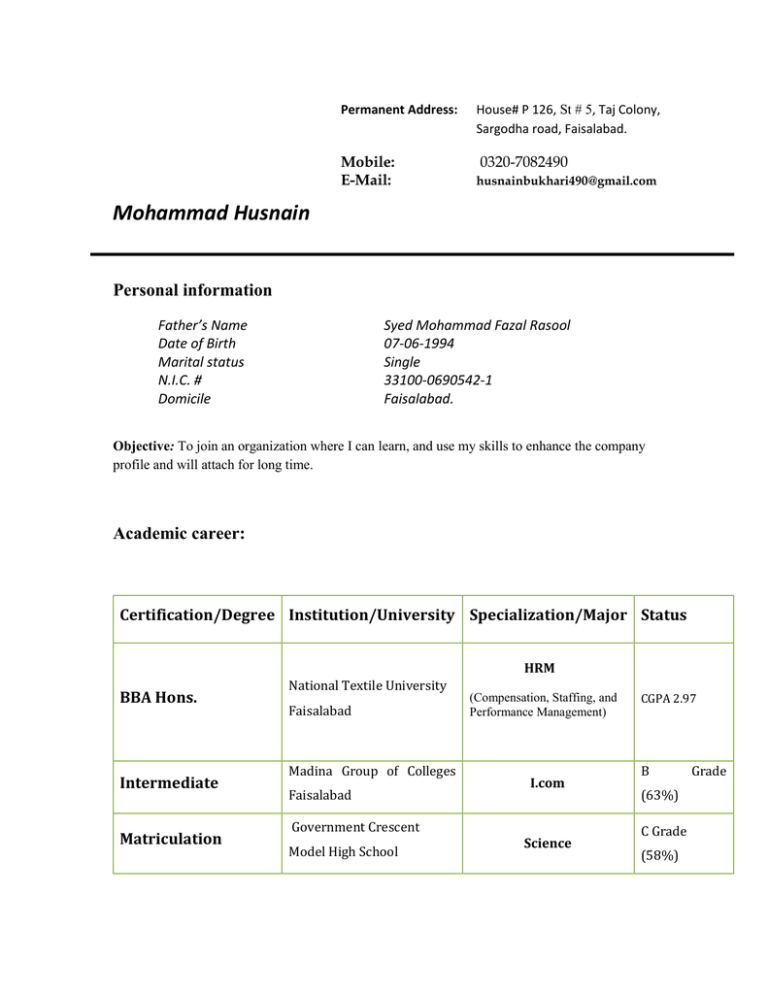 Permanent Address:
Mobile:
E-Mail:
House# P 126, St # 5, Taj Colony,
Sargodha road, Faisalabad.
0320-7082490
husnainbukhari490@gmail.com
Mohammad Husnain
Personal information
Father's Name
Date of Birth
Marital status
N.I.C. #
Domicile
Syed Mohammad Fazal Rasool
07-06-1994
Single
33100-0690542-1
Faisalabad.
Objective: To join an organization where I can learn, and use my skills to enhance the company
profile and will attach for long time.
Academic career:
Certification/Degree Institution/University Specialization/Major Status
HRM
BBA Hons.
Intermediate
Matriculation
National Textile University
Faisalabad
Madina Group of Colleges
Faisalabad
Government Crescent
Model High School
(Compensation, Staffing, and
Performance Management)
I.com
Science
CGPA 2.97
B
(63%)
C Grade
(58%)
Grade
Projects:
 Operation Management (OM) at Interlope (pvt) Ltd
 Change Management (CM) at McDonalds
Research Base Projects:
 Entrepreneurship (Organic kitchen) make innovative product and launched in the
market, physically perform in National Textile University Faisalabad.
Co curricular activities:
 Attended seminar on Business ethics.
 Participated in business plan competition.
 Attended one day workshop on lean six sigma.
Hobbies:
Listening talk shows, Cricket, Traveling.