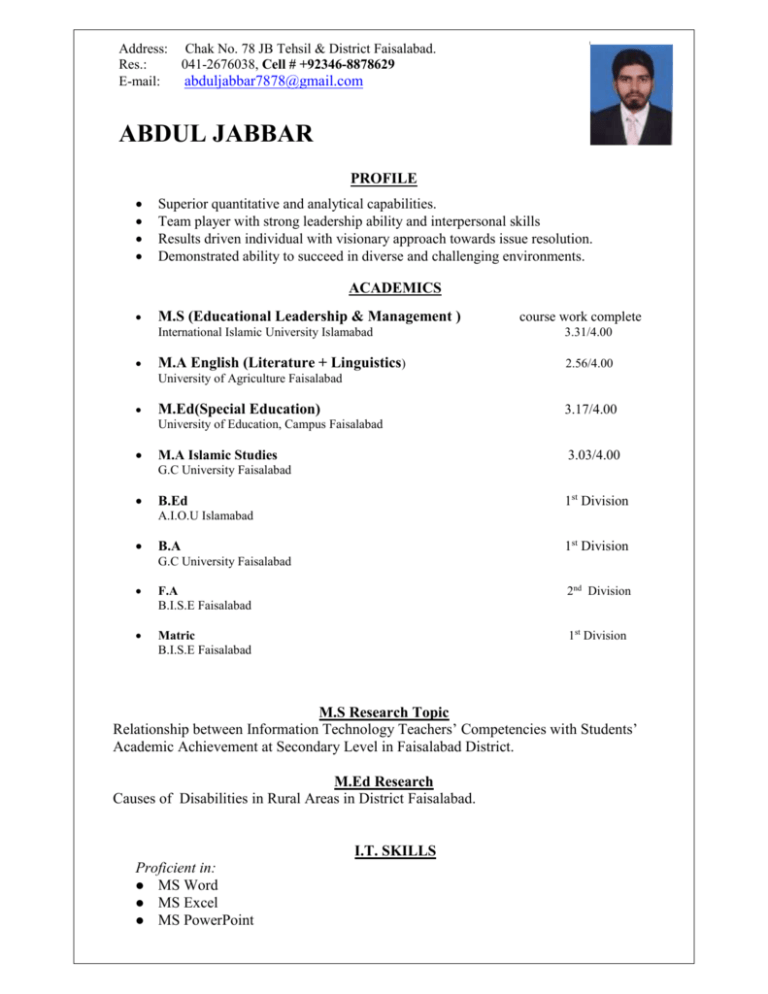 Address: Chak No. 78 JB Tehsil & District Faisalabad.
Res.:
041-2676038, Cell # +92346-8878629
E-mail:
abduljabbar7878@gmail.com
[
ABDUL JABBAR
PROFILE




Superior quantitative and analytical capabilities.
Team player with strong leadership ability and interpersonal skills
Results driven individual with visionary approach towards issue resolution.
Demonstrated ability to succeed in diverse and challenging environments.
ACADEMICS


M.S (Educational Leadership & Management )
course work complete
International Islamic University Islamabad
3.31/4.00
M.A English (Literature + Linguistics)
2.56/4.00
University of Agriculture Faisalabad

M.Ed(Special Education)
3.17/4.00
University of Education, Campus Faisalabad

M.A Islamic Studies
3.03/4.00
G.C University Faisalabad

1st Division
B.Ed
A.I.O.U Islamabad

1st Division
B.A
G.C University Faisalabad

F.A
B.I.S.E Faisalabad
2nd Division

Matric
B.I.S.E Faisalabad
1st Division
M.S Research Topic
Relationship between Information Technology Teachers' Competencies with Students'
Academic Achievement at Secondary Level in Faisalabad District.
M.Ed Research
Causes of Disabilities in Rural Areas in District Faisalabad.
I.T. SKILLS
Proficient in:
 MS Word
 MS Excel
 MS PowerPoint

Internet
INTERPERSONAL SKILLS



Fluency in communication
Impressive use kinesics
Leadership abilities
PERSONAL INFORMATION




Father's Name:
Date of Birth:
N.I.C. #
Marital Status:
Irshad Ali
08th August, 1985
33100-4783650-1
Single
Experience
One year teaching experience at Government Islamia High School 245 R.B through
National Internship Programme. N.I.P No 37685
Certificate
3month certificate in Arabic Language (Arabic Language Center) International Islamic University
Islamabad




Seminar & workshop
Importance of Motivation in Organization & General Life.
Entrepreneurship vs. Employment.
How to brand yourself in a Competitive Market.
Workshop on CV Writing, Interview & Empowerment for Life-Unemployed to
Employed.