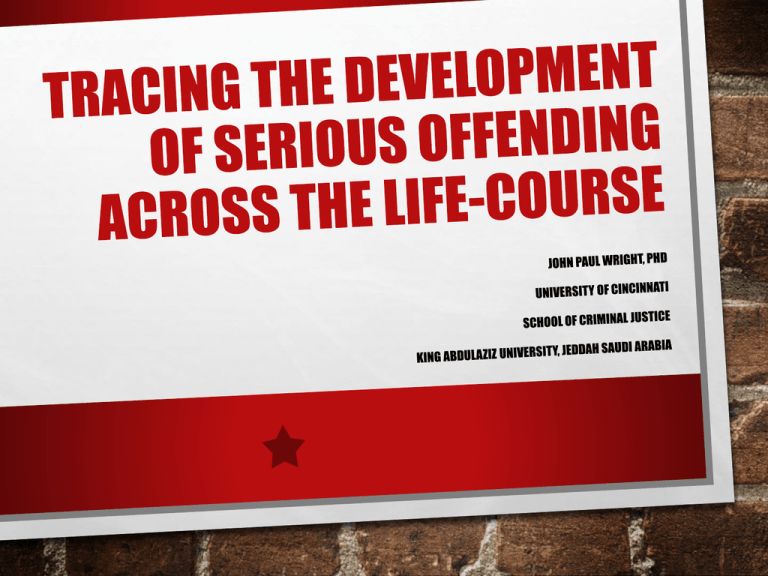 WHO AM I?
• WHAT YOU NEED TO KNOW ABOUT ME SO YOU CAN GAUGE THE LEGITIMACY
OF MY PRESENTATION
• ACTIVE RESEARCHER FOR THE PAST 20 YEARS
• HELPED TO DEVELOP BRANCH OF CRIMINOLOGY CALLED "BIOSOCIAL
CRIMINOLOGY"
• OVER 200 SCIENTIFIC ARTICLES, CHAPTERS, AND SEVERAL BOOKS
• LATEST BOOK: "CONSERVATIVE CRIMINOLOGY: A CALL TO RESTORE BALANCE IN
THE SOCIAL SCIENCES." ABOUT ROLE OF IDEOLOGY IN SOCIAL SCIENCES
• CONDUCTED FIELD WORK THIS SUMMER IN CINCINNATI
• HARLEY DAVIDSON, HUNTING/SHOOTING
ABOUT THIS PRESENTATION
• WILL NOT BE POLITICALLY CORRECT 
• WE WILL EXAMINE THE SCIENCE ON:
• CONCRETE FACTS ON THE DEVELOPMENT OF CRIMINAL/ANTISOCIAL BEHAVIOR
• LIFE-COURSE DEVELOPMENT OF PERSISTENT OFFENDING
• BIOLOGICAL / GENETIC/ BRAIN EFFECTS ON BEHAVIOR
• SPECIFIC ENVIRONMENTAL EFFECTS / GENETIC MODERATION
• TREATMENT EFFECTIVENESS AND LIMITATIONS
BASIC FACTS ON CRIMINAL
OFFENDING
•
•
•
•
•
•
•
•
•
•
PRIMARILY MALE: 97% OF ALL LCP'S ARE MALE
EARLY AGE OF ONSET: 40-700% MORE CRIME IF STARTS BY 12
HIGH TIME AND SITUATIONALLY STABLE: RESISTANT TO CHANGE
HIGHLY CONCENTRATED IN CERTAIN FAMILIES ACROSS GENERATIONS
KNOWN DEVELOPMENTAL PATHWAY
UNIQUE THINKING STYLES / PERSONALITY ARCHETYPE
HEDONISTIC LIFESTYLES
GENERALITY OF OFFENDING
STRONG ASSORTIVE MATING
DIVERSIFICATION OF CONSEQUENCES OVER TIME
BASIC FACTS: SEX DIFFERENCES
• UNIVERSAL: NOT PRODUCT OF
DIFFERENTIAL SOCIALIZATION
• PHYSICAL—MUSCULAR,
PHYSIOLOGICAL
• NEUROLOGICAL—BRAIN
STRUCTURES AND FUNCTIONS
• SOCIAL / BEHAVIORAL
BASIC FACTS: EARLY ONSET
• VIRTUALLY ALL CHRONIC
CHRONIC, PERSISTENT, SERIOUS OFFENDERS
TYPICALLY EXHIBIT AN EARLY ONSET FOR
ANTISOCIAL AND/OR CRIMINAL BEHAVIOR
A META-ANALYSIS OF NINETEEN STUDIES OF
CRIMINAL CAREERS (KROHN, THORNBERRY,
RIVERA, AND LEBLANC, 2001)
DEMONSTRATED THAT EARLY ONSET
OFFENDERS COMMITTED BETWEEN 40-700%
MORE CRIMES THAN OFFENDERS WHO ONSET
LATER.
VIOLENT OFFENDERS REPORTED
THAT THEY BEGAN THEIR
OFFENDING BETWEEN THE AGES
OF 9 TO 12
• CHRONIC, PERSISTENT,
VIOLENT…..BUT ALSO
VERSATILITY
• MUCH LONGER CAREER
• VERY HIGH MORTALITY RATES
BASIC FACTS: STABILITY
• STRONGEST PREDICTOR OF FUTURE
BEHAVIOR IS PAST BEHAVIOR—
ALWAYS
• ADULT CRIMINAL BEHAVIOR
ALMOST REQUIRES CHILDHOOD
ANTI-SOCIAL BEHAVIOR
• CROSS-TIME / PLACE / SITUATION
Variety | Extremity | Early Onset |
Context Invariant
Human Behavior is Resistant to Change
BASIC FACTS: INTERGENERATIONAL
CONCENTRATION IN FAMILIES
• 90% OF ALL SERIOUS, CHRONIC
OFFENDERS COME FROM <10% OF
ALL FAMILIES
• 6% OF FAMILIES ACCOUNT FOR
>50% ALL ARRESTS (LONDON)
• 8% OF FAMILIES ACCOUNT FOR
43% ALL ARRESTS (PITTSBURGH)
• LARGE FAMILY SIZE / MULTIPLE
PROBLEMS / MULTIPLE FATHERS /
GENETIC & EPIGENETIC & SOCIAL
BASIC FACTS: KNOWN
DEVELOPMENTAL PATHWAY
• TIME ORDERING TO DEVELOPMENT TO LCP OFFENDING
• OFF-TIME = EARLY ONSET OR VERY LATE ONSET
• ON-TIME = ADOLESCENT-LIMITED OFFENDING
• MINOR, LOW INTENSITY PROBLEM BEHAVIOR IS NORMAL IN ADOLESCENCE—
SERIOUS OFFENDING IS NOT (ROBBERY)
BASIC FACTS: THINKING STYLES /
PERSONALITY
• PERSONALITY IS A POWERFUL
PREDICTOR OF LIFE OUTCOMES
• NARCISSISM
• MACHIAVELLIANISM
• GRANDIOSITY
• NEGATIVE EMOTIONALITY
• HIGH SELF-ESTEEM
• THINKING STYLES EMERGE FROM
PERSONALITY
• ENTITLEMENT / VICTIMSTANCE
• RATIONALIZATION / UNIQUENESS
• DENIAL
• SUPER OPTIMISM /
SENTIMENTALITY
BASIC FACTS: CRIMINAL LIFESTYLE
• HYPER-HEDONISTIC: PARTYING | DRUGS | SEX
• CHAOTIC: NO TIME COMMITMENTS AND LOTS OF DRAMA
• RECKLESSNESS: SEX | DRIVING | FINANCIAL | VIOLENCE
• EXPLOITIVE: LYING | MANIPULATION | DECEPTION | WEAKNESS
• KNOWLEDGE OF CJ AND WELFARE SYSTEM: PEOPLE | PLACES | POLICIES
• LAZINESS IN THINKING AND BEHAVIOR
• EMBRACE CRIMINAL NARRATIVE
BASIC FACTS: GENERALITY OF
OFFENDING
• COMMIT A DIVERSE ARRAY OF
CRIMES
• FEW SPECIALIZE BUT SOME HAVE
PREFERENCES (DRUGS SEX)
• MINOR FORMS OF CB CORRELATE
POSITIVELY WITH MAJOR FORMS
OF CB
• HIGHLY OPPORTUNIST
• AVERAGE OFFENDER SELF-REPORTS
86 CRIMES PER 1 ARREST
• SENTENCING SCHEMES BASED ON
CONVICTION OFFENSE INACCURATE
APPRAISAL OF RISK
• THEY DO EVERYTHING IMAGINABLE
BASIC FACTS: DIVERSITY OF
CONSEQUENCES
• DROP OUT OF CONVENTIONAL LIFE
• CRIMINAL NETWORKS
• POVERTY
• PROLONGED UNEMPLOYMENT
• MORTALITY ALL CAUSES
• MULTIPLE OFFSPRING
• VENEREAL DISEASE
• NOT CREDIT WORTHY
• MULTIPLE ARRESTS
• MULTIPLE PERIODS OF
INCARCERATION
ALL EVIDENCE POINTS TO
DEVELOPMENT OF "CRIMINALITY"
UNDERLYING PROPENSITY TO VIOLATE SOCIAL NORMS AND LAWS, TO VIOLATE OTHERS, TO
ENGAGE IN PREDATORY BEHAVIOR.
KNOWN DEVELOPMENTAL TRAJECTORY
CONCENTRATED IN CERTAIN FAMILIES ACROSS GENERATIONS
DISTINGUISHING INDIVIDUAL CHARACTERISTICS
HIGHLY STABLE OVER LONG SWATHS OF THE LIFE-COURSE
KNOWN/FORESEEABLE OUTCOMES
RESISTANT TO CHANGE
WHAT CAUSES "CRIMINALITY" NOT
WHAT CAUSES CRIME
CRIMINALITY IS AN UNDERLYING
BEHAVIORAL PROCLIVITY
CRIMINALITY CAN CO-OCCUR WITH
OTHER DISORDERS.
THE POINT IS, IT IS THE
CRIMINALITY WITHIN THE
INDIVIDUAL THAT DRIVES HIS
CHOICE AND BEHAVIORS.
CRIME IS AN EVENT
CRIMINAL EVENTS ARE SUBJECT
TO MANY VARIABLES, SUCH AS THE
PRESENCE OF GUARDIANS,
SURVEILLANCE, OPPORTUNITY, AND
SUITABLE VICTIM
THINK OF YOUR LOCAL "STOP AND
ROB."
PART II: DEVELOPMENT OF SERIOUS
OFFENDING
DISTRIBUTION
20-30%
Arrested
10-30%
Recidivism
3050%
Populate our Jails
and Prisons
80100%
All
Offenders
• Heterogeneity
• Limited Penetration
of the System
Repeat
Offenders
• Heterogeneity
• "Fuck Ups"
LCP
Offenders
• Criminal Identity
• Criminal Lifestyle
• High Rate / Diverse
WHAT DO ADULT OFFENDERS
LOOK LIKE?
• PERSISTENT PATTERN OF HOSTILE INTERACTIONS WITH OTHERS.
• PERSISTENT PATTERN OF POOR IMPULSE CONTROL AND EMOTIONAL
REGULATION.
• SIGNIFICANT COGNITIVE DISTORTIONS (ATTRIBUTION BIASES).
• SIGNIFICANT IMPAIRMENT IN VARIOUS SOCIAL ARENAS (SOCIAL FAILURES).
• INABILITY TO EFFECTIVELY ADAPT BEHAVIOR TO NOVEL SITUATIONS AND
CONTEXTS.
THE PROCESS IS DEVELOPMENTAL:
Life Course
Development
Pre/Parinatal
Childhood
Adolescence
Adulthood
Brain
Development
Development of
Socially Adaptive
Skills
Adaptive
Behavioral
Skills
Self-Directed
Behavior
Ingestion of
Neurotoxins
Development of
Self-Control
Self-Control
Parental History
of Behavioral
Disorders
Positive
Cognitive
Associations
Social
Integration
THE PROCESS IS CUMULATIVE
Infancy
Childhood
Adolescence
Poor CNS Development
Callousness
Limited Impulse Control
Fussy/Irritable
Impulsive
School failure
Difficult to soothe
Peer Rejection
Poor relationships
Less Parental Bonding
Language/Reading Probs.
Deviant peers
Physical Aggression
Aggressive bias
Lying
Drugs/Alcohol
Theft
Manipulation of others
Arrest
THE PROCESS IS SOMEWHAT
SEQUENTIAL:
THE PROCESS IS IDENTIFIABLE
EARLY IN LIFE
• IN INFANCY:
• IRRITABLE AND FUSSY
• DIFFICULT TO SOOTHE
• HIGH REACTIVITY TO
NOVEL EXPERIENCES
TREMBLAY'S STUDY ON INFANTS
Terrible 2's
VERY EARLY AGGRESSION
90+%
Male
80% of
Kids
IN CHILDHOOD
• PEER REJECTION
• LEARNING PROBLEMS
• LIMITED VOCABULARY
• REPETITION OF GRADE
• SCHOOL DISCIPLINE
• POOR HEALTH, POOR DIET
• BULLYING
• VANDALISM AND
DESTRUCTIVENESS
• STRESSFUL PARENT-CHILD
RELATIONSHIP
• CONFLICT RIDDEN RELATIONSHIPS
WITH OTHERS
CHILDHOOD BEHAVIOR AND ADULT
PSYCHOSOCIAL STRESSORS/
ADVERSITIES (ROBINS, 1966)
60
50
Antisocial
boys
40
%
30
Control
boys
20
10
0
Divorced
Unemployed
Practically
Unskilled/semi10+ job
skilled job without friends
changes in 10
years
IN ADOLESCENCE
• VIOLENCE
• EARLY ONSET DRUGS/ALCOHOL
• DELINQUENT PEERS
• MOTOR-VEHICLE ACCIDENTS
• PHYSICAL INJURIES
• EARLY ONSET OF SEXUAL RELATIONS
• MULTIPLE SEXUAL PARTNERS
• SMOKING
• SUICIDE (6X HIGHER)
• MORTALITY (ALL FORMS)
• SCHOOL FAILURE/DROPPING OUT
• INADEQUATE SPEECH, LANGUAGE,
AND SOCIAL SKILLS
• ARREST (BY AGE 12 IS KEY)
• INCARCERATION
TO OUTCOMES IN ADULTHOOD:
ARREST
IMPRISONMENT
HEAVY DRUG USE/ADDICTION
MOTOR-VEHICLE
WRECKS/FATALITIES
MULTIPLE DIVORCES
MULTIPLE OFFSPRING WITH NO
VISIBLE MEANS OF SUPPORT OR
INTEREST
VERY POOR EMPLOYABILITY,
LIMITED JOB HISTORY, LONG-TERM
UNEMPLOYMENT
MALINGERING (WORKMAN'S
COMP)
VERY POOR CREDIT HISTORY,
CREDIT UNWORTHINESS
VENEREAL DISEASE
CRIMINAL LIFESTYLE……FREQUENT,
HIGHLY VERSATILE OFFENDING
MORTALITY AGES 15-24
WHICH MEANS THAT MALADAPTIVE BEHAVIOR
BECOMES VERY, VERY STABLE…
BY AGE 4 WE CAN PREDICT WHO WILL BE A SERIOUS JUVENILE OFFENDER
BY AGE 12 WE CAN PREDICT WHO WILL BE A SERIOUS ADULT OFFENDER
THINK OF THE OBVIOUS NEED FOR VERY EARLY INTERVENTION—STARTING
AT CONCEPTION
PART III: BIOLOGICAL INFLUENCES
TWIN AND ADOPTION EVIDENCE
• HERITABILITY OF ANTISOCIAL BEHAVIOR IS 50% TO 85% ACROSS STUDIES
• RELIGIOSITY IS 10%: PERSONALITY IS 50%: IQ AND EF IS 85%-100%
• ADOPTED CHILDREN SIGNIFICANTLY MORE LIKELY TO RESEMBLE BIOLOGICAL
PARENTS THAN ADOPTED PARENTS, REGARDLESS OF AGE OF ADOPTION
G/E CORRELATIONS & INTERACTIONS
• G*E INTERACTIONS
• INDIVIDUALS RESPOND TO SOCIAL
STIMULI BASED ON GENETIC
INFLUENCES
• G*E CORRELATIONS
• ENVIRONMENT IS PARTIALLY
PRODUCT OF GENES
• PASSIVE CORRELATIONS
• REACTIVE CORRELATIONS
• ACTIVE CORRELATIONS
RESPONSE TO LIFE EVENTS AS A
FUNCTION OF GENETIC LIABILITY
(FROM KENDLER & GARDENER, 1998)
Genetic Liability
Highest
Risk of
onset of
major
depression
High
Low
Lowest
(%)
Severe Life Event
CHILD CONDUCT PROBLEMS AS A FUNCTION OF
GENETIC RISK AND PHYSICAL MALTREATMENT
(from Jaffee et al., 2004)
60
50
40
abused
30
20
nonabused
10
0
Lowest
Genetic risk
Low
Genetic risk
High
Genetic risk
Highest
Genetic risk
ANTISOCIAL BEHAVIOUR AS A FUNCTION OF MAOA
ACTIVITY AND A CHILDHOOD HISTORY OF
MALTREATMENT (FROM CASPI ET AL., 2002)
Composite
index of
antisocial
behaviour
(z scores)
Childhood
maltreatment
BRAIN DEVELOPMENT:
• PRENATAL SENSITIVITY!
• LEAST COMPLEX TO MOST
COMPLEX
• 60% OF OUR 20,000 GENES
CODE FOR THIS ONE ORGAN
• 100 MILLION NERVE CELLS
• 1 TRILLION GLIA CELLS
• EACH NEURON CAN HAVE
BETWEEN 1 TO OVER 10,000
SYNAPSES (CONNECTIONS)
• 30 BILLION CELLS IN FRONTAL
CORTEX ARE CONNECTED BY
62,000 MILES OF AXONS AND
DENDRITES
BRAIN DEVELOPMENT OVER TIME
Loni Institute: UCLA
EVIDENCE OF THE CHANGING BRAIN
A TOP DOWN PICTURE
Loni Labs UCLA
WHAT IS INHERITED? GRAY MATTER DIFFERENCES ARE
UNDER STRONG GENETIC CONTROL
Thompson et al. 2000
HERITABILITY OF BRAIN REGIONS
Chiang et al., 2009 Neuroscience
bnormalities (either increased or decreased
activity) in the left temporal lobe, often the seat
of aggressive thoughts
Increased activity in the anterior cingulate
gyrus, which often causes problems with
repetitive thoughts and shifting attention (a
person may get stuck on the aggressive thoughts
that are present) and
Decreased activity in the prefrontal cortex,
leading to poor internal supervision
Convicted of
Two Murders
**Dr. Daniel G. Amen, Images Into
Human Behavior
Spec scan of individual
convicted of robbery, rape
and murder.
LEAD ASSOCIATED GRAY MATTER
LOSS IN BRAIN: CINCINNATI LEAD
STUDY COHORT
Average Childhood Blood Lead
Lead-associated gray matter loss most severe in the frontal regions of brain
involved in attention, executive functions, and regulation of social behaviors.
Brighter areas indicate greater loss.
FINAL PART: INTERVENTION
• UNDERSTAND YOU ARE DEALING WITH
BRAIN-BASED PROCLIVITIES THAT HAVE
BEEN GENETICALLY AND
ENVIRONMENTALLY SHAPED
• EARLY INTERVENTION IS CRITICAL: START
WITH PREGNANT WOMEN, ESPECIALLY
THOSE WHO ARE CRIMINAL OR DRUG
ADDICTED. GOOD EVIDENCE.
• LIFE-COURSE FACTORS SHOULD BE
• NO SINGLE TX WORKS FOR ALL PEOPLE
• BIOLOGICAL FACTORS LIKELY AFFECT
• TX WORKS BETTER IF
INCLUDED IN ACTUARIAL RISK
ASSESSMENTS
TREATMENT RESPONSE (IQ,
TESTOSTERONE, SKIN CONDUCTIVITY,
VARIETY OF TRAITS)
(VARIABILITY) AND SOME ARE NOT
TREATABLE (PSYCHOPATHS)
COGNITIVE/BEHAVIORAL BECAUSE IT
FOCUSES ON BRAIN-BASED FACTORS
Beauchaine et al., 2008
LACKING EMPATHY
• EMPATHIC RESPONSE ON LEFT.
• BRAIN OF PSYCHOPATH ON RIGHT.
• OTHER STUDIES SHOW
PSYCHOPATHS AND CD/ASP TAKE
PLEASURE SEEING OTHERS IN PAIN.
JUSTICE SYSTEM INTERVENTIONS
• SYSTEM PLAYS IN IMPORTANT
POSITIVE ROLE
• PUBLIC SAFETY SHOULD ALWAYS
COME FIRST
• ARREST AND CONSEQUENCES ARE
NECESSARY EVEN IF NOT ENTIRELY
EFFECTIVE
• LEGAL LEVERAGE FOR INTERVENTION
AND INCREASED SUPERVISION
• INCARCERATION AND PUNISHMENT
PLAY AN INTEGRAL ROLE IN
DESISTANCE
• EVIDENCE THAT IMMEDIATE
SANCTIONS MORE EFFECTIVE THAN
HARSH SANCTIONS
• ABSENCE OF SANCTIONS OR
SANCTIONS THAT ARE NOT SERIOUS
ENOUGH ELEVATES MISBEHAVIOR
THANK YOU….......