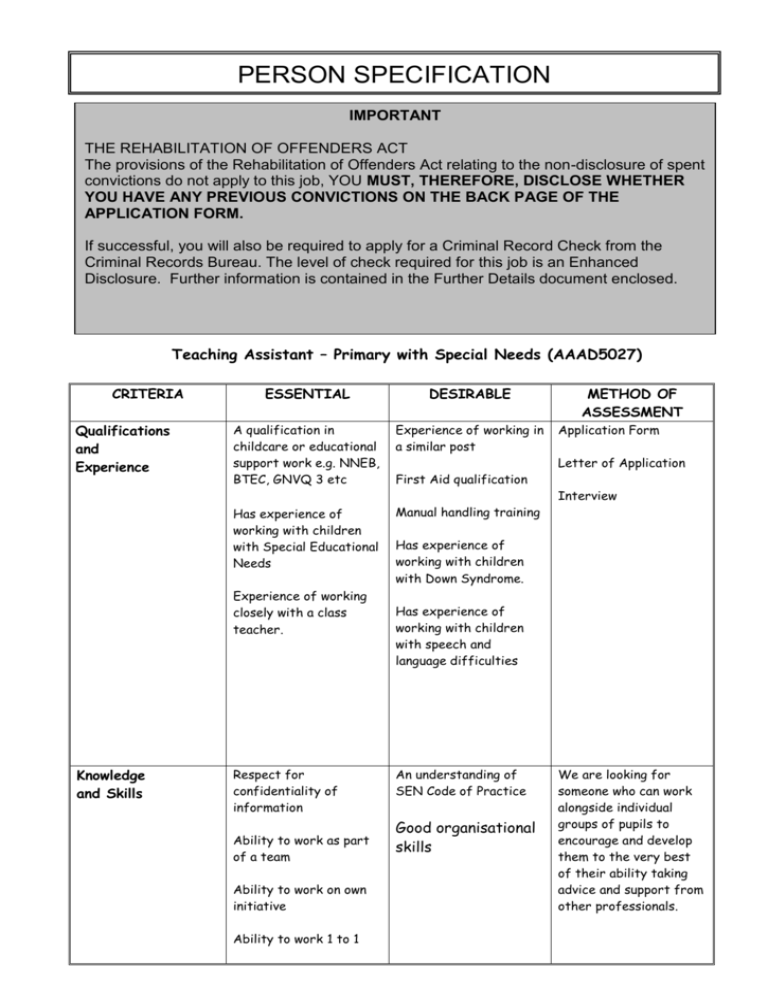 PERSON SPECIFICATION
IMPORTANT
THE REHABILITATION OF OFFENDERS ACT
The provisions of the Rehabilitation of Offenders Act relating to the non-disclosure of spent
convictions do not apply to this job, YOU MUST, THEREFORE, DISCLOSE WHETHER
YOU HAVE ANY PREVIOUS CONVICTIONS ON THE BACK PAGE OF THE
APPLICATION FORM.
If successful, you will also be required to apply for a Criminal Record Check from the
Criminal Records Bureau. The level of check required for this job is an Enhanced
Disclosure. Further information is contained in the Further Details document enclosed.
Teaching Assistant – Primary with Special Needs (AAAD5027)
CRITERIA
Qualifications
and
Experience
ESSENTIAL
DESIRABLE
A qualification in
childcare or educational
support work e.g. NNEB,
BTEC, GNVQ 3 etc
Experience of working in
a similar post
METHOD OF
ASSESSMENT
Application Form
Letter of Application
First Aid qualification
Interview
Has experience of
working with children
with Special Educational
Needs
Experience of working
closely with a class
teacher.
Knowledge
and Skills
Respect for
confidentiality of
information
Ability to work as part
of a team
Ability to work on own
initiative
Ability to work 1 to 1
Manual handling training
Has experience of
working with children
with Down Syndrome.
Has experience of
working with children
with speech and
language difficulties
An understanding of
SEN Code of Practice
Good organisational
skills
We are looking for
someone who can work
alongside individual
groups of pupils to
encourage and develop
them to the very best
of their ability taking
advice and support from
other professionals.
Commitment To
High expectations of
pupils
Reducing barriers to
learning
Excellence in teaching
and learning
Inclusion and inclusive
practice
Personal professional
development
We want someone with a
strong belief in high
quality rounded
education as a vital part
of a child's future
Teaching the individual
Personal Qualities
Firm and fair discipline
Ability to communicate
effectively with
parents, staff and other
members of the school
community
Sense of humour
Employs an imaginative
and creative approach
to working with children
Ability to build on and
develop home school
relationships
Full, clean driving
licence
Hard working
Computer literate
We are looking for a
hard-working person to
join our team of
professionals in
delivering a high quality
education to our
children and facilitating
access to the curriculum
for those who have
difficulties
Cooperative and flexible
approach to work
Enjoys working with
people
Trustworthy, reliable
and punctual
Support the Christian
distinctiveness of the
school
Cheshire East Council is committed to supporting people with disabilities and will make reasonable
adjustments to these requirements where this enables a disabled person to do the job effectively.