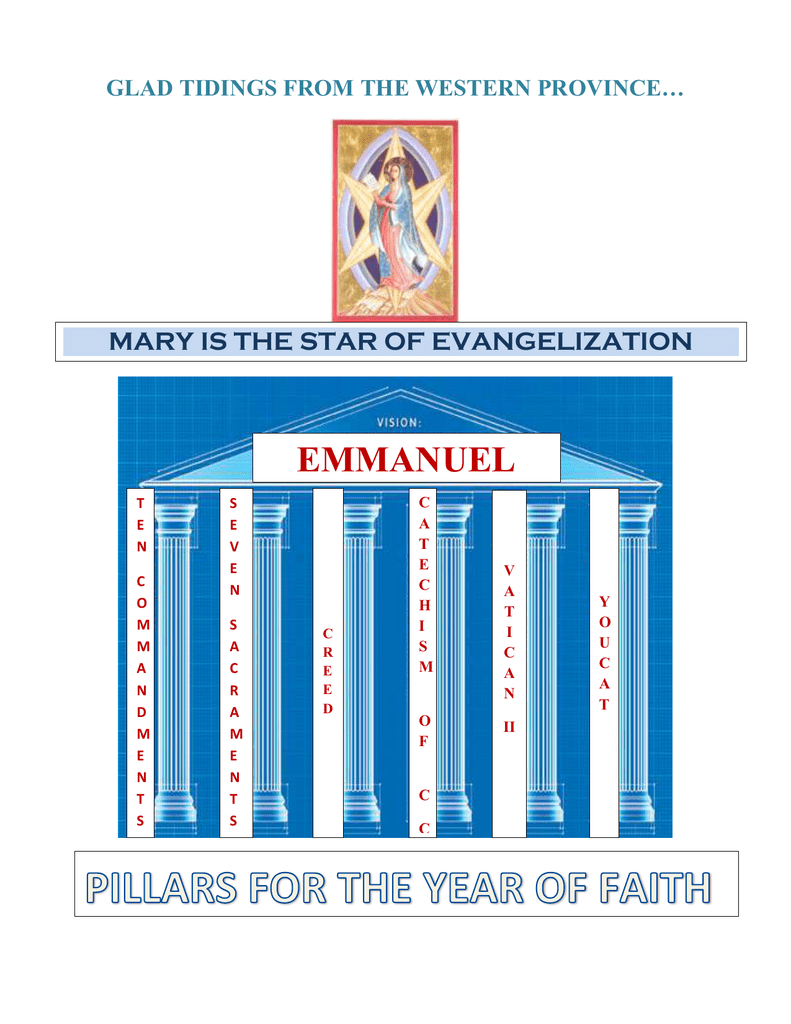 GLAD TIDINGS FROM THE WESTERN PROVINCE…
MARY IS THE STAR OF EVANGELIZATION
EMMANUEL
T
E
N
C
O
M
M
A
N
D
M
E
N
T
S
S
E
V
E
N
S
A
C
R
A
M
E
N
T
S
C
R
E
E
D
C
A
T
E
C
H
I
S
M
O
F
C
C
V
A
T
I
C
A
N
II
Y
O
U
C
A
T
Mary, Star of Evangelization Prayer
O Mary, Star of Evangelization,
Intercede with your Son
to bring about in each of us
a renewed enthusiasm for our faith.
Inspire in us the courage and zeal to live the Gospel
and to bring Christ to everyone we meet.
Open our hearts to the gift of the Holy Spirit,
the agent of evangelization, and enable us to transform the world in
the image of your Son.
O Mary, Star of Evangelization,
enlighten us with the radiance of your Son,
walk with us in faith,
strengthen us in hope,
and unite us in love
as we strive to become disciples in mission.
We ask this through your Son, Jesus
Christ our Lord and saviour.
Amen.
OCTOBER:
The year of Faith was ushered in, on October 11, 2012. Some of our sisters participated at the
inaugural ceremony at the N.B.C.L.C. We have launched on the Journey of Faith, let us make
conscious efforts to make Progress. Toil, Faith and Progress are the watch words, given in our
Emblem, may they be expressed in our daily life.
The Provincial Chapter follow-up Retreat was guided by Sr. David Delaney SJC at Villa Borromeo.
This was a good prelude for the Seminar for the senior sisters both graduates and the post-graduates. It
was a privilege to meet sisters from far and near.
A Province level meeting was organised for the sisters engaged in Social Development and
Empowerment of People by Sr. Jyothi, the Province Coordinator for M.S.P.
NOVEMBER:
The feast of St. Charles Borromeo was preceded by nine days of reflection and prayer on the theme: St.
Charles Borromeo, Man of Faith. St. Charles Convent Community and Villa Borromeo Community
jointly celebrated the Festal Liturgy and the Agape. The main celebrant was Fr. Xavier Sanjivi C.Ss.R.,
former Provincial Superior and presently the Provincial Councillor. We had an august assembly for the
Eucharistic Celebration and the Agape.
Sr. Benedicta and Sr. Sheila Corda participated in the Year of Faith Seminar organised by N.B.C.L.C.
They attended the programme entitled 'GOD STILL COMMUNICATE'.
DECEMBER:
COSAF: As a follow up for the Year of Faith, Sr. Sheila Corda showed us a video film on The
Nativity Story, Directed by Catherine Hardwicke, produced in 2006 with a running time of 101
minutes. The whole movie is about Faith: the faith Zachariah, faith of St. Anne, the faith of St.
Joachim, the faith of Joseph, faith of Mary and the faith of the Magi. Faith is a Journey.
FAMILY SPIRIT: Sr. Alena visited the Mother House in Belgium, where she had rendered her
services as a junior sister; it was a nostalgia of remembrances from yester years. She also visited our
sisters in Europe, Italy and Poland and has returned with gratitude for this connectivity with our
missions.
The visits of our Sisters from the Overseas-Missions was a bonding time for the young as well as the
senior sisters. Thank you, Srs. Miriam, Rosy Paulose, Juliana D'Souza, Jacintha Monis, Sebastian,
Nirmala and Jessy Chacko. We convey our heartfelt condolences to Sr. Bostu on the sad demise of her
dear Mother.
S.C.B. ASSOCIATES: The Associates attached to Villa Borromeo Community, the members of Lions
Club and our candidates jointly had a Christmas Play, Carols and Sharing of Gifts (counter panes and
towels) for 50 orphan boys of Infant Jesus Home, Cox Town. The ladies wing of Lion's Club
(Lionesses) sponsored the tea and snacks. The initiative was taken by Sr. Shalini and supported by the
community. Sr. Kesari and Mrs. Fatima celebrated the seasons' good will and cheer with the prisoners.
REFRESHER COURSES: Mother Benedicta has been at Villa Borromeo attending the Bible
Seminar, Contemplative Retreat and the Year of Faith programmes. Sr. Leena Pinto has also been for
seminars on counselling and spirituality. Sr. Alena has taken part in Bible Courses and updating her
medico-pastoral knowledge. Sr. Elizabeth Leo has been at Villa for a couple of months, her dear dad
passed away during this period of time.
KUDOS TO SR. NIRMALA FOR COMPLETING SUCCESSFULLY HER B. PHARM
EXAMINATION SECURING 71%.
BIRTHDAY CELEBRATION:
We had a belated celebration of the birthday of our Provincial Superior, Sr. Janet D'Souza on
December 22, 2012. The theme for the Eucharistic Celebration was Rejoice, Come to the Table of
Grace. The active participation of the communities in the liturgy promoted the communion of the
members. The dinner items too were contributed and shared by the local S.C.B. Communities of
Bangalore. This was followed by a variety entertainment which included the formees and the
communities. The item number of St. Charles Community sent us into splits of laughter, the
meaningful playlet of the candidates received a round of applause and the message of the novices for
the Year of Faith is worth emulating.
FOR MORE NEWS DETAILS OF THE PROVINCE, KINDLY SEARCH WEBSITE: www.st.charlesbangalore.org at least once a week. Click on flash news and
other dialogue boxes. Thank you. Sr. Sheila Corda.
Mother Mary had the joy of:
REFLECTING and REVEALING THE GOOD NEWS in FAITH,
The Shepherds had the joy of:
RECEIVING and REPORTING THE GOOD NEWS in FAITH,
The Wise Men had the joy of:
REACHING and RECIPROCATING THE GOOD NEWS in FAITH,
During this Christmas let us:
RENEW and REVIVE our FAITH in THE GOOD NEWS
to be the convincing witnesses of our Christian faith.
Srs.Wilma, Pramila, Ratna and Novices - Premanjali
SANTA'S VISIT TO PREMANJALI BLOG
Hi Sisters,
Santa Claus have been entrusted by God the Father with the responsibility of being
His Web Manager for this Christmas season to load the updates of S.C.B Western Province in His
computer. While I was at task I suddenly happened to browse through Premanjali. I was bit curious
and inquisitive to know the happenings at Premanjali. I know you are quite occupied both spiritually
and materially for the Birth of the Saviour of the world, yet why don't you spare a few minutes to get
the updates of Premanjali. Please log on to www.premanjalinovi.com
Flash News:

Year of faith

Celebrations

Inter novitiate programs

Official visits

Outreach programs

Spiritual/human formation
THE YEAR OF FAITH: As the universal Church inaugurated the year of faith, the community of
Premanjali, gladly celebrated the event with a meaningful Eucharistic celebration, emphasizing the
importance of Vatican II, CCC and the Logo. We solemnly professed our Baptismal faith with lighted
candles. The quotes from the Holy Bible and captions on faith were displayed on the bulletin board; a
quiz on the year of faith was another highlight.
CELEBRATIONS:
 The Feast of St. Therese of the Child Jesus was celebrated with much devotion. Her little ways
of spirituality were stressed, from the reading of her autobiography and with her personal
sayings throughout the month.
 Welcome home: The II Year novices returned to Premanjali on 3rd October with rich and
fruitful community-mission experience. They were warmly welcomed home by a meaningful
Eucharistic celebration and a thematic entertainment.
 A day of rejoicing: Birthday of Sr. Ratna was celebrated on the 22nd of October. The day was
marked with joyous celebration as we expressed our love by our prayerful wishes and colorful
presentations.
 Feast of our Patron: The communities of Adrian Nivas and Premanjali had a joint celebration
the feast of our beloved Patron. With filial love and respect, we highlighted the theme 'St.
Charles, a Zealous Defender of Faith'. It was an occasion to reflect on various aspects of faith
in the life of our patron.
 Novitiate day and festival of lights: 13th of November was marked with a double
celebration; Novitiate day and Diwali 'let the light of Christ shine through us' was the theme
chosen for the day's events. The novices had a surprise visit from Sr. Saroj our Superior
General, Mother Benedicta and Sr. Jyothi. The day was filled with presentation and
participation, joy and laughter, surprises and gifts.
 Consecration of the first missionaries: The day was commemorated with a special Eucharistic
celebration emphasizing the theme 'a mission of compassion'
INTER NOVITIATE PROGRAMS:
 Novices had the opportunities to attend various inter novitiate programs i.e. Vocation in the
Bible, Consecrated Life, Mission and Affective Sexuality.
 We participated in the celebration of the feast of Our Lady of Rosary organized by the
Norbertine Fathers. Our novices had the chance to lead the mystery 'The descent of the Holy
Spirit' and the New Pentecost – Vatican II .
 Inter novitiate Christmas gathering was held on 15th December. 116 novices from eleven
congregations took part in this celebration. The day's agenda included a talk on the Year of
Faith, Eucharistic celebration and presentations on the theme 'Christmas in the Year of Faith'
OFFICIAL VISITS:
 We had the joy of having Sr. Josita, the General Coordinator for COSAF from 4th to 10th of
September, 2012, She gave sessions for the novices on 'psycho sexual integration'. Her
encouraging presence brought joy to the community.
 Sr. Janet D'Souza, our Provincial Superior visited our community. The community extended a
cordial welcome by singing a song with a choreographic support and the Eucharistic
celebration focused on 'called to inspire and enlighten'. She also had classes for the novices
on 'Religious Values'.
OUTREACH PROGRAMS:
 Our second year novices rendered their generous service on 'World handicapped day'
organized by Guanellian Fathers at Geddalahalli.
 As an extension of the mission experience, the II Year novices rendered their services in
'Humanitarian Hands', a home for the destitutes at Byrathi Bande and evening tuitions for the
village children along with house visits.
 The Sisters and novices were actively involved in the parish activities organized for Mission
Sunday.
 The sisters and novices took part in the Zonal CRI Christmas program. The novices presented a
Kannada tableau on the theme, 'Evangelization and proclamation in the 21 st century.'
SPIRITUAL/HUMAN FORMATION:
The spiritual and human formation of novices were enriched through various classes
o Ignatian Spirituality by Sr. Elizabeth Chacko
o Psycho sexual integration by Sr.Josita
o Charism retreat by Sr. Sheila Corda.
Thank you for logging in. Wishing you all joy filled Christmas and a Happy New Year 2013.
We shall meet you in the next issue.
NEWS FROM MARY IMMACULATE CONVENT
Hi sisters! Greetings of love to all of you. Here we are once again with the news of
Malnad region .
To begin with we had the joy of celebrating the feast of Sr. Damian. The sisters from
Nirmala Hospital, St. Charles Convent, New Town and the parish clergy shared our joy.
Our community arrived at Jogfalls for relaxation and refreshment. It was indeed a
wonderful experience to rest in the bosom of mother earth. Vocation promoters of
Shimoga zone are busy the recruiting candidates to work in the garden of St.Charles
Borromeo.
There was a triple celebration in the Cathedral for Opening of the Year of Faith, the
beginning of the Silver Jubilee of Diocese of Shimoga and the farewell for Bishop
Gerald Isaac Lobo, who is chosen to be the first Bishop of the newly formed diocese of
Udupi. During this solemn celebration the cross was handed over to the parish priest,
symbolically for this occasion. The parishioners pray before the Cross in the Cathedral
after morning Mass for an increase of faith and also in preparation for the silver jubilee.
The Cross was brought with great devotion by the parishioners in a solemn procession
and was installed in our chapel. We spent the following day in prayer and recollection
praying for the intentions of the community, parish, diocese, province and congregation
at large.
Sr. Saroj, Superior General paid a brief visit to the community accompanied by Sr.
Mary Jacob, General Councillor, Sr. Jyothi, Provincial Councillor, Sr. Tessy, Sr. Lydia
and Sr. Sheila Corda
A Glance at the apostolate:
A zonal level sport for higher primary school students was held. Mary Immaculate
Higher Primary School won the kho-kho, relay, 200 meters and 100 meters high jump
throw ball, and volley ball events. The students of both high school and primary bagged
almost 15 first prizes in "Prathiba Karanji" which added a feather to the excellence of
Mary Immaculate. Our high school children enjoyed Mumbai Darshan as a part of their
educational tour.
Under the patronage of Nirmala Seva Kendra, children's day was celebrated with the
child labourers. There were many invitees who were happy with these children. Besides
cultural programme quiz was conducted on general knowledge. The children enjoyed
the celebration. We had Mass in the Chapel in honour of the feast of Mary
Immaculate. Both the schools celebrated the patron's feast in their respective Schools.
We had lunch for the staff of the schools and also the staff of Nirmala Seva Kendra.
"For us a child is born, to us a son is given" Is-9:6
We wish you the spirit of Christmas; may Christ bring you joy and prosperity all
through the year 2013.
News update from st.charles convent, St. Thomas Town
We were glad to have Sr. Saroj, Superior General and Sr. Hazel, general councillor
for finance on the 1st of September. We were blessed by the gracious presence of Sr.
Anjali along with ten sisters from the Cloistered Carmel on the 20th of September. A
rare and unique opportunity for renewal
Nirmala Schools had their Sports meet on the 5th of October. Mr. Gangrajaiah
District Superintendent of Physical Education and Mr. Shivakumar Corporator,
Kammanahalli were the chief guests for the inaugural and closing ceremony
respectively.
Mr. A. William Joseph, HOD—Physical Education—SJCC, inaugurated the 56th annual
athletic meet of St. Charles High School. Miss. Tejaswi Singh, National Basketball
player was the chief guest for the closing ceremony.
The feast of our patron St. Charles was celebrated on the 4th of November with
Eucharistic celebration. As a step towards interfaith dialogue, Deepavali, the
festival of Lights was celebrated with children from Anbillam and Sevasadan
along with the candidates and sisters from Villa Borromeo. The evening programme
comprised of a prayer service, fireworks and snacks.
A catechetical seminar for the catholic teachers of St. Thomas Town and
Kamanahalli was held at the community hall on the 24th of November, on the theme
"A cAll for new evAngelizAtion And how to be creAtive in teAching cAtechism". fr.
Ronald Cardoza, Regional Secretory, Commission for Proclamation and
Evangelization, was the resource person.
Bible sharing training programme (Lumco Method) for the SCB associates and sisters
was given by Sr. Auxilia on the 2nd of December.
The Graduation Ceremony of St. Charles PU college was held on the 12th of December.
Rev. Dr. Fr. Gilbert Choondal, sdb was the chief Guest.
Rev. Fr. Edward Joseph, CSSR was the Chief Guest at the Little Charlians Annual day
held on the 15th of December.
Students of Nirmala school had been to Mysore and to GRS Fantasy Park, Mysore
during the Month of December. Students of St. Charles High school had been to
Munnar, Kerala and the students of p.u. College had been to Wonderla in the month
of October.
As an action plan for the Year of faith, Bible sharing was organized for the
Catholic families in the 6 areas of Bagalur layout.
We wish you the Joy and Peace of The Babe of Bethlehem and a prosperous New Year
2013
ST. CHARLES CONVENT, ST. THOMAS TOWN.
YEAR OF FAITH – Crib
Pushpanjali – CANDIDATES
Adrian Nivas
To start with we wish all of you a merry Christmas and a Happy New
year. Let this Christmas bring you peace and joy of the new born Babe at
Bethelehem.
news at a glance:We had the privilege of the visits of Rev. Sr. Saroj, Mother Benedicta,
Sr. Sabina Kurian and Sr. Elizabeth Chacko and others. Sr. Janet was
here on canonical visitation of the community. Sr. Sheila came to visit
Sr. Vasudha, our first year junior.
We participated at the blessing of the newly renovated church of
Christ the king at Byrathi followed by the festal celebration.
Sr. Shanthi Crasta completed her B. Ed course and is presently at Villa,
teaching in Nirmala English medium School. We thank her for her
presence and the services rendered to this community. We wish her all
the best in her new apostolate.
Sr. Vasudha had been to dindigal for a catechetical course and retreat
with her batch mates.
At present all our hostelites are on holidays and the house is empty.
The little kids Play School and Day Care bring us joy and
entertainment.
Geddalahalli is developing very fast. Bang, on the left of our house
near mantri splendor, we have a Super market, Food World and Kids'
wear. Shopping is made easy! The number of vehicles that ply on the
road have increased, making the crossing of the road very difficult. The
Whole of Hennur Road is totally changed.
Once again a Merry Christmas!
News From Nirmala Hospital- Bhadravathi.
We are happy to share the news from our community.
Our community decided to restart the Health Aides certificate course from September 1st.
Eighteen drop out girls gathered by the efforts of Sr. Shobana. The sisters of our community have
volunteered to take classes for them.
September:
19th : Sr. Tresa's Month's Mind Mass was offered in our chapel after which we visited the
cemetery. Sisters from New Town and Shimoga community and Sr. Tresa's niece also joined us.
29th : The community anticipated Sr. Tessy's feast with a grand and meaningful celebration. The
Sisters from New town and Shimoga community added joy to the celebration.
30th : Dr. Rajanikanth from Karunalaya Hospital , Sindhuvali gave an input session for our
students and staff, the Topic was: "The Role of Nurses in Medical profession, Mental health
and their responsibility".
October:
7th our sisters attended the Diocesan gathering for the inauguration of the 'Year Of Faith '. During
the same occasion, the beginning of the year of Silver jubilee of the diocese was inaugurated and
together with the faithful, we bade farewell to Bishop Gerald Isaac Lobo thanking him for his
service during the last 12 years.
28th The Mission Sunday was celebrated in the parish, sisters and students participated in it.
29th A new two wheeler vehicle was blessed by Rev.Fr. Braggs for the use of Socio pastoral
ministry.
November :
3rd The eve of St. Charles Feast we had special vigil prayer with our staff and students and
fellowship meal.
4th Feast day, we had a meaningful Eucharistic celebration, at noon the invitee priests, sisters and
SCB associates joined us for the agape.
8th Our IV year GNM students with four sisters went to Hyderabad for an excursion.
10th two of our friends from Switzerland, the sponsors for 'Health Aides Course' came to
Bhadravathi. We had their Lamp lighting Service on 11th
13th: It was a day of great joy and filial pride for us to welcome our Superior General Rev. Sr.
Saroj as she made her maiden canonical visit to community. We cordially welcomed her with
song, dance, Arathi and garland. Sr. Mary Jacob arrived here on 22nd.
25th the feast of Christ the King we had Mass and went on a pilgrimage with Sr. Saroj and Sr.
Mary Jacob to the shrine of Our Lady at Harihar.
28th – 30th Nov. The sisters involved in social ministry and their co workers had the input session.
The course was organized by Sr. Jyothi, Sr. Shobana and Sr. Smitha. Resource persons were
invited from outside.
30th, the dream of our sisters of building a new OPD block is being realized and the corner stone
of building was blessed by Fr. Braggs in the presence of Superior General Sr. Saroj and Mary
Jacob, Architect Mr. and Mrs. Antony and the sisters from other communities too.
COSAF: Sr. Sheila Corda shared with us the Video film, The Nativity Story in today's version.
She also assists the juniors of the Northern, Eastern and Western Provinces studying in Nirmala
School of Nursing for their formation and spiritual growth. She is our monthly visitor.
December:
1st and 2nd we had the get together of our orphans and their families and it was arranged by the
western province and the responsibilities shared by the three communities St. Charles Convent,
New Town, Mary Immaculate, Shimoga and Nirmala Hospital, Old Town. The Inaugural prayer
service was conducted by Sr. Dorothy. Resources persons were Fr. Jacob, Fr. Braggs and Sr. Juliet.
Sr. Saroj met them and gave an enriching and encouraging talk and also a memento to each of
them. On the second day we had a solemn mass for their intention and an outing was arranged to
Shimoga, New Park. They were very happy to come together and happy to see the sisters and their
companions, and some of them were meeting after many years.
1st evening Rev. Sr. Saroj and Sr. Mary Jacob proceeded to Mysore. We thank them for their
joyful stay with us, which has enlightened and encouraged each of us.
8th the Solemnity of Immaculate Conception, Our 57th Hospital day was celebrated with a
Solemn Eucharist Celebration, we also had the capping ceremony of the 9th batch of GNM and
IInd batch of BSc Students. That's all the news for this time
.
Wish you all Merry Christmas and blessing filled New year 2013.
SNIPPETS FROM PREMNIVAS---BELGAUM
It is a special joy to greet you and to share tit-bits from Nirmal Nagar as we approach the end of the year
2012. Before we break the news with you we wish you, A MERRY CHRISTHMAS AND PEACE
FILLED NEW YEAR 2013. May this Christmas and the coming year be a time to deepen our faith in
JESUS and give Him to others WITHOUT COUNTING THE COST.
13th September: As per the action plan to help the poorest of the poor in the locality we started evening
tuition for the children who are slow learners from the Government primary school of our village About
40 to 50 children attend the class regularly
15th September: Sr. Regina Suares' visit came as a pleasant surprise to our community; she was
accompanied by their driver, Hari. All of us were very happy to have her with us very specially her
bosom friend, Sr. Veronica. Two days were not enough for her to speak of the past and present.
16TH, September: Sr. Winnifred and the novice Josephine went for fishing to Santibastwad and another
day to Madanbavi, our neighboring parishes. We hope and pray that some of these say 'YES' to the
LORD.
29th September: Sr. Saroj, our Superior General and Sr. Marykutty, General Councillor encouraged us
with their week-long stay with us. Thank you sisters for your great concern, inspiration and guidance.
2nd October: The novice returned to Premanjali after her 2 month's community experience. We are
grateful to her and the formation team for her generous and cheerful service.
7th October: We had a day out with Srs. Saroj and Marykutty to Gokak falls. Sr. Vinaya from Patne
joined us. We returned home relaxed and refreshed.
6th October: Since some of us had to go for our annual retreat we anticipated the birthday
celebration of our dear Sr. Bede. The celebration was held in the company of our Srs. Saroj and
Marykutty. As it is the custom we had the Joy of celebrating it with all the inmates of Nirmal Nagar
All of us had the privilege to attend the seminar conducted for different groups in Bangalore. It was a
renewal and reminder for us to live our lives as mystics, prophets and servants. Thanks to our
Provincial and her Councillors. Sr. Mable attended the retreat which was organized for the social
workers at N.B.C.L.C. Bangalore.
3rd November: The feast of St. Charles Borromeo was celebrated very meaningfully after the prayerful
preparation. We had the Eucharistic celebration solemnized by our Bishop Peter Machado along with
14 priests in the church. Our parishioners, sisters from neighboring communities, orphan boys and
their families, boarding children and friends joined us in thanking the Lord for the gift of our patron,
St. Charles. After the Holy Mass all enjoyed the delicious meal which was served in the convent.
14th November: We had the visit of our Provincial Superior, Sr. Janet. Thank you sister, we appreciate
your support and encouragement.
We received financial assistance from our benefactors, Astrid and friends well –wishers of Fr. Cyril for
the purchase of laparoscope equipment. It was bought, blessed and set in the O.T. in the month of
November. We thank God for the gift of such generous benefactors. May God bless them.
23rd November: Srs Rita and Latha came for internal auditing. They gave us valuable suggestions.
Thank you, sisters.
From 28th November : Sr. Mable attended 3 days seminar organized for social workers at Nirmala
Hospital in Bhadravathi Old Town.
After much prayer, discernment and search we found a lady gynecologist through Dr. Baljekar
(surgeon) may the good Lord be praised. She started practicing from Dec.4 th. We hope and pray that
it will make a difference in the hospital.
5th December: Sr. Bede attended 3 days retreat at Tabor Bhavan at Kalyan in Thane District. She
returned spiritually enriched.
14th December: Sr. Mable went to Mangalore to attend the funeral service of the brother of Sr.
Therese Madtha and also to write the final M.S.W exam.
St. Charles Community, Vakola wishes you a Merry Christmas
and a joy filled New Year 2013!

30th October: It was our joy and pleasure to invite our S.C.B associates and prayer
group for a small get-together on the occasion of our Patron's feast. We had a
meaningful prayer service on St. Charles and displayed video clips on his holy and
eventful life and our first mission houses in India. After that, a brief entertainment
program and refreshment followed. Thereafter, on behalf of the gathering, one of the
representatives wished us and expressed her appreciation for the good works of our
Sisters in the parish and our praiseworthy presence in the area.

1st November: It was a day of outing and relaxation for the secondary section children
at the water park. The children had great fun and enjoyment.
3rd November: We anticipated our Patron's day and invited our neighboring convents
and the parish clergy for a fellowship meal which was enjoyed by all in a festive and
cordial atmosphere.
4th November: Our community along with our S.C.B associates were invited by the
Generalate, Kamba, for the Feast Day celebration. We had a meaningful Eucharistic
celebration presided over by Bishop Fredric D'Souza, brother of Mother Rene.
6th November: It's our pleasure to have with us Srs. Rita and Raymond of the
Finance Commission, and Srs. Alberta and Sheela of the Education Commission.
They appreciated the Sisters for the systematic maintenance of the records and the
accounts.
We were glad to welcome the overseas mission Sisters Jacinta Monis, Clare, Rosy
and Juliana and Sr. Sebastian who have come here for their family visits.
10th November: The tiny tots from the Borromeo Garden put up a beautiful program
on their Annual Day. Their performance was applauded by all present.










11of December: We were privileged to have Sr. Janet with us on her visitation to our
community. Thank you Sister for your guidance and encouragement.
7th Of December : we took our Junior Charlian Bees to 'Shishu Bhawan' run by the
Sisters of Missionaries of Charity. Our children were happy to interact with the children
there. They shared their happiness and joy as they put up a small Christmas Program
and shared the gifts.
13th of December: It was a memorable day for the secondary section as we
celebrated Annual sports day. We were privilege to have
the chief guest
Miss.Aparna Popat ,international badminton player and also to have the guest of
honour, Provincial Superior, Sr. Janet with us. We had a colourful day with various
displays and march past which was very much appreciated by the special invitees.
22nd December : The Primary section is celebrating Annual Day and putting up a
musical paly on "Alice in OZ".
We wish you a Holy and joy filled Christmas and prosperous New Year 2013.
St. Charles Convent, New Town, Bhadravathi
Our PU college had the privilege of hosting the Taluk level sports meet on
11th September 2012, at VISL stadium. 21 colleges participated in the same.
Thanks to sr. Janet, Sr. Lizzy and all the principals of our schools for their
presence and co-operation on the occasion.
We consider it a spiritual privilege to have a renovated chapel, on 24th
October, bishop henry d'souzA, the Apostolic administrator of the Diocese of
Shimoga was kind enough to bless our chapel and offer the holy mass
imploring god's blessing on the community.
We are proud of our PUC students who won the First place at the District
level Science exhibition named Tech-Uthkarsha held in November, 2012.
The community celebrated the feast of Sr. Lizzy on 2nd October. Sisters from
Nirmala Hospital and Mary Immaculate, Shimoga joined us and enhanced our
joy.
The Feast of our Patron St. Charles borromeo was celebrated with the
students, teachers, and parishioners with a High mass in the Parish church on
3rd November.
pAtron's dAy on 4th november wAs celebrAted with the guests And scb
associates. Fr. Felix Noronha was the main celebrant. He preached a
meaningful homily and called us to imitate our patron who was a man of
Faith.
the most importAnt thing in olympic gAmes is not winning but tAking pArt…the
essential thing in life is not conquering but fighting well. Physical activity
ensures the all-round development of personality, encourages skill, team
spirit, and the ability to take both victory and defeat sportingly. The
Annual Sports Day of St. Charles English High School was a spectacular
event with march past, events and colourful drill displays. We were blest
with the presence of Rev. Sr. Christy Sarojini, our Superior General as the
Chief Guest for the inauguration.
The Annual Sports day of St. Charles Kannada Primary and High Schools was
held on 30th November. We were happy to have Sr. Mary Jacob as the Guest of
Honour.
5 students of St. Charles Kannada High School along with Miss. Janny
Assumpta, the Science Teacher, participated in the State Level 20th National
children's science congress held At mAdikeri from 23rd – 27th November 2012.
They presented A project report on the topic "kitchen wAste bio gAs plAnt"
under the theme "energy-plAnning & modelling". hAving been selected at the
State Level they will contest for the National Level at Varanasi – U.P., from
27th – 31st December. We congratulate them and wish them good luck in their
venture.
"jesus is the reAson for the seAson". As christmAs is round the corner, we wish
eAch And every one of you, "A blessed christmAs And A prosperous new yeAr
2013. May the Annual Celebration of Christmas bring joy, peace and
innumerable graces and brighten your life with His choicest blessings.
FLOWER BELLS AND CRIB AT VILLA BORROMEO
Here we are Sisters: Elize, Josephine and Francina from Muchalam to greet you...
We wish to share with you the events that took place in the month of September, October,
November, and December2012.
September 1 : At Sadhbhavana, Muchalamb, the Pastoral Parish Council was inaugurated by
conducting the Holy hour of prayer & worship. The parish council and youth were involved in
planning. Fr. Clary was the resource person to share on the Year of Faith with the people.
September 3 : We observed Vanamahotsava day at Sadhbhavana and Murambi, along with the
women self-help -group and parishioners.
September 8 : Birth day of our Mother Mary was celebrated. A meaningful liturgy and colourful
decoration marked the solemn celebration for our Christians. During the novena, the children of the
locality participated by offering colourful flowers and songs.
September 17 : At Halbarga our diocese organized zonal level sports and quiz for our youth . 15 youth from
our Sadhbhavana center participated, all the in-door prizes, (first place) was bagged by our youth. Srs. Elize
and Josephine along with Fr. David, prepared the youth to take part in every activity.
October 7 : We as a community, participated the feast day celebration of dear Sr. Therese D'Costa at Hulsoor.
October 14 : The Year of Faith was inaugurated at Muchalamb with great fervour and devotion, the creative
liturgy helped us to welcome the Year of Faith by imploring the Divine Blessings for all the faithful.
October 20 and 21 : Our Bishop, Rev. Robert Miranda visited our centre at Muchalamb. He was welcomed
with flowers and garlands. Bishop was very much pleased with our apostolate and contributions in his Diocese.
November 3 : The feast of St. Charles Borromeo was celebrated very meaning fully. It was an added joy for us
since our communities of Hulsoor and Muchalamb had a combined celebration, Renewing the family spirit we
prepared the liturgy and meals for all the participant, Priests, and Religious from Bidar, Basavakalyana and
Kawdial enhanced our joy.
November 9, 10, and 11: Balki Jathra.
Our centre played very meaningful role in taking part in the liturgy by decorating the shrine of Infant
Jesus. We also prepared the prasadams and distributed to all the pilgrims.
November 14 : We had the festival of lights cum Children's day celebration at Muchalamb. The
coaching class children and our parishioners took part in the Bajan services followed by bursting of
crackers.
November 21 : We had an inspiring liturgy on the Feast day of Our Lady's presentation, Fr. Maria
Anand SDB was invited to give input session and celebrate Holy Mass.
November 23, 24, and 25: Sr. Janet our Provincial Superior was with us. We were happy to have her
valuable presence at Muchalamb for 3 days. We received sisterly guidance and encouragement in
our mission at Muchalamb. We thank God for the gift of Sr. Janet and her interest in our well- being.
December 1, 2, 3: Sr. Josephine had the privilege for attending retreat at Kawdial.
December 1 : World Aids Day: Our S.H.G. Women along with Srs. Elize and Francina joined the
Rally organised at Basavakalyana. Around 1,000 people participated in the procession.
December 8 & 9 : Srs. Rita and Juliana Pinto paid their visit to our community for internal auditing.
Their presence and guidance enriched us.
December 10 : Sr Josephine went home for 8 days – we wished her happy holidays.
December 14 & 15 : Our SHG Women at Muchalamb were selected for revolving and subsidy loan
from the department. We also organized one day training for book keeping & strengthening of
MAHASANGA called – Jyothi - Mahasanga.
December 16 : It was the day of recollection for our parishioners in preparation for Christmas 2012.
Rev Fr. Maria Anand was the resource person.
As we prepare ourselves for the Birth day of our Lord Jesus....................
May all of us experience the season of good tidings, may the New Born Jesus find room in our hearts
& bless us with His peace & joy.
Wish you all a blessed Christmas & grace filled happy New Year - 2013
NEWS HIGHLIGHTS FROM HULSOOR
We are happy to recall the nativity of Our Lady. We had a meaningful Eucharistic celebration with our
lay faithful followed by a family meal. The same evening we had a deanery level nativity celebration
at Jalasangi.
1st of October we had the joy of celebrating the feast day of Sr. Therese with the meaningful prayer
service followed by an Agape with the sisters of Muchalamba community.
It is a culture of the place where all the faithful of the centre go for padayatra to Bhalki centre and we
are the luckiest ones to join in the Padayatra and implore blessings of Infant Jesus. We are glad to
render our selfless service during the Bhalki Jatra.
We are happy to get the permission from the Hulsoor Panchayat to construct our school building.
We were indeed happy to have our Provincial Superior, Sr. Janet on 19th November. The blessing and
laying of the foundation stone of our school building took place in the presence of Sr. Janet and Frs.
Clary, Joseph, Veniel and Mathies . Imploring God's blessings on our school and trusting in Divine
Providence we go ahead with this project.. Sisters Rita and Juliana Pinto visited our community for the
internal Auditing and re-doubled our joy.
We wish you a Merry Christmas and a Happy New Year 2013.
Wishing u dear sisters, love and peace at CHRISTMAS and NEW YEAR 2013.
MARIA SADAN, SHIRWAD:
SEPTEMBER: St. Vincent de Paul, Karwar area council along with Bishop Derek Fernandes and
Fathers felicitated all the sisters and staff of Maria Magno Flora Hospital for the selfless service
rendered to the H I V patients.
Sr. Annie is also engaged in giving awareness programmes on H I V, T B, S T D, HYGIENE
HEALTH together with Diocesan Development workers in the different remote villages.
A destitute named Ashok was admitted in our hospital and treated for about a year. He had deep
wound with Maggots. This month he has been shifted to our hospital, Karunalaya, Sindhuvali
HIV blood test camp was held in our neighborhood, Sr. Annie and Sr. Elizabeth A. assisted the
volunteers, to test the blood.
OCTOBER:
Sr. Elizabeth attended the geriatric training that is taking care of the elderly at Secundrabad.
National Aids Control Organization representatives visited M M F hospital & Evaluated C CC
program.
NOVEMBER:
The feast of our patron was celebrated on 3rd with Bishop, with 7 priest; five Sisters, Seminarians,
Hospital Staff and S C B associates. After the solemn mass at 07..00 A.M., grand breakfasts was
served
for
all.
Sr.Laeticia stayed here for few days for treatment as she was sick. Sr. Janet came for Annual visit from
10 to 13th, of the month, we enjoyed her presence with us. Srs.Rita & Latha were here for internal
auditing from 25th to 26th. Sr. Tresa has returned on the 30th of November after her treatment at
Bangalore. She thanks every Sister for their prayers, in particular, the personal support of the sisters at
Villa Borromeo, and Shirwad
ST.CHARLES CONVENT, SUNKERI
A PEEP INTO OUR DIARY:
OCTOBER:
6 and 7: Residential vocation camps for SSLC & PUC girls was conducted in our house. They were 15
of them from 3 parishes. Inputs, prayer services, recreation, group discussion and outdoor games were
delightful moments for them. Our mission goals and stages of formation were explained. The two
days' rest, good food, snacks prepared liturgy were much appreciated.
11 to 25 : Coaching classes, retreats cum courses, family visits and other activities occupied our
holidays. Leisure, free time was used gainfully for the good of all.
29 : S.C.B. ASSOCIATES had a day of recollection and prayer. 18 members were present. It was
a day special for them, as preparation for St. Charles feast . The Borromeon family at Sunkeri were
delightful & happy with spiritual and physical nourishment .
NOVEMBER:
4 : The St. Charles family feast was celebrated with staff of the school, S.C.B. Associates ,
special invitees from the neighbouring institutes of religious sisters and priests . We acknowledge
their services collaboration and support with a meaningful liturgy in the church and delicious
meals
5 – 10 : Sr. Janet's maiden visit to our community, and with her a joyride to the seashore
26th-27th :-Srs. Latha & Rita Varghese visited our house for internal audit and Sr. Sheila Corda visited
us for follow up with the junior sister. As a member of the core group of COSAF she showed us the
video-film, The Nativity Story with emphasis on the Journey of Faith. Their presence helped us and
motivated us for our mission.
DECEMBER
3 : " Celebrate Jesus" the caption spurred the Year of Faith Celebrations in our diocese. All the
churches were given the mandate to have meaningful celebrations on faith at the local level. On the
diocese level a rally of light and shadow play was organized with enlightening liturgy at Chandavar
pilgrimage centre. It was open to all Hindus, Muslims and people of other faiths.
8th Dec:-The day of our Annual Church Feast. Many activities were organized in the campus for
couples, parents, youths, children . A day's programme for each was highlighted . Novena themes
were on faith and personalities who were role models in the Old Testament and New Testament.
Parents day was conducted with a colourful performance on the stage, prize distribution, donors helped
out the poor students. The Chief Guest, Mr. Anand Asnotikar Minister of Fisheries and Technology,
promised generous help towards the school. All praise for our school as No.1 in the diocese. All round
performance, excellent result for two successive, the school secured cent-percent. We conclude our
brief news wishing one and all the Sisters, Happy Christmas with plenty of Kuswar,
warm hugs, Yes, also A Happy Prosperous, Grace filled New Year 2103.
SNEHATHEERAM, KIDANGARA
The Community in Kidangara greets each of you and extends the joys of this Holy Season of
Christmas and the Blessings of 2013.
We already have twenty women inmates out of which three are dead and four are happily rehabilitated.
At present we have thirteen with us and most of them are disabled in one way or another.
Recently ' The Agriculture Department' of Kerala State, Alleppey Disrict offered a subsidy of
Rs.30,000/ for vegetable cultivation in half to one acre of land . Daily wages per day is Rs.500 to
Rs.600/ We have taken up this venture not for profit alone but for beautification and promotion
of green revolution. A few of the agricultural officers, the trust members, our inmates, workers, few
Panchayat members and we three sisters were present for the inauguration of 'Haritha Snehtheeram'
(name of the project). An attractive flex banner was displayed in our campus where the seedlings are to
be planted. A write-up on the project with the photographs was given in the daily news paper by the
Agricultural Department. So the Congregation is slowly becoming well known here. Often we are
known as Snehatheeram sisters.
For a fortnight about forty women belonging to a scheme of the Central Goverernment
Labourers' Welfare Association was placed in our land to clear up and get the land ready for
cultivation. They had to be at the spot at 9 A.M. and to leave at 2 P.M. They work an hour a day and
they get Rs. 2600/ per person for fortnight. This is the pitiful state of our country, people get salary for
sitting and chatting. The group is known as' Thozhilurap group' we nick name as' Kuthiyrip group'.
(Work guaranteed for tight sitting)
We do come across some good people who reach out to us in different ways .Every first Friday our
neighbouring parish named after St. Antony provides a delicious lunch for our inmates. Whenever
there is a function organised by the parish a share is sent to our inmates. Apart from that people come
for regular visits.
Our land has already produced a good harvest of tapioca, bananna, coconuts and the sale is on. You are
welcome to purchase for that's the only income for our inmates.
Once again WE WISH YOU A MERRY CHRISTMAS AND A HAPPY NEW YEAR.
ST. CHARLES CONVENT, OMZOOR:
Relishing the scenic beauty of Omzoor and treading the events of everyday life we mark the history of
this humble village. We have few events to share with you.
8th September – Feast f the Nativity of our Lady was celebrated at the Parish Level.
13 to 15th September- Sr. Lydia and Sr. Rita visited our community for the internal auditing. Sr.
Alberta and Sr. Cynthia Saldanha visited our schools and gave us guidance.
29 th September – Sr. Janet our Provincial Superior arrived in our community on Visitation. Along
with her we visited the pilgrimage centre at Mudipu. Her stay was enriching and joyous.
14 th October – Srs. Sheela Cruz , Clita, Clara and Rita Shanthi attended the Retreat at Villa Borromeo.
Sr. Sheela attended the course.
24-26th October – A camp was organized for the parish children from classes VII to X under the able
guidance of Sr. Elizabeth. Many children profited by this programme.
We are happy to announce that Sr. Rita Shanthi bagged the Ist Rank in the B.Ed examination in the
year 2011-12.Kudos to Sr. Shanthi.
3rd November – Feast of St. Charles was a unique one as the families of our sisters from Uppinangady,
Vitla, Mogarnad and Loretto joined us for the celebration.
30 th November Holy Family School held their Sports Day and 5 th December. St. Joseph's Higher
Primary School celebrated their School Day.
28 th November – Church Feast was celebrated in a grand manner.
29 th November – We celebrated Sr. Elizabeth's birthday.
December: Sr. Sheila Corda representative for COSAF enlightened us on the Year of Faith by showing
us an Audio-Visual: The Story of Nativity. She visited Sr. Savitha Lasrado and the Teacher Training
for Special Children
We wish you a Merry Christmas and A Happy New Year 2013.
St. Charles Convent, Wayanad, Rippon
Here we come to give you some news from Wayanad, beginning from the month of August.
We had the visit of our dear Sisters Josita and Mary Jacob our General Councilors from 7th to 9th
August. They came to study the place and to re-orient our apostolate here. Their inspiring
suggestions gave us a boost to go about with our apostolic work such as pastoral work, involvement
in all the church activitites and the nursery. Thank you dear Sisters Josita and Mary Jacob .
On 29th of August we celebrated Onam, the festival of Kerala . On 8th of September we celebrated the
nativity of our Blessed Mother.
Sr. Therese Paul attended a seminar "The news evangelization for the modern world" on 17th
and 18th September, arranged by the Bishop of Calicut, Rev. Dr. Varghese Chakkalakal in preparation
for the inauguration of the Year of Faith. All the priests of the diocese, the superiors of all the men
and women religious had to attend this seminar.
On 21st September, Rev. Sr. Janet our Provincial Superior came for her canonical visit to our
community. Her short stay with us boosted our spirit of service. She expressed her appreciation for
the improvement we have made in all the fields of our apostolic works. Thank you dear Sr. Janet for
your encouraging words and support which you have given us. Sr. Janet left for Mangalore on 24th
September.
On the same day our Provincial Bursar Sr. Rita with Sr. Lizzy came for internal auditing of the
community accounts. Their short stay with us was sweet and encouraging. Thank you dear Sisters
Rita and Lizzy.
Month of October was a very busy month with retreats and seminars. Sister Grace attended
the pastoral retreat at NBCLC from the 1st of October to 5th Sr. Elsy attended the retreat at Villa
Borromeo . Srs. Elsy and Grace attended the seminar organized for senior sisters.
On 27th and 28th of October was the Youth camp for the deanery of South Wayanad parish
churches. Sr. Elsy had to take all the youth of Rippon parish to Andoor where the camp was
conducted. Bishop of Caclicut was the chief guest and other resource persons were there to conduct
the camp. They organized confession for all the youth, adoration, 7 minutes' skits based on the year
of faith from all the parish, Quiz based on 'YOUCAT' and other General Knowledge of the diocese and
games. The winners were given prizes.
On 21st October, we celebrated Mission Sunday. We had arranged different games and a
canteen to collect money for the mission. It was a great success.
Month of October being the month of rosary, we had the praying of the Holy rosary unit wise
in every family. We too had the same. We invited all the unit members. At the end of the rosary we
served them tea and snacks.
The Feast of St. Charles was celebrated on the 3rd of November with a few invited priests and
sisters of our neighboring parishes. On 4th we had the Eucharistic celebration in our parish and
distributed a piece of cake and sweets to one and all. All the catechists were given a special treat as
St. Charles Borromeo is Patron of Catechists.
Before concluding the news letter we ask your humble prayers for the healing of the sister of
Sr. Elsy John as she underwent left 'Hepatectomy' (removal of tumor from the liver). At present she
is in Unity Hospital ,Mangalore. Sr Elsy is gone to the hospital to be with her.
Finally we wish each one of you peace and joy filled Christmas and a Happy and Prosperous
New Year.
GUESS WHO ARE THESE DANCERS? WHEN AND WHERE WAS THEIR UNIQUE
PERFORMANCE?
ST. CHARLES CONVENT , KAMMANAHALLI.
The sisters at Kammanahalli are happy to share with you some of the recent happenings in our
community, school, and in and around our place.
Month of October:- days of prayer, relaxation – enrichment for body , mind and spirit. Our sisters
attended the retreat and seminar conducted by Sr. David at Villa Borromeo. Sr. Janet and the sisters
took care of the physical nourishment in such a way that the retreatent s could happily spend their
time with the Lord. Meeting of all the sisters was another enrichment
The ICSE students along with Srs Juliana, Kavitha and some of the teachers went to Kovalam beach
Trivandrum and some other interesting places.
Month of November- a special month for Charlies:- We celebrated our Patron's Day along with our
staff, sisters of our neighbouring Community and the priests. Five priests concelebrated the
Eucharist.
We had the happiness of participating in the First Mass of our old student (Sr. Therese D'costa's) Fr.
Francis Balraj S.J. The Eucharistic celebration was in the basement and the felicitation was in our
School auditorium. Our ICSE students with their dance added color to the programme . St Charles
English School had their annual day celebration. Sr. Genevieve C.S.S.T, Secretary, KRCRI was the
Chief Guest. The students did their best to make it a wonderful show. Sr. Juliana had been to Delhi to
attend the meeting on minority rights and Calcutta, Science City for Principal's meet.
Month of December:- a time of waiting as well as experiencing the joy of celebrating the birth of
Child Jesus once again in our hearts as well as in our lives." Jesus comes to say, I am with you". He
comes to us out of love. MERRY CHRISTMAS TO ALL. Christmas is tenderness for the past,
courage for the present, hope for the future. It is a fervent wish that every cup may overflow with
blessings rich and eternal and that every path may lead to peace.
WITH LOVE FROM jyothi-kiran, COMMUNITY, MAROULI
Hi Everybody!
The charlies from Marouli greet you warmly A merry Christmas
and a joyous, prosperous, grace filled New year.
We, at Marouli keep ourselves busy with both pastoral and
education apostolate. Out of 4 of us here, three are in the school and one
at home. Three of us march to school at different timings and arrive at
different timings and then march to our areas for pastoral work. Sr.
Sylvia continues to work at Sevadaan ,Special school, Sr. Aurelia TO our
lady of perpetual succour school AS primary SCHOOL Head mistress and
Sr. Carmine as principal OF St. Sebastian's higher secondary school .The
St. Sebastian school completes its 50 years of service in the field of
education and in the past years priests were the principals and this year on
Cardinal's request to the Provincial SUPERIOR ,Sr. Carmine is appointed as
principal OF this school. The school celebrated its golden Jubilee on 19th
December with all pomp and SPLENDOUR. His Eminence Cardinal Oswald
presided over the function and attended the whole function beginning with
mass at 4p.m. It was followed by a cultural programme.
From June 2012 Sr. Aurelia has taken charge as a headmistress at
O.L.P.S. Our presence in the school has brought a change. Teachers,
parents and students are happy in the school. School celebrated its
Annual day. It was a grand success .School has many activities. There are
1050 students from standard 1st to 4th. They are Like busy bees always on
their toes to spread the kingdom of god.
Wish you all Happy Christmas and grace filled New Year -2013
ST. CHARLES CONVENT, SINDHUVALLI
27-9-12
Sr. Theresa organized health awareness program for
women of Spandhana and Sr. Regina Suares was the resource
person.
3-10-12
We celebrated the feast of Sr. Hilary .We had a meaningful celebration of the Holy
Eucharist with our inmates of Ashraya.
3-11-12
We celebrated the feast of our
patron St. Charles. Most Rev .Dr. Thomas
Vazappilly Bishop of Mysore presided over the
solemn Eucharist. Priests ,Sisters, friends ,hospital
staffs and our inmates added joy to this day
followed by the cultural program by our inmates.
4-11-12 We celebrated the feast of St. Charles in
the parish along with our parishioners followed by a high tea. On 4 November
evening we had FOSC (Friends Of St. Charles) gathering in the Hospital were
there were about 300 people, there was a Power Point presentation of the
routine activities which go on in Ashraya and also the transformation from
their arrival (when we get them) and after (bath /shave and/or a change of
dress) of some inmates were displayed to the audience, followed by cultural
program & there after supper
11-11-12 We the sisters
part in the Parish activity
was "on the spot frying
was a thrilling experience
Hearts' content.
and staffs with immense joy took
ie.. Mission Sunday. The menu
of Puri"/Bhajji's and serving it. It
and the people ate to their
We celebrated Deepavali at Ashraya .Our inmates enjoyed the fire-works sweets were distributed.
Prison Ministry
On the occasion of Deepavali Sr. Theresa and team organized a prayer service and counseling
session. Clothes and Medicine were distributed.
2-12-12 Sr. Saroj and Sr. Marykutty visited our community. We were happy to have them with us and
we thank them for their valuable guidance and support.
4-12-12 Sr. Theresa organized HIV awareness program for women . Sr. Marykutty and Mr. Prakash
were the resource persons.
St, Charles Convent, Thuthiyoor
Praise the Lord for his wonderful gifts. with thanks giving in our hearts, we
are Grateful for the event filled months. For all the big and little things
that brought us cheer, we praise god.
Kedengara, a small village awoke with a radiant smile On 8th Septembe . ever
to be remembered by the Sisters who came from far and wide. Bishop, Priests
and trustees were All warmly welcomed to this much awaited inaugural Day.
The Bishop and dignitaries lit the lamp and Fr. Anil did the honours, Sr. Joyce
and her team cut no corners To serve the destitute with smile so beautiful
10th September was another auspicious day. the arrival of Srs. Lydia and Rita
to monitor the accounts was good. We Are Enlightened and enriched so thank
you dear sisters. We Promise to do our best to maintain the account in a
perfect way.
On 6th October. in its traditional style, the Little ones of St. Charles so
melodiously sang along For blessings from above. On our sports day, the
Assistant Police Commissioner and the dignitaries lit the inaugural lamp To
formally begin the proceedings of the sports day
Words of wisdom flowed from the chief guest In this world of instant almost
every-thing. He advised children to save the environment
Ever youthful and endearing mother Benedicta Was with us on 25th October
Thank you dear mother, you were simply wonderful The past four days have
been like a fairy dream.
On 4th November. our patron was remembered, the Eucharistic celebration
was In gratitude for our pAtron's benevolence and help. For blessings from
above, and we were surely not leaving it to chance. Our invited guests were
priests and sisters who shared our joy participating in a delicious meal.
S C B associates and Charlian Bees Spent an hour in prayful conversation
They also enjoyed the tea and snacks.
On 23rd November: sister Philo Jacob went To Kolkkatta, To participate at the
conference for ICSE school Principals. She visited the tomb of dear mother
Theresa And lifted us all in prayerful salutation.
On 29th November: we warmly welcomed our Sr. Janet To this much awaited
community visit. We spent the evening at Cherai Beach And then went all the
way to Vallarpadam Shrine To greet our Universal mother and ask her
blessing. Thank you Sr. Janet for your thoughtfulness and care
And the love that you share with us.
On 12th December Came our great educators Srs. Alberta and Precilla.
The Staff members were inspired by their presence, ready To ignite young
minds and help them solve their problems they Advised teAchers " to take
the bull by its horns" To see children as roses and not thorns.
As we travel through our difficult daily mile, We bid good bye to 2012.
Enlightened and enriched we resolve to begin afresh, Hoping to meet again in
2013.
TIT-BITS FROM GEORAI
$$$$$$$$$$$$$$$$$$$$$$$$$$$$$$$$$$$$$$$$
2nd Sept.2012
It was a day of outing for the Charlies and Fr. Ratnakar, S.J. We went sightseeing, had
a glimpse of some of the historic places in Aurangabad and spent most of our time in the
park. Fun and frolic filled the hearts of the picnickers and it was also a day of relaxing.
4th Sept. 2012
Sr. Gretta received the sad news of the demise of her beloved father. He was
suffering from Alzheimers and Asthama. She left from Aurangabad for Mumbai by air.
The funeral was on 5th at Don Bosco's Church, Borival (W).
15th Sept. 2012
Our hearts were filled with joy at the arrival of Rev. Sr. Saroj and Sr. Mary Jacob.
Srs. Geeta & Prabha went to Aurangabad Station to fetch them. They arrived at 10.30
p.m. Sr. Sonia (Novice) welcomed them with an aarti. We then proceeded to the chapel
and sang the 'Magnificat'. Their presence in our midst during the week brought new joy
and hope.
17th Sept. 2012
The Boarding girls and the Nursing students organized a short entertainment
programme at the convent in honour of Sr. Saroj and Sr. Mary Jacob. It was very
beautifully organized. At the end of the programme Sr. Saroj spoke a few words of
encouragement to the children and the nurses.
20th Sept. 2012
The community had a short outing with Sr. Saroj and Sr. Mary Jacob to a place called
Gadhi. Though the outing was short yet it was a moment of togetherness and relaxation.
In the evening the Nursing Students along with Ms. Archana (Lab Technician) arranged
supper for the community in honour of Sr. Saroj and Sr. Mary Jacob. It was very
homely.
24th Sept. 2012
We said 'Goodbye' to Sr. Saroj and Sr. Mary Jacob as they set off to Aurangabad
Railway Station at 03.30 a.m. to board the train to Kalyan. Srs. Gretta, Helen Menezes
and Sonia went to leave them at the Station.
29th Sept. 2012
We wished farewell to our dear Novice – Sonia, who was with us for her community
experience. We had a beautiful experience of her presence in our midst. Her presence
made a difference in our community and in the mission. She travelled along with Sr.
Helen Moras to Bangalore who was attending her Retreat cum Seminar for Social
Workers at NBCLC.
25th Oct. 2012
We give thanks to God Almighty for His protection over us especially the boarding girls,
who were saved from a poisonous White Viper, which had been residing for sometime at
the fire-wood place of the boarding girls. A snake-charmer was called, who succeeded
in catching it alive after a day's hard labour.
3rd Nov. 2012
We celebrated the feast of our Patron – St. Charles on 3rd. It was a very grand
celebration. We began the day of festivity with a meaningful morning prayer followed
by a fabulous festal breakfast. The Eucharistic Celebration was at 05.30 p.m. Fr.
Wilfred Saldhana was the Main Celebrant, the concelebrants were Fr. Andrew Moras,
Fr. Selvaraj, Fr. Albert and Fr. Ratnakar Dushing. Sisters from St. Ann's Convent –
Beed and from Nityseva Hospital – Shevgaon joined us in our celebration. There was a
crowd of about 150 people inclusive of the boarding girls and boys, hospital staff, school
staff, families from the compound and well-wishers.
9th Nov. 2012
Srs. Daisy, Geetha and Prabha went to Pune – Jesuit Retreat House for their Annual
Retreat. They returned on 18th rejuvenated and filled with the Holy Spirit.
11th Nov. 2012
We are grateful to Srs. Rita Varghese and Flaveena for helping us in the internal
auditing of the accounts. They arrived at Georai from Mumbai in the morning. Sr.
Flaveena left for Mumbai on 12th night and Sr. Rita left to Bangalore on 13th morning.
Thank you dear sisters for your great generosity !
27th Nov. 2012
Sr. Gracy went to Pune – Jesuit Retreat House for her annual retreat. Sr. Helen Moras
travelled to Bhadravathi to attend a seminar for social workers at Nirmala Hospital,
Bhadravathi.
3rd Dec. 2012
We celebrated the feast of St. Francis Xavier – the patron of the Jesuits' Mission at
Georai. It was a simple but meaningful celebration.
7th Dec. 2012
Sr. Janet D'Souza, arrived to our community from Bangalore. She was here on her
pastoral visit. We value the precious moments she spent in our midst giving us the
message of hope and faith as we prepare ourselves for the coming of CHRIST in our
lives. She left to Mumbai on 11th night by bus.
Emmanuel,
may your light be
perceived by all who
sit in darkness. Be a
beacon of hope for all
whose lives are
troubled this
Christmas.
Wishing you all
Merry Christmas !
St. Charles Convent, Nidoddi
We express our heart-felt condolences to Sr. Therese Madtha who received the
tragic news of her brother's demise. We offer our prayerful support to her and
the members of her family. The details are taken from the internet.
Beltangady, Dec 15: The mortal remains of papal envoy to Ivory Coast
Archbishop Dr Ambrose Madtha, who passed away in a tragic accident at Ivory
Coast, were laid to rest at Holy Redeemer Church, Beltangady here on Saturday
December 15, amidst a solemn gathering of nearly 3,500 people.
Dr Ambrose Madtha was laid to rest inside the Church premises.
The funeral Mass was led by Apostolic Nuncio of India Salvatore Pennacchio with
bishop of Mangalore Dr Aloysius Paul D'Souza as the concelebrant.
Auxiliary bishop of Delhi Archdiocese Dr Franco Mulakkal read out the message
by Pope Benedict XVI.
In the message, the Pope said that as an Archnbishop Dr Madtha had put in good
efforts to promote peace and unity. "We have lost a gem of a person. The Church
has lost a good ambassador," the message stated.
The Nuncio in his sermon said that Dr Madtha was his good friend and that he
was saddened by the incident. "I am here to represent Pope Benedict XVI. I am
thankful to the representatives of Ivory Coast who have come all the way," he
said.
"Life and death are God's desire, and now we are offering Dr Madtha to God," he
added.
Condolence messages were also conveyed by Mangalore bishop Aloysius Paul
D'Souza, Dr Madtha's family member Wilson Madtha, Beltangady parish council
vice-president Fr Vincent Madtha, Lucknow bishop Dr Gerald Mathias and Ivory
Coast foreign minister Charles Koffi Diby.
Ivory Coast minister of social affairs Anne Desiree Oulopo, president of Episcopal
Conference Dr Alexis Touabli Youlo and Archbishop of Abidjan Dr. Jean-Pierre
Kutwa were among the delegates present.
Bishop Lawrence Mukkuzhy of Beltangady, Bishop Dr. Oswald Lewis of Jaipur,
Bishop Dr. Gerald Isaac Lobo of Udupi, Bishop Dr. Anthony Swamy of
Chikmagalur, Bishop Geevarghese Mar Divannasios of Puttur, were among the
other bishops present.
Among the priests present were Fr Francis Rodrgues, Fr Denis Prabhu, Fr William
Menezes, Fr Ritesh Rodrigues, Fr Alfred Pinto, Fr Simon D'Souza, Fr Anil D'Souza,
Fr Gregory D'Souza, Fr Richard Lasrado, Fr James D'Souza, Fr Melvin Noronha, Fr
Valerian Menezes, and Fr Andrew.
Earlier, a short prayer service was offered at the Bishop's House in Beltangady.
Sr. Therese Madtha S.C.B. and Sr. Bridget Madtha F.M.M. were present.
Oscar Fernandes and his wife Blossom, MLA Vasanth Bangera and others paid
their last respects together with around 3,500 priests, nuns and laity who had
gathered.
An excerpt from
Seven Choices for Success and Significance
by Nido R. Qubein
What is success? Only you can define it in your own life. In my own life, I have
attempted to define both Success and Significance.
To me, Success is secular. Significance is spiritual.
It doesn't matter how you define your own spirituality. Spiritual matters are always finer,
deeper, and longer lasting than secular matters.
Success focuses on three Fs:
• Fans
• Fame
• Fortune
Success is focused on tasks, even goals.
Significance also focuses on three Fs:
• Faith
• Family
• Friends
But, significance focuses on purpose. Why am I here? What do I do with the talents,
experiences and skills that I have? How can I make the world a better place? How do I
plant seeds of greatness in the lives of those around me? How do I make an impact in the
circles of influence where I find or place myself?
To choose success and significance, you must be a strategic thinker who:
• Has a clear vision of what you want to accomplish
• Develops a solid strategy that answers three questions:
- Who or what are we today?
- Who do we want to become?
- How do we get there?
• Employs practical systems to achieve your goals
• Commits to consistent execution because in consistency, success emerges.
When implementing your strategic plan for success, it really comes down to three "Ds":
Decide what you want most to achieve
Determine the first step to getting what you want
Do the first thing that will start you moving toward your goal.
Using these seven keys, you can choose success and significance. But keep this in mind:
success is not a matter of luck, not an accident of birth, not a reward for virtue. The most
successful people I know are the ones who have something to do, somewhere to be and
someone to love.
No one is responsible for your success or your joy. You must search for it and be in a
continual state of earning it.
To merely succeed is not an end in itself. You must use your success to impact other
people...to impact the world...to Live Life from the Inside Out.
It all starts with the choices you make—they determine the person you will become.