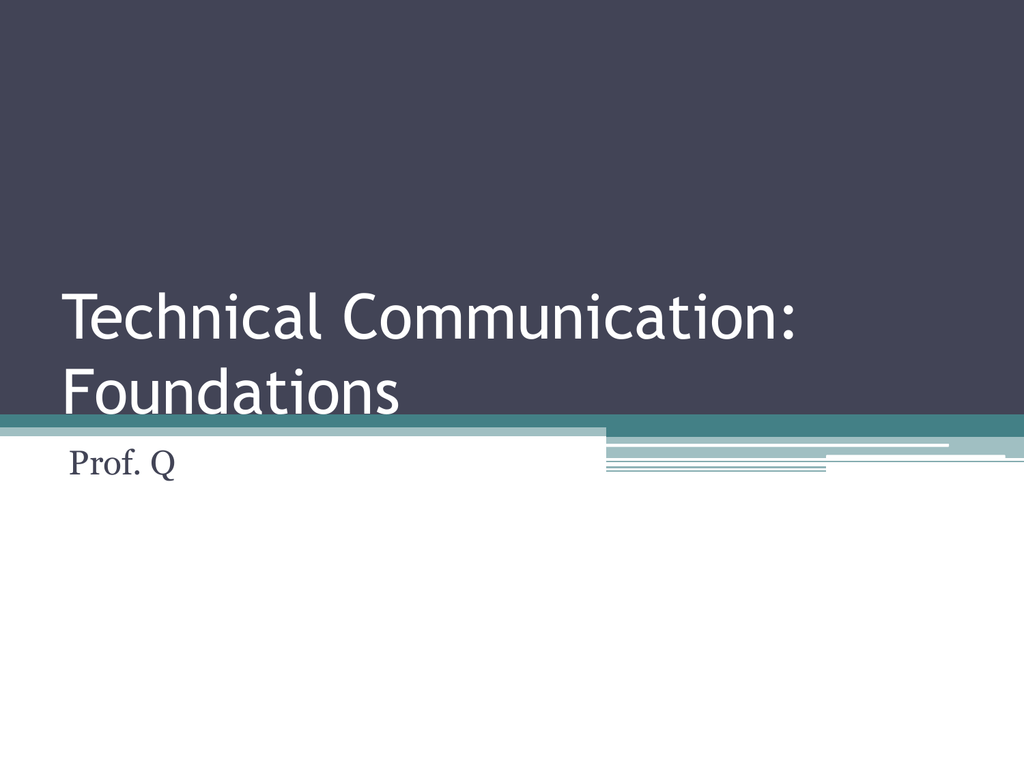 Technical Communication:
Foundations
Prof. Q
Overview
•
•
•
•
•
•
•
Defining Technical Communications
Features and Purposes
Types of Documents
Teamwork and Global Issues
The Research Process
Audience and Purpose
Ethics
About Technical Communication
• The exchange of information that helps people
interact with technology, advance workplace goals,
and solve complex problems.
• Day-to-day questions:
▫ How do I set up my new technology?
▫ How do I attach a document to an e-mail?
• Workplace questions:
▫ What is our competition doing?
▫ What new technologies should our company adopt?
• Specialized questions:
▫ What are the technical limits to wind energy?
▫ Do the benefits of new vaccienes outweigh their risks?
About Technical Documents
•
•
•
•
•
Reader-Based
Task-Oriented
Context-Sensitive
Design-Based
Written, Visual, Digital, and Oral
Features of Technical Communicatin
•
•
•
•
•
•
•
•
Focus on reader
Efficient and accessible
Clear and relevant
Uses media effectively
Created by both individuals and teams
Targets a global audience
Persuasive and Truthful
Based on research
Typical Forms of User-Centered
Communication
•
•
•
•
•
Instructions (How to's)
User Manuals (Detailed Instructions and Warnings)
Reports (Analyze an Issue)
Memos (Answer Questions)
Procedures (Comply with Regulations)
Balancing Persuasion and Information
• Deliver usable information
• Consider how to get the desired response
Purpose of Technical Communication
• To inform (Sample document on P. 9)
• To instruct (Sample document on P. 11)
• To persuade (Sample document on P. 13)
Common Types of Technical Documents
•
•
•
•
•
•
•
•
•
Memos – Internal Communication
E-Mails – General Communications
Letters – Personal Communications, Paper Trail
Instructions – Explain Steps (Tasks)
Procedures – Explain Steps (Policy)
Manuals – Comprehensive Instructions
Brochures – Give Information
Proposals – Offer Solutions
Reports – Analyze Problems
Activity
• Find a technical document from your field and
evaluate using the checklist below.
Teamwork, Ethics, Persuasion, and Global
Issues in Technical Communication
Strategies for Organizing a Team
Project
•
•
•
•
•
•
•
•
•
•
•
Appoint a group manager
Define a clear and definite goal
Identify the type of document required
Divide the tasks
Establish a timeline
Decide on a meeting schedule
Establish a procedure for responding to each other's work
Select a group decision-making style
Decide how to evaluate each member's contribution
Prepare a project planning form
Submit regular progress reports
Strategies for Running a Meeting
•
•
•
•
•
•
•
•
•
•
Set an agenda
Ask each person to prepare as needed
Appoint a different observer for each meeting
Begin by summarizing the minutes from last meeting
Give all members a chance to speak
Stick to the issue
Keep things moving
Observe, guide, and listen
Summarize major points before calling a vote
End the meeting on schedule
Technology and Team Projects
E-mail
IM
Project Management Software
"The Cloud"
Digital Whiteboards
Web Conferencing
Other technology
•
•
•
•
Teleconferencing
Blogs
Intranets
Wikis
Identifying Group Conflicts
• Gender differences
• Cultural differences
• Interpersonal differences
Dealing with conflict
•
•
•
•
•
•
•
•
Listen actively
Avoid gender and cultural bias
Research cultures other than your own
Give everyone a chance to be heard
Take everyone's feelings and opinions seriously
Don't be afraid to disagree
Offer and accept constructive criticism
Find points of agreement with those who hold different
views
• When the group does make decisions, support it fully
Class Activity – General Application
• Find an example of technical communication in
your field.
• Explain where teamwork was important and
why.
The Research Process in
Technical Communication
Thinking Critically About Research
• Think about your audience.
• Think about the rhetorical situation.
• Think about authorship.
• Think about authorial intent.
Strategies for Thinking About Research
• Ask the Right Questions – Don't be overly
broad or too narrow.
• Explore a Balance of Views – Don't just rely
on one expert.
• Explore your Topic in Depth – Show
knowledge of your topic.
• Evaluate your Sources – Make sure you have
reliable information.
• Interpret your Findings Objectively – Try
to show lack of bias.
Using Primary Sources
•
•
•
•
•
Interviews
Surveys
Observations
Events
Processes in action
Using Secondary Sources
•
•
•
•
•
•
•
•
Blogs
Wikis
Web pages
Books
Articles
Magazines
Photographs
Recordings
Consider table 3.1 on
page 44.
Tips for Research Using the Internet
•
•
•
•
•
Expect limited results from any one search engine.
When using a search engine, use varied queries.
Consider the domain name and the site's author.
Identify the site's purpose and sponsor.
Look beyond the style of a site, and assess the currency
of the materials.
• Save what you need.
• Remember to be ethical on your research.
Types of Internet Sources
• Websites
▫
▫
▫
▫
•
•
•
•
•
.com
.gov
.edu
.org
Magazines and Journals
Blogs
Wikis
Forums, BBS systems, and Mailing Lists
E-libraries
Types of Hard-Copy Sources
• Books
• Periodicals
Group Activity
• Identify at least eight reliable and valid
sources of information related to your
company's focus.