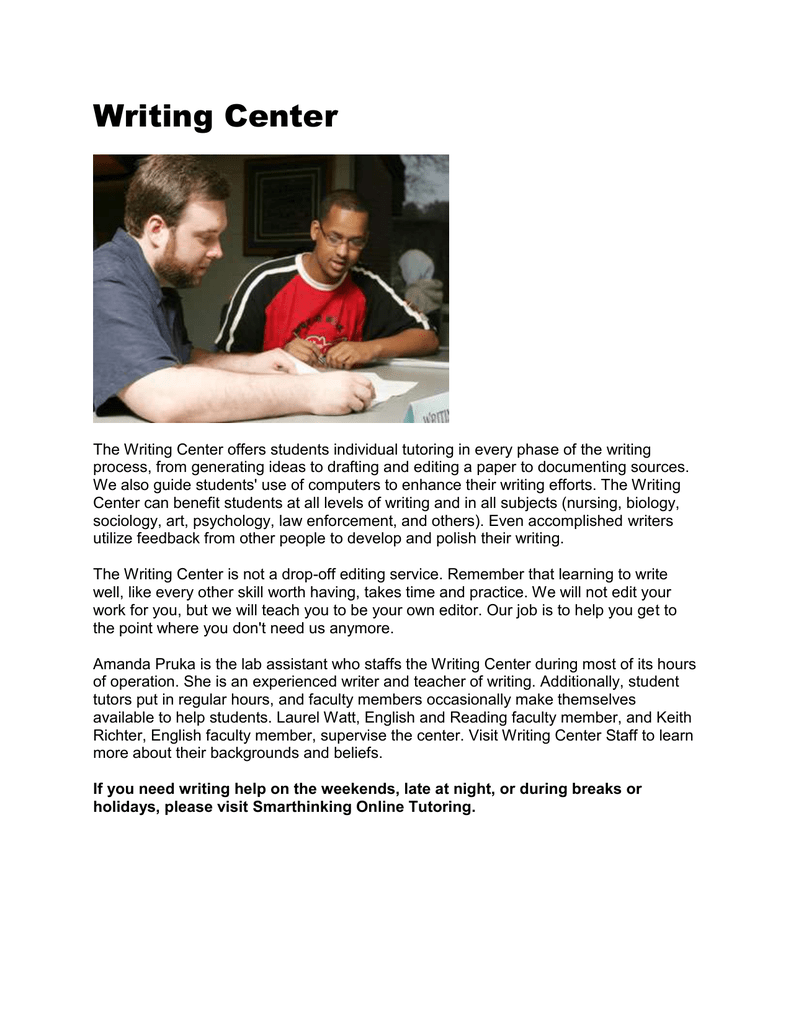 Writing Center
The Writing Center offers students individual tutoring in every phase of the writing
process, from generating ideas to drafting and editing a paper to documenting sources.
We also guide students' use of computers to enhance their writing efforts. The Writing
Center can benefit students at all levels of writing and in all subjects (nursing, biology,
sociology, art, psychology, law enforcement, and others). Even accomplished writers
utilize feedback from other people to develop and polish their writing.
The Writing Center is not a drop-off editing service. Remember that learning to write
well, like every other skill worth having, takes time and practice. We will not edit your
work for you, but we will teach you to be your own editor. Our job is to help you get to
the point where you don't need us anymore.
Amanda Pruka is the lab assistant who staffs the Writing Center during most of its hours
of operation. She is an experienced writer and teacher of writing. Additionally, student
tutors put in regular hours, and faculty members occasionally make themselves
available to help students. Laurel Watt, English and Reading faculty member, and Keith
Richter, English faculty member, supervise the center. Visit Writing Center Staff to learn
more about their backgrounds and beliefs.
If you need writing help on the weekends, late at night, or during breaks or
holidays, please visit Smarthinking Online Tutoring.
Using the Writing Center
You can get assistance at the Writing Center in three ways: walk-in conference,
conference by appointment, and online submissions. Although tutors are often
available for walk-ins, we strongly encourage that you make an appointment. That is
the best way to guarantee that you receive the help you need when you need it. Plan
ahead so you won't be disappointed!
Students are allowed a maximum of two hours of tutoring per week. Demand for our
services is often very high, so we need to make ourselves available to as many
students as possible.
Below are some guidelines to help make your visits to the Writing Center more
effective.











Plan before coming to the Writing Center: Bring your ideas and/or drafts to the
Center early in the process, not the day before the paper is due. Plan to come to
the Center more than once, particularly if you have a lot of problems with
grammar.
Come to the Writing Center prepared: Bring your ideas, drafts, or prewriting.
Bring your textbook(s). Bring your assignment sheet or notes about the
requirements for the assignment.
Bring any other relevant notes and be ready to actively participate in the writing
conference.
Have realistic expectations about what the Writing Center can do for you: Expect
to take an active, participatory role in the tutoring conference.
Expect that the conference will last no more than 60 minutes.
Expect to address higher order concerns such as organization, development, and
logic early in the process.
Expect to address lower order, sentence-level concerns such as grammar and
punctuation later in the process.
Do not expect that every problem in a paper will be addressed. Tutors will focus
on patterns of errors that you can realistically learn to correct in the time
available.
Do not expect the tutor to "fix" the paper for you.
Do not expect that going to the Writing Center guarantees you will get an "A."
Do not expect to leave your paper with staff to be proofread and/or commented
on in your absence.
E-mail Tutoring
We provide tutoring by email to all students. Go to e-mail tutoring for instructions and
submit your questions using the online form.