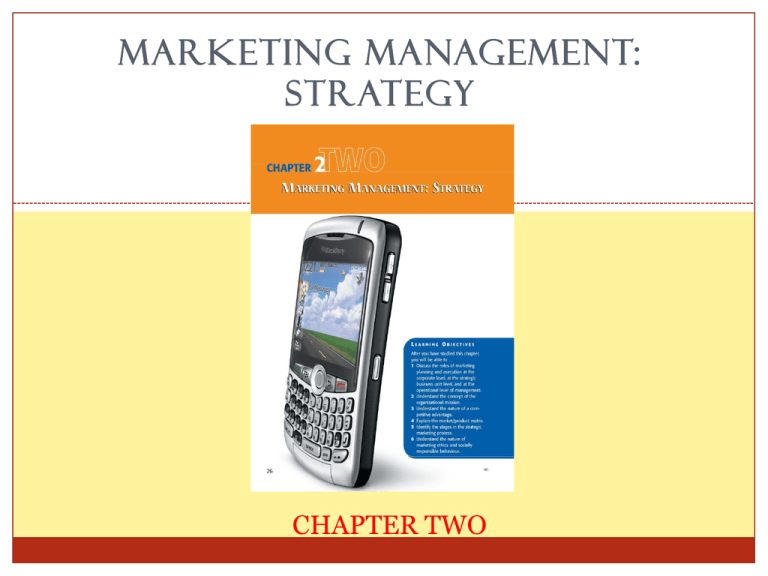 MARKETING MANAGEMENT:
STRATEGY
1
CHAPTER TWO
Marketing Management
 The process of:
1. planning,
2. executing, and
3. controlling
marketing activities to attain the marketing goals
and objectives effectively and efficiently.
 Change is constant and therefore the process is a
continuous process.
What is a marketing strategy?
 A plan identifying
what marketing
goals and objectives
will be pursued and
how they will be
achieved in the time
available.
Planning: A Framework for the Future
Envisioning the Future
Establishing goals and
objectives
Designing strategies to be
implemented in the future
Level of management planning
5
Top Management: Mission Statement
A mission statement is:

A broad statement of the company's purpose

Explains the purpose of the organization

Provides direction for the entire company
Walt Disney's Mission
"The Walt Disney Company is committed to balance
environmental stewardship with our corporate goals
throughout the world"
http://corporate.disney.go.com/environmentality/mission_history.html
Homework Question


Page 52, question 6
The examination of mission statements
Strategic business units (SBU)
 Operates as a "company within a company"
 A SBU is organized around some common element
such as….
Industry
Technology
SBU
Customer
need
Target
Market
Boston consulting groups growth-share
matrix
 Commonly referred to as the BCG Matrix
 Develop to evaluate SBU's performance based
industry growth (vertical axis) versus relative
market share (horizontal axis)
 Assists management to determine resource
allocation
 Four categories: Stars, Cash cows, Dogs,
Question Marks (see exhibit 2-3, page 34)
GROWTH RATE
(Cash Use)
Boston consulting groups growth-share
matrix
HIGH
LOW
MARKET SHARE
(Cash Generation)
HIGH
LOW
STAR
QUESTION
MARK
CASH
COW
DOG
Marketing Strategies at the SBU LEVEL

1.
Marketing managers focus on two
key aspects of SBU strategies:
Establish a competitive
advantage


2.
Superior to or favourably different
from competitors
Examples include: price leadership,
differentiation strategy
Plan growth strategies

(Visit Exhibit 2-5, page 37)
Planning business-unit growth
strategies
The Market/Product Matrix (Exhibit 2-5)
Markets
Products
Existing
Existing
New
Market
Penetration
New
Market
Development
Product
Diversification
Development
12
What's Happening?
 http://www.theglobeandmail.com/report-on-
business/industrynews/marketing/adhocracy/toyota-matrixcampaign-shows-peril-of-pullingpranks/article2168041/
 http://www.youtube.com/watch?v=eH3GH7Pn_eA
 http://www.youtube.com/watch?v=V3WtXZGiav0&
feature=related
The six stages of the Strategic marketing
Process
Planning stages
1. Identifying and evaluating opportunities
2. Analyzing market segments and selecting target markets
3. Planning a market position and developing a marketing
mix strategy
4. Preparing a formal marketing plan
5. Executing the plan
6. Controlling efforts and evaluating the results
Stage One: Identifying and Evaluating
Opportunities
Situation Analysis: two major components:
1. Environmental scanning & monitoring


External forces and trends are identified as
opportunities and threats
Forces include: sociocultural, demographic, economic,
etc.
2. Internal analysis


Internal strengths and weakness are identified
Key topics include: organization, customers, suppliers
15
Stage One: Identifying and Evaluating
Opportunities
Bringing the internal and external analysis together:
S.W.O.T
Internal
Micro-environment
External
Macro-environment
Strengths
Weaknesses
(build on)
(deal with)
Opportunities
Threats
(take advantage)
(avoid)
16
Stage Two: Analyzing Market
Segments & Selecting Target Markets
 Consumer Market (B2C) vs. Organizational Markets
(B2B) (Visit exhibit 2-8, page 42)
 Market segment

Portion of a larger market (i.e. French Canadians)
 Market segmentation
 Dividing the mass market into smaller groups with similar
characteristics that are likely to become the target market
 Target market
 The specific group(s) the organization directs its marketing mix
towards
Stage Three: Market Positioning and
Marketing Mix strategy
 Market position:
 How consumers perceive a brand relative to its competition
 Developing marketing mix (4P's):
 Product
 Price
 Place (distribution)
 Promotion
Recall from
Chapter 1?
Homework Question


Page 52, question 11
"How is Dr. Pepper positioned relative to Coke
and Pepsi?"
Stage 4: Preparing a Formal Marketing
Plan
The yearly marketing plan is a written report that
includes:





Marketing objectives (S.M.A.R.T)
Marketing strategies
Marketing mix
Responsibility allocation
Implementation timeline
Stage 5: Executing the marketing plan
Putting the plan into action!
Management best practices:
 Ensure resources are properly
allocated
 Clearly understand and
communicate goals and
expectations
 Create reasonable
expectations and deadlines
Stage 6: Controlling efforts and
evaluation results
Marketing Audits: Ensure that planned activities
are executed properly
 Benchmark: establish performance standards
 Supervision: investigate to ensure tasks have
been completed "checking up"
 Adjustments: evaluate to determine if goals
have been achieved


Yes? Continue with the plan
No? Make adjustments and monitor
Ethics and Responsibility
 Worldwide consumerism and environmentalism
movements exert pressure for greater responsibility
 Notion of "caring capitalism" tied to the marketing
concept.

Seeking ways to make a profit by serving the best long-run
interests of customers and communities.