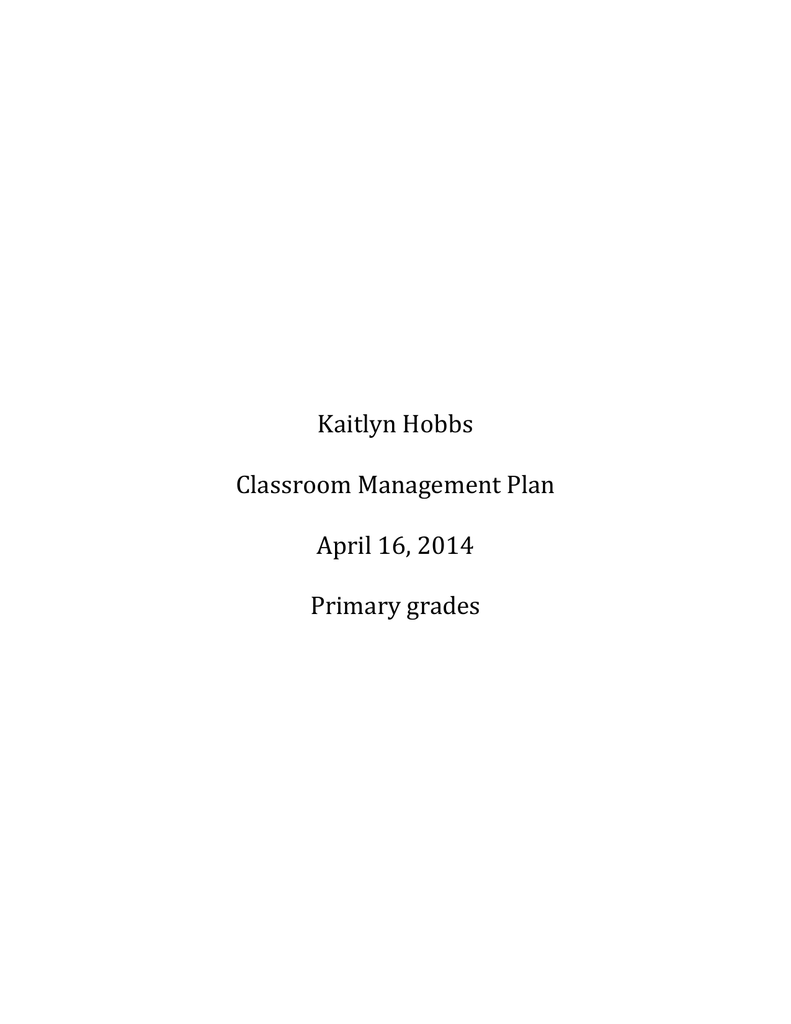 Kaitlyn Hobbs
Classroom Management Plan
April 16, 2014
Primary grades
Discipline Philosophy:
-Beliefs about Classroom Environment: See attached Brochure
-Philosophy of Education:
Students
Parents/Guardians
Teachers
My philosophy of education ties to the book The First Days of School by Harry and
Rosemary Wong. This book was essential when learning about classroom
management for the first time in my college career. The book touches on all aspects
of the classroom and how exactly you can incorporate those items in your own
classroom. They touch mostly on how to be an effective and efficient teacher. I used
that in my own philosophy of education.
Within my philosophy in my classroom I tied it into Harry and Rosemary
Wong's ideas. I tie in efficiency and effectiveness. I believe that all students have the
right to get the best education and it is my job to teach them to the best of their
ability. In order for this to happen, the teacher, student, and parents/guardians must
stay in constant contact with one another.
Students learn differently and that means they have different learning styles.
It is my responsibility to learn how each and every student learns information best.
Once I learn how each student's learns best, then I can teach them that way
whenever it is necessary. Just simply by doing this, that is when I am trying to
become an effective teacher.
I hope that by being an efficient and effective teacher then all of my students
will be involved in the classroom conversation everyday. I want the climate to be
work-oriented but most importantly, the classroom needs to be comfortable at all
times for every single student. When using discipline, it is up to me to have less
discipline use within the classroom. If I remain an effective teacher then there will
be less discipline problems. Which leads to more time for learning and engagement.
-Theories or researchers with whom you identify and why:
One theorist's that I like to identify with is Harry and Rosemary Wong. I read
their book The First Days of School and it was very eye opening. It gave me many
ideas to use in my classroom and I can't wait to see how effective they are.
Something that they focus on is the effectiveness and efficiency of each and every
teacher. It is important to understand each student and how they learn and it is my
job to make sure I am teaching them the way they learn best. All of the information
in their book teaches people how to become an effective teacher within so many
aspects in the classroom. This book has sold over 3.8 million copies and they have
won numerous awards for their educational books.
http://www.effectiveteaching.com/products.php?product=The-First-Days-ofSchool
The next theorist that I like to identify with is Fred Jones. One thing that Fred
made was the "Say, See, Do" idea. The "See" part is when the teacher models what
the students will be doing. By modeling the students will understand what is
expected of them and so they know exactly how the teacher wants the activity to be
done. The "Say" part is when the students listen to the teacher while the teacher will
explain what the students are about to learn and explain the activity as a whole. The
"Do" part is the students actually doing the activity or part of the lesson that the
teacher previously showed and explained. I like this idea because it shows the
students exactly what you want them to do and learn in the lesson and the students
get to do it. http://www.fredjones.com/Tools-for-Teaching/Tools-for-Teachingmain.html
Preparation:
-Letter of Introductory Students:
Hello ______________,
My name is Miss Hobbs and I
will be your 1st grade teacher
this year! I have so many
exciting activities planned and I
am looking forward to this
school year with you. I cannot
wait to meet you on the first
day!
First Day of
School
August 13, 2015!
Our classroom number is Room
6. I will be waiting outside the
door for you at 8:30!
Miss Hobbs
-Letter of Introduction to Parents:
Dear Families,
Hello! My name is Kaitlyn Hobbs and I am excited to tell you that I am your
child's first grade teacher for the 2015-2016 school year. I graduated from Ball State
University with a bachelor's degree in Elementary Education and a concentration in
Kindergarten Primary in the summer of 2015. I love spending time with my family
and friends, but I especially love being with my two puppies at home. My favorite
past time is bowling; my family and I have a real love for the sport. I enjoy being
outside and reading books. The school year is finally here and I absolutely cannot
wait to teach your child this year!
This year in first grade we will be learning many new and exciting things. In
Mathematics your child will be learning how to remember the numbers 0-100 while
using pictures and symbols (MA 1.1 2000). Another thing they will learn is addition
and subtraction and solve many problems using addition and subtraction (MA 1.2
2000). In Language Arts your child will be learning how to figure out the meaning of
certain words and understand the vocabulary of words. They will also be working
on their syllables and adding suffixes to words (EL 1.1 2006). Another thing the
students will do is start writing short stories (El 1.5 2006). If you would like to look
at all of the standards we will be covering this year then I highly suggest you to look
at www.doe.state.in.us for more information.
On the first day I will show and tell the students about our class discipline
plan. I will send home a form with your child to go over with you and that paper will
need to be signed and returned to class by Friday August 17, 2015. Our class
discipline plan has five steps, using cards to determine the level and the child may
move up or down at any time of the day. Only direct and logical consequences will
be given. If the whole class avoids bad behavior, there may be awards given to them.
I use a Token Economy in our class and that information will be on the form as well.
I hope you can see how strongly I feel about your child's education. I can't
wait for this school year to start and I am looking forward to meeting you at Open
House on Friday August 6, 2013 at 6pm. We will meet in the classroom, which is
Room 6. In my classroom I have an open door policy, so if you ever want to come
visit the classroom and see how your child is doing or see how I am teaching, please
feel free to come in. If you would like to talk to me about anything, my email is
[email protected] and my phone number at school is (765) 480-9071. I can't wait
to meet you and your child and get started in the classroom!
Thank you,
Kaitlyn Hobbs
-First Day Bellwork Assignment:
I will have my students come in and do their first Bellwork assignment. The
assignment will be very simple and just asking them questions about themselves
and about the school year.
1. What is your favorite subject in school?
2. What is your favorite activity at recess?
3. What are you looking forward to this school year?
4. What is your favorite animal? Draw me your best picture of it.
Classroom Management:
-Arrival Procedure:
o Explain the procedure for the students and model it
o The students will rehearse the procedure as a class so I can see they
understand
o Put backpacks on the hanger outside of the classroom, along with jackets
and other materials
o Come inside the class and pick up the popsicle stick that has their name and
their number on it, and move it from the absent jar to the present jar
o Sit in your assigned seat and start your bell work quietly
o Turn in any homework into the tray that fits with what time of work it is
(bell-work, signed papers, homework, classwork)
-Tardy Procedure:
o If you are tardy, then you will go to the office as soon as you get into the
building
o Get a tardy pass from the office
o Bring the pass to class after putting away your materials outside the class
o Put the pass on my desk in the Teachers Notes bin
o Sit in your seat and jump into the lesson
o Ask students around you for guidance once it is okay to talk with others
o Meet with me also to make sure you are receiving all information that you
may have missed
-Absent Procedure:
o If you are going to be absent, have a parent of guardian call the school and
notify them of your absence
o When you come back from class I will have all of your work that you missed
o Turn in the homework before the end of the week
-Homework Procedure:
o Make sure your name and number are on every piece of work before turning
it in
o Homework: turn in your homework at the beginning of the day into the
homework tray in the room
-Getting the Class' Attention:
o When I clap a pattern, the class will clap the pattern back to me and then
listen to what I need to say
o When I start counting down by 5, you will count down with me and remain
silent so that I can tell you something
o When I walk to the front of the room while you are silently working and I
ring the bell, you will stop what you are doing so I can have your full
attention
-Visitor in the Room:
o If a visitor comes into the classroom, then it is your job to start working on
the worksheet that I was explaining
o If we were in the middle of reading, then you should remain reading in
groups or silently (whatever we were doing at the time)
o If we were at the carpet, then you should go back to your seat and start
reviewing your vocabulary words quietly
o Whatever we are doing at the time when someone walks in the room, no
matter what you are to do, make sure you are doing it quietly/silently
-Getting the Teacher's Attention:
o When you are working on classwork and you need help, raise your hand
o Raise your hand until I have seen you (I may be working with another
student)
o Remain working quietly if I am working with another student
o If you need help you may ask a partner or someone around you quietly
o If a classmate needs your help, be respectful and help them quietly
-Restroom Procedure:
o There are two passes, a boys pass and a girls pass on the board
o Only one boy and one girl may be out at a time
o Put on the lanyard pass and write down your initials next to the Girls Pass or
the Boys pass on the board
o When returning to the class, put the lanyard back on the board ad erase your
name
o (CLASS RESTROOM)
o Walk to the bathroom in hallway line procedures like normal
o Allow students to use the restroom if they need to
o Use the restroom and then wash your hands and come back and join the line
again
o Be respectful to the restrooms
-Lining Up
o Put all of the materials away
o Push in your chair
o Quietly walk to the door
o Get in a straight line by your class number
o One line leader and one caboose at all times (it will switch every week)
o Stand with your body facing the door
o Remain quiet and keep your hands at your side
-Hallway Procedure:
o Walk in the single filed line in your number order
o Keep hands and feet to yourself at all times
o Walk directly behind the person in front of you
o Be respectful to other classrooms, remain quiet
o Keep to the right of the hall
-Dismissal Procedure:
o Turn in any work into the trays
o Make sure your desk is cleared and your desk is organized
o Clean up all surrounding areas
o Push your chairs in
o Go out to the room and grab your belongings
o Come back in the room and get in hallway lines
o We will walk to outside and remain in our lines
o I will tell each student what bus is theirs and when it is okay to leave and get
on the bus
o If your parent is picking you up, remain standing with me until I see your
parent/guardian
o If you are walking, remain with me until the leader comes to get you to take
you to the cross walk
-Bullying Pledge/Procedures:
The National Bullying Prevention Center is what our school abides by. As a
school we do not tolerate bullying of any kind. This is the pledge that all of our
students will know, understand, and abide by.
If you are a student and you see bullying you should:
 Speak up when you see bullying.
 Reach out to others who are bullied.
 Be a friend whenever you see bullying.
If you are a victim of bullying you should:
 Tell an authority figure.
 Tell the bully that they are hurting you and your feelings; use I-messages.
 Don't fight back, just walk away and stay calm.
http://www.pacer.org/bullying/resources/activities/take-the-pledge.asp
Discipline Plan/Classroom Rules:
-Discipline Plan
1. The student will receive a verbal warning from me after I use proximity.
2. Move your Velcro piece down a color if you are still being disrespectful.
Students will come up to the front of the room and move the Velcro
themselves. (They can also move up and down again throughout the day.)
3. Sit in the Breathe area in the room and take a breather from the situation.
Once you know you are ready to participate, then come back and join the
class.
4. Action plan. We will sit down together and fill out the action plan and figure
out a solution to the problem.
5. Parent phone call home to discuss the problem and think of a solution.
6. Referral to the principal if the problem is serious.
Consequences-The consequences will always follow the action and be related. If
a student marks on their desk, the logical consequence is to clean the desk. The
accountability component is that I will send out this discipline plan and the
consequences and rewards home to the parents/guardians. They will show them
to the student/child and the student and parents will sign off on the paper
acknowledging they understand what is to be expected of their child. The
students will come to school the first or second day and have this paper signed.
Rewards- There are individual rewards I will hand out. Students will get tickets
for a good behavior they might have done (i.e Good grade, great behavior during
a lesson, respect, showed kindness). At the end of the week the students can go
to the "class store" and buy tangible items with their tickets. The class will also
get rewards. This is called P.A.T time. The students will get extra time to do fun
activities they enjoy doing once the whole class gets done doing things quickly
and effectively.
Seating:
-Computer drawn map of your classroom: See attached map
-Key (label) identifying areas of your classroom: See attached map
-Written rationale:
The main ideas of the layout are:

Student Desks: The students are put into desks of four's so that they are in
groups. The students desks are in the middle of the room so that they are
close to all things in the classroom. The students desks are facing the smart
board and white board. The desks are in island form so that they are like
their own island.

Smartboard and whiteboard: The smart board and whiteboard are at the
front of the room next to the door. On the smart board I will show the
students videos and just mainly using the Internet for activities and lessons.
The whiteboard will be there behind it so that I can write on the board as
well.

Writing Center and Listening Center: I think it is important to have these
areas in the classroom. In both of these centers the students will work alone
and do listening or writing activities. There will be all of the supplies
necessary at the tables. These are located on the left and right side of the
classroom in the front.

The Silent Reading area: In this area there are comfy beanbags for the
students to sit in. There are two bookshelves for students; there are plenty of
books for them to pick out. The students will read here silently whenever
there is free reading time. It is located in the back left corner of the classroom
near their desks and the teacher desk.

Teacher desk- This is located in the back of the classroom next to the reading
area and behind the students desks. I think the teacher desk should be away
from everything else and it needs to be a spot that the teacher can see
anything and everything from it.

Rug/Calendar area: This area is next to the students desks and the reading
area on the far left side of the room. In this area, we will read stories and
work on our calendar and small talk time.

Cubbies: The students have their own cubbies in the room on the far right
side next to storage and the kidney table. The students will put all of their
belongings in their own cubbies.

Kidney Table: The kidney table is next to the door and next to the students
cubbies and desks. At the kidney table is when I work with a small group of
students on lessons and group work.
-Seating Assignment Method: The students all have their names on their desks. They
have assigned seating. I will pick the students spots to sit because I want to see how
those students can work together as a cluster of desks. Each desk will have their
name on it so students know whose desk it is. The desks will be rearranged if need
be before the first week is over. I will change the desks around periodically so that
they are put into a new group and make new friends.