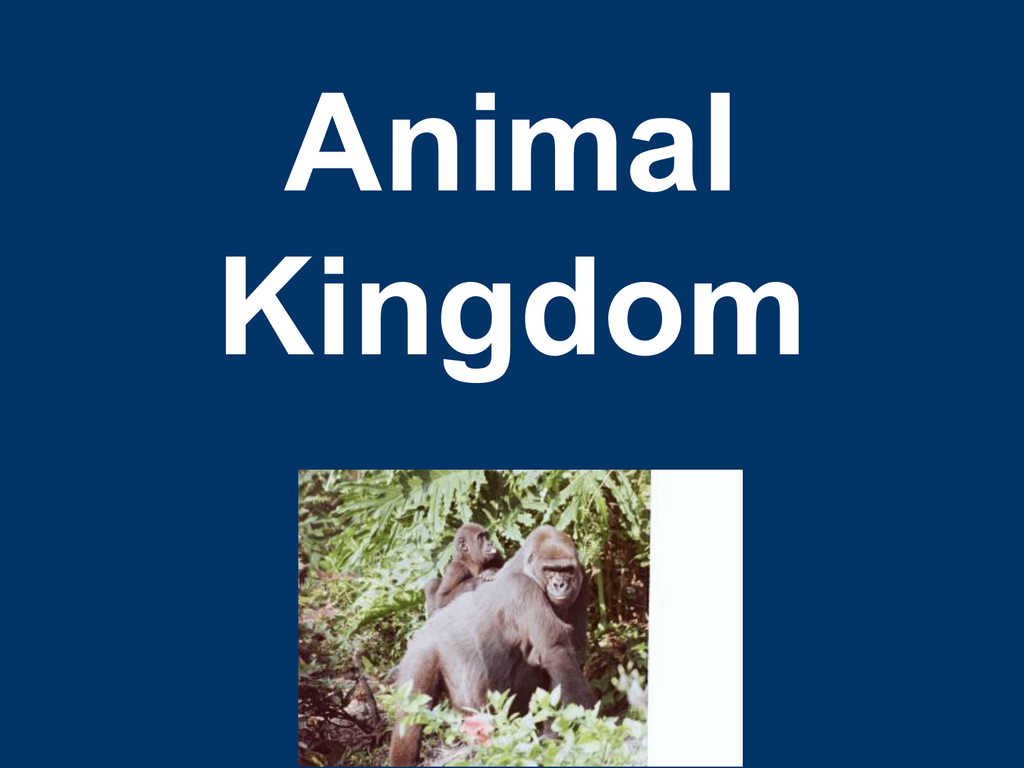 Animal
Kingdom
• Heterotrophs
• Multicellular and eukaryotic with no cell
walls
• Invertebrates
– 95% of all animals
– No backbone or vertebral column
Vertebrates
• 5% of all animals
• Have a backbone
• Fish,
amphibians,
reptiles, birds,
and mammals
What Animals Do To Survive
Feeding
– Herbivores, carnivores, omnivores, detritivores
– Filter feeders
– Symbiotic relationships
Respiration
– Diffusion vs. organ system to respire
Circulation
– Diffusion vs. circulatory system
Excretion
– Pumps water out of body vs. organs (kidneys)
Response
– Arrangement of nerve cells
Movement
– Sessile vs. motile
– Muscles
Reproduction
– Asexual vs. sexual
Trends in Animal Evolution
• Cell specialization and levels of
organization
• Cellstissuesorgansorgan
systems
• Body symmetry: arrangement of body
structures
– Radial: body divided into equal halves
– Bilateral: body divided into equal two
halves (left and right sides)
• Cephalization: sense organs and
nerve cells at front end of body
•
•
•
•
•
Body cavity: fluid-filled
space b/w the digestive
tract and body wall
Where you find internal
organs
Acoelomate: no body
cavity
– Digestive tract found
throughout the body
Pseudocoelomate: space
develops b/w body cavity
layers
– 1-way digestive tract
Coelomate: completely
surrounded fluid-filled
space
Phylum Porifera
•
•
•
•
•
Means "pore-bearers"
Tiny openings (pores) all over body
Sessile (do not move)
Simplest type of animal
Has spicules: spike-shaped structure made of
calcium
• Filter feeders
• Ex: sponges
Phylum Coelenterates (Cnidaria)
• Means "hollow gut"
• Soft bodied, carnivorous
• Have stinging tentacles around mouth
– Stinging cells inside tentacles
• Ex: hydra, jellyfish, sea anemone, coral
Phylum Platyhelminthes
•
•
•
•
Flatworms (flat body)
3 embryonic germ layers
Acoelomates (no fluid-filled body cavity)
Ex: tapeworms, Planaria, flukes
Phylum Nematoda
•
•
•
•
•
Roundworms
Parasitic, free-living
Unsegmented
Pseudocoelom (false coelom)
Digestive tract with 2 openings (mouth and
anus)
• Ex: Ascaris, hookworm, Trichenella, Filaria
Guinea Worm
Phylum Annelida
•
•
•
•
•
Segmented worms
Body has a lot of segments
Has true coelom
Tube within a tube digestive tract
Ex: earthworms, leeches, polychetes
Phylum Mollusca
• Means soft-bodied
• Have internal or external shell
• Foot, mantle, shell, visceral mass
Univalves
• 1 shell
• Ex: snails, conchs, slugs
Bivalves
• 2 shells held together by powerful
muscles
• Ex: clams, oysters, mussels, scallops
Cephalopods
• Means "head-foot"
• Ex: octopus, squid, nautilus, cuttlefish
Phylum Arthropoda
•
•
•
•
Segmented body
Tough exoskeleton (made of chitin)
Means "jointed-leg"
Undergo molting and metamorphosis
Arachnids
• 2 body segments
• 8 legs
• Ex: spiders, scorpions, ticks,
mites
Crustaceans
• Live only in water
• Chewing mouthparts called
mandibles
• Ex: crayfish, lobster, crabs, shrimp
Insects
• 3 body segments
–Head, thorax, abdomen
• 6 legs
• Ex: flies, bees, grasshopper
Myriapods
• A lot of legs
• Ex: centipedes, millipedes
Phylum Echinodermata
•
•
•
•
•
Means "spiny skin"
Internal skeleton
Water vascular system
Tube feet (suction-cup like structures)
Ex: sea urchins, starfish, sand dollars, sea
cucumbers, brittle stars
Ch. 26-34 Review #1
1. Invertebrates that have no coelom lack a
a. Heart
b. Body cavity
c. digestive tract
d. mouth
2. Invertebrates with mirror-image left and
right sides have ___.
a. bilateral symmetry
c. unilateral symmetry
b. bifunctional symmetry
d. radial symmetry
3. Describe the general characteristics of the
animal kingdom:
a. Prokaryotic or eukaryotic?
b. Autotrophs or heterotrophs?
c. Uni- or multicellular?
d. Have a cell wall?
Fish
•
•
•
•
•
•
•
•
•
Body Temperature: cold-blooded (ectotherm)
Fertilization: external
Body covering: scales
Limbs: fins
Respiration: gills
Method of reproduction: lay eggs in water
Aquatic animals
Streamline shape
2-chambered heart
Jawless Fish
• Jawless (Agnatha): lampreys, hagfish
Cartilaginous Fish
• Cartilaginous (Chondrichthyes): sharks,
skates, rays
Bony Fish
• Bony (Osteichthyes): lobe-finned,
lungfish, ray-finned
Amphibians
• Body Temperature: cold-blooded
(ectotherm)
• Fertilization: external
• Body covering: smooth, moist skin
• Limbs: 4 webbed feet)
• Respiration: lungs and skin
• Method of reproduction: lay eggs in
water
• 3-chambered heart
• Goes through metamorphosis
(tadpole frog)
• Ex: Caecilians, frogs, salamanders,
newts, mudpuppies
Reptiles
• Body Temperature: cold-blooded
(ectotherm)
• Fertilization: internal
• Body covering: dry, scaly skin
• Limbs: 4 (feet with claws)
• Respiration: lungs
• Method of reproduction: lay eggs on
land
•
•
•
•
Terrestrial
3-chambered heart
Hard-shelled eggs (amniotic eggs)
Ex: turtles, snakes, crocodiles,
alligators, tuatara
Birds
• Body Temperature: warm-blooded
(endotherm)
• Fertilization: internal
• Body covering: feathers
• Limbs: 4 (2 wings, 2 legs)
• Respiration: lungs
• Method of reproduction: lay eggs on
land
•
•
•
•
•
4-chambered heart
Hollow bones (makes lightweight)
Toothless beak
Amniote egg
Ex: swimming, raptors, perching,
flightless, wading
Mammals
•
•
•
•
•
•
Body Temperature: warm-blooded (endotherm)
Fertilization: internal
Body covering: skin with hair
Limbs: 4
Respiration: lungs
Method of reproduction: give birth to live
young
• 4-chambered heart
• Nurse young
• Large, well-developed brains
Monotremes
• Monotremes egg laying
–Duck-billed platypus, spiny anteater
Marsupials
• Marsupials  pouched
–Kangaroo, opossum
Placental Mammals
• Placental  young in uterus
nourished by placenta
–11 orders
–Ex: humans, horses, cows…etc.
Animal Behavior
• Behavior: what an animal does in response to a
stimulus
– Ex: environment, feeding, mating
• Innate behavior: inherited behavior
– Reflex  automatic response to a stimulus (no
conscious control)
– Fight-or-flight response  gets body ready for
greater activity
• Automatic response (controlled by hormones and
nervous system)
• Instinctive behavior: involve more
complex actions
– Courtship behavior: males and females
carry out before mating
– Territory: physical space an animal
defends against other members of its
species
• Uses pheromones to mark territory
• Aggressive behavior: used to
intimidate another animal of the same
species
• Dominance hierarchy: different levels
of dominant and submissive animals
– Pecking order
• Circadian rhythm: 24
hour, light-regulated
sleep/wake cycle of
behavior
– Controlled by
genes
• Migration: rhythms
that occur on a yearly
or seasonal cycle
– Seasonal
movements of
animals
• Hibernation: body
temperature drops,
oxygen consumption
decreases, breathing
rate drops to
conserve energy
• Estivation: state of
reduced metabolism
in high heat
environments
Learned Behavior
• Habituation: animal is repeatedly given a
stimulus not associated with punishment or
reward
• Imprinting: form social attachment to another
object
• Trial-and-error learning
• Motivation
• Classical conditioning learning by association
• Insight  using previous experiences to
respond to a new situation
Ch. 26-34 Review #2
1. The process of fertilization in which adults
release eggs and sperm into surrounding
water is called ___.
a. asexual reproduction
b. asexual fertilization
c. internal fertilization
d. external fertilization
2. The process in which eggs are fertilized
inside the body of a female is called ____.
a. internal fertilization
b. asexual fertilization
c. external fertilization
d. asexual reproduction
3. What does an ectotherm use to warm up?
4. Egg-laying mammals are called ____.