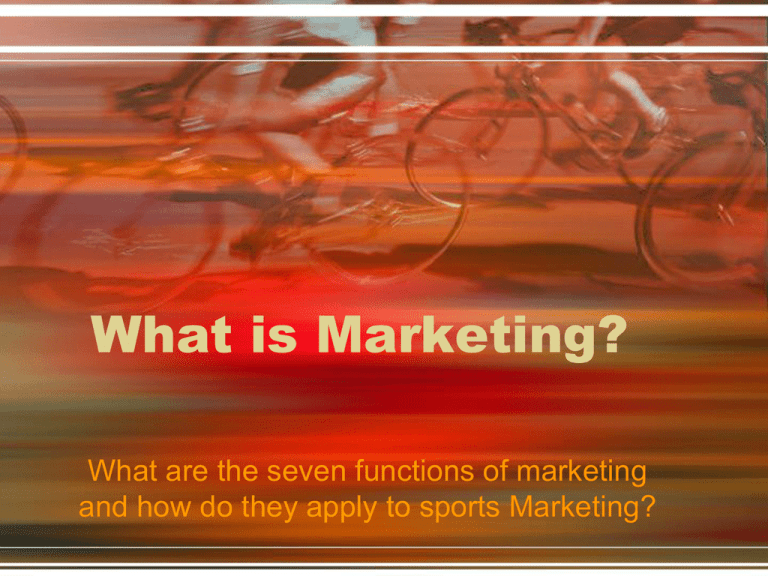 What is Marketing?
What are the seven functions of marketing
and how do they apply to sports Marketing?
What is marketing?
Marketing:
all business functions involved in
developing, promoting, and distributing
products in order to satisfy customers'
needs and wants.
Products include both Goods and Services
Marketing
Goods are tangible products
Products that can be touched
Includes: Sports equipment
Bobble-Head Dolls
T-Shirts
Services are intangible products
Products that can not be touched
Includes: Ticket buying services
Entertainment
Functions Of Marketing
All the marketing activities you see daily can
be classified into seven functions of
marketing
Seven Functions of Marketing
Research
MIM
Selling
MIM=Marketing Information Management
Planning
Marketing
Promotion
Distribution
Pricing
Financing
Marketing Research
or
Marketing Information Management
The process of collecting the marketing
information needed to make sound
business decisions.
How much to charge for tickets
Which products to carry
Product Packaging
Labeling
Branding
Product Planning
All the decisions a business makes in the
production and sales of its goods and
services.
Which products (Player/movies) to carry
Product Name
Product Packaging (Uniforms/Stadium/Theater)
Labeling
Branding
Distribution
Making decisions about where to sell your
product, how to get them there, and how to
store them.
Includes:
Marketing Channels:
Retail, Online, Door to Door
Methods of transportation
Storage/Warehousing
Financing
Locating and securing monies needed to
operate a business and develop new
products.
Includes decisions about customer credit and
payment options.
Pricing
Deciding how much to charge for goods and services
Price Affected by:
»
»
»
»
»
»
»
»
Competition
Customer
Costs of gathering information (Research)
Costs of financing business
Costs of Payroll
Costs of advertising and promotion
Distribution costs
Level of profit
Pricing
What is a "reasonable price?"
Whatever the customer is willing to pay.
Promotion
Any form of communication used to inform,
persuade, or remind people about
business's products, and improve it's public
image.
Advertising
Public Relations
Sales Promotion
Personal Selling
Visual Merchandising
Selling
Providing customers with
goods and services they want to buy.
Includes selling in the retail market to you,
and in the industrial market where products
are purchased for use in business operations.
Review
What is marketing?
What are the seven functions of marketing
Give an example of a good and a service.