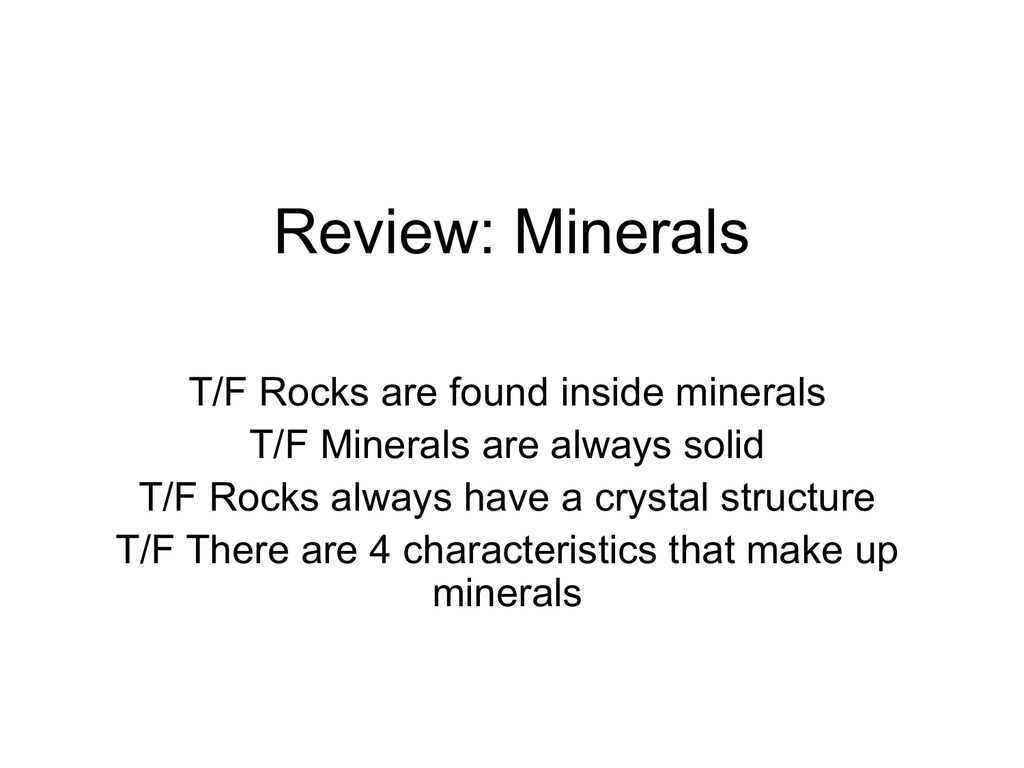 Review: Minerals
T/F Rocks are found inside minerals
T/F Minerals are always solid
T/F Rocks always have a crystal structure
T/F There are 4 characteristics that make up
minerals
5 Physical Properties of Minerals
•
•
•
•
•
Color
Streak
Luster
Cleavage
Hardness
Color
• Most minerals have a limited color range
– Least accurate way to identify a mineral
– Different things cause color to vary
• Being at/near Earth's surface
• Defects
Streak
• The color of the powder left behind when
the mineral is scraped across a surface
– This method is much better than relying on
color
– Wulfenite and Rubies are both red, but they
have different hardness
Luster
• How it shines:
– Metallic
• Looks like it's made of metal
– Non-metallic
• Does not look like a metal
Cleavage and Fracture
• How it breaks gives us more information
than color and luster
• Fracture
– Breaks into irregular pieces
– Bonds are equal in all directions
• Cleavage
– Breaks along flat surfaces
– Weaker bonds
– Broken surfaces that are smooth
Hardness
• How resistant the
mineral is to being
scratched
• We use Mohs scale
that is listed to the
side 
HARDNESS
SCALE
INDEX
MINER
AL
1
Talc
2
Gypsum
3
Calcite
4
Fluorite
5
Apatite
COMMON
OBJECT
S
Fingernail 2.5
Copper Penny 3
Glass 5.5
6
Orthoclase
Steel Knife 6.5
7
Quartz
8
Topaz
9
Corundum
10
Diamond
More info on Hardness
• The Moh's Hardness Scale ranks the order of
hardness. For example, your fingernail can
scratch the minerals talc and gypsum because
those minerals have a hardness of 2 or lower. A
copper penny can scratch calcite, gypsum, and
talc.
• Any mineral can scratch glass as long as it has a
hardness > (greater than) 6.