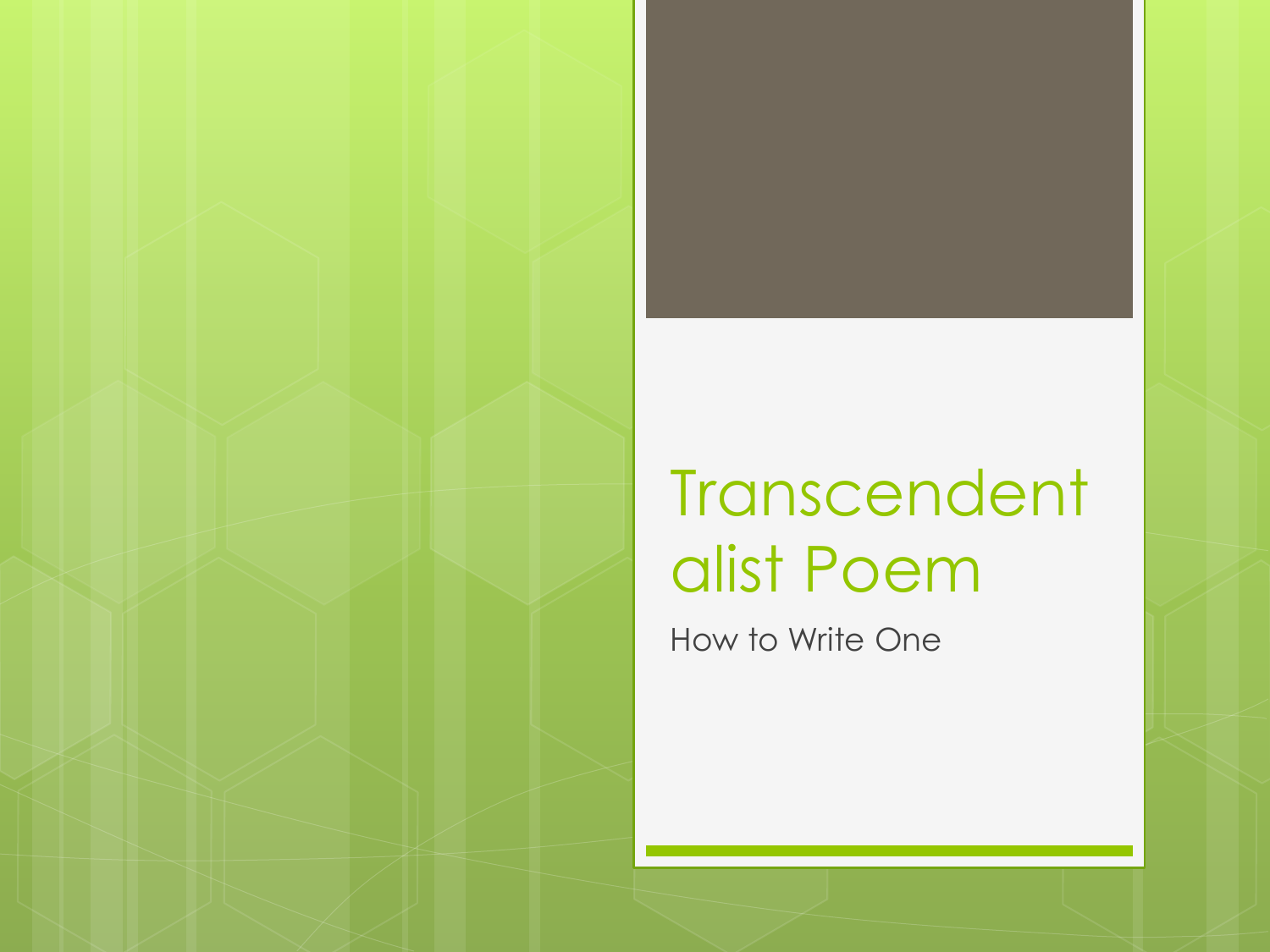 Transcendent
alist Poem
How to Write One
The Transcendentalist movement was a
protest against intellectualism and
empiricism; it emerged in the 1830s.
Writers like Ralph Waldo Emerson and Henry
David Thoreau believed that a person's
physical state could be transcended by a
spiritual state; intuition rather than
rationalization was the key to this state of
being.
The Transcendentalists believed that
connecting with nature could bring one
closer to this transcended state.
Transcendentalist poem, whether for English
class or your own personal pleasure, can
help you understand your spiritual side.
First
Read the poems of some of the
Transcendentalists. These include Thoreau's
"The Summer Rain," Emerson's "Berrying" and
Whitman's "Leaves of Grass." Study the
overarching themes in the poems.
 Transcendentalist
poets wrote about how
nature uplifted them and connected
them to something greater than
themselves. They celebrated the beauty
of the natural world and of human nature.
 The
notion of an "over-soul" was a
Transcendental ideal, which Emerson
discusses in detail in his essay of the same
name.
The Transcendentalists believed that there
was a force that tied all people and nature
to one another.
Second
Thoreau lived in a cabin on Walden Pond to
get closer to the natural world and was
inspired by the things he saw. Emerson
attempted to see the world as a
"transparent eyeball," perceiving all in
nature, including human nature, that he
possibly could. Let nature serve as your
inspiration. Think about how the things you
observe when you are in nature uplift you
and write down how you feel.
Third
Begin a rough draft of your poem. Don't dwell
on how well you write at this point, but let your
thoughts flow onto the paper. Think about what
makes you an individual, your own uniqueness,
but also about the things that tie you to the
human race. Think about how being in nature
makes you feel and how nature can uplift the
soul. Consider the beauty of nature and the
goodness of human nature. Consider, also, the
over-soul and the bonds that tie humans and
the natural world together.
Fourth
Fine-tune the details of your poem. It does
not have to rhyme or even adhere to
stanzas. Never sacrifice meaning or purpose
for rhyme scheme. Thoreau's "The Summer
Rain" employs rhyme, but Emerson's
"Berrying" does not. Use whatever form suits
you. The main thing to keep in mind is the
content of the poem.
"Berrying" by Emerson
"May be true what I had heard,
Earth's a howling wilderness
Truculent with fraud and force,"
Said I, strolling through the pastures,
And along the riverside.
Caught among the blackberry vines,
Feeding on the Ethiops sweet,
Pleasant fancies overtook me:
I said, "What influence me preferred
Elect to dreams thus beautiful?"
The vines replied, "And didst thou deem
No wisdom to our berries went?"
"Leaves of Grass" link
http://www.whitmanarchive.org/published/
LG/1867/images/leaf006r.html
"The Summer Rain" by
Thoreau
My books I'd fain cast off, I cannot read,
'Twixt every page my thoughts go stray at
large
Down in the meadow, where is richer feed,
And will not mind to hit their proper targe.
Plutarch was good, and so was Homer too,
Our Shakespeare's life were rich to live again,
What Plutarch read, that was not good nor true,
Nor Shakespeare's books, unless his books
were men.
Here while I lie beneath this walnut bough,
What care I for the Greeks or for Troy town,
If juster battles are enacted now
Between the ants upon this hummock's
crown?
Bid Homer wait till I the issue learn,
If red or black the gods will favor most,
Or yonder Ajax will the phalanx turn,
Struggling to heave some rock against the
host.
Tell Shakespeare to attend some leisure hour,
For now I've business with this drop of dew,
And see you not, the clouds prepare a
shower—
I'll meet him shortly when the sky is blue.
This bed of herd's grass and wild oats was
spread
Last year with nicer skill than monarchs use.
A clover tuft is pillow for my head,
And violets quite overtop my shoes.
And now the cordial clouds have shut all in,
And gently swells the wind to say all's well;
The scattered drops are falling fast and thin,
Some in the pool, some in the flower-bell.
I am well drenched upon my bed of oats;
But see that globe come rolling down its stem,
Now like a lonely planet there it floats,
And now it sinks into my garment's hem.
Drip drip the trees for all the country round,
And richness rare distills from every bough;
The wind alone it is makes every sound,
Shaking down crystals on the leaves below.
For shame the sun will never show himself,
Who could not with his beams e'er melt me so;
My dripping locks—they would become an elf,
Who in a beaded coat does gayly go.