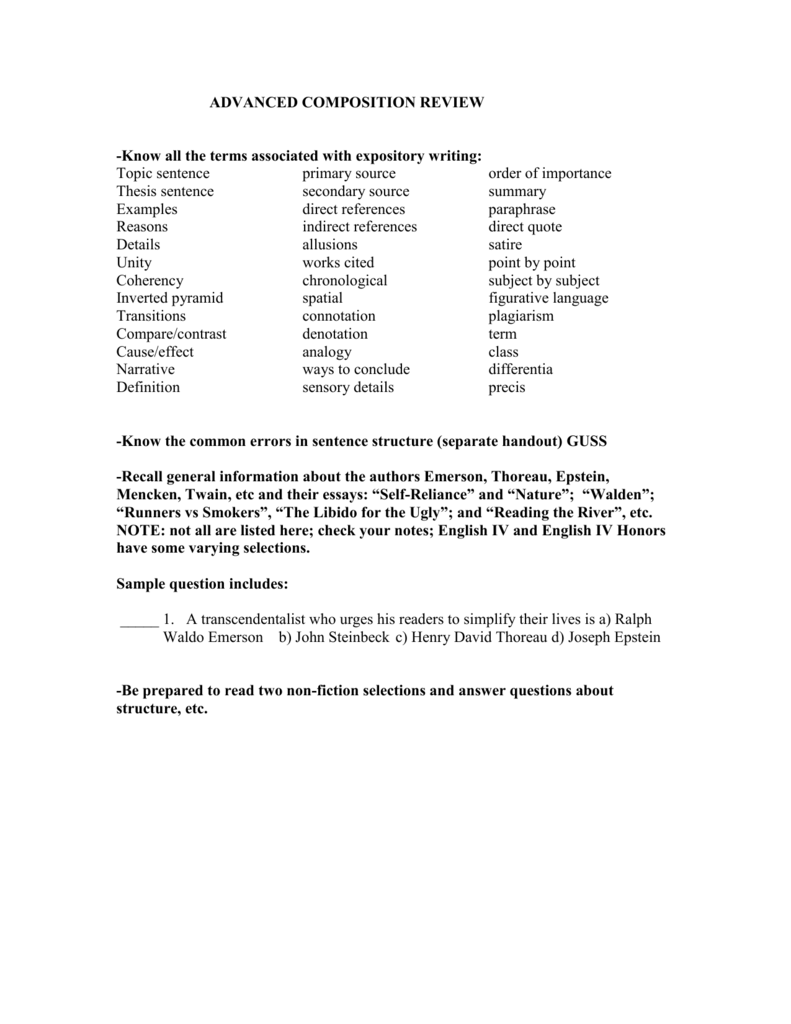 ADVANCED COMPOSITION REVIEW
-Know all the terms associated with expository writing:
Topic sentence
primary source
Thesis sentence
secondary source
Examples
direct references
Reasons
indirect references
Details
allusions
Unity
works cited
Coherency
chronological
Inverted pyramid
spatial
Transitions
connotation
Compare/contrast
denotation
Cause/effect
analogy
Narrative
ways to conclude
Definition
sensory details
order of importance
summary
paraphrase
direct quote
satire
point by point
subject by subject
figurative language
plagiarism
term
class
differentia
precis
-Know the common errors in sentence structure (separate handout) GUSS
-Recall general information about the authors Emerson, Thoreau, Epstein,
Mencken, Twain, etc and their essays: "Self-Reliance" and "Nature"; "Walden";
"Runners vs Smokers", "The Libido for the Ugly"; and "Reading the River", etc.
NOTE: not all are listed here; check your notes; English IV and English IV Honors
have some varying selections.
Sample question includes:
_____ 1. A transcendentalist who urges his readers to simplify their lives is a) Ralph
Waldo Emerson b) John Steinbeck c) Henry David Thoreau d) Joseph Epstein
-Be prepared to read two non-fiction selections and answer questions about
structure, etc.