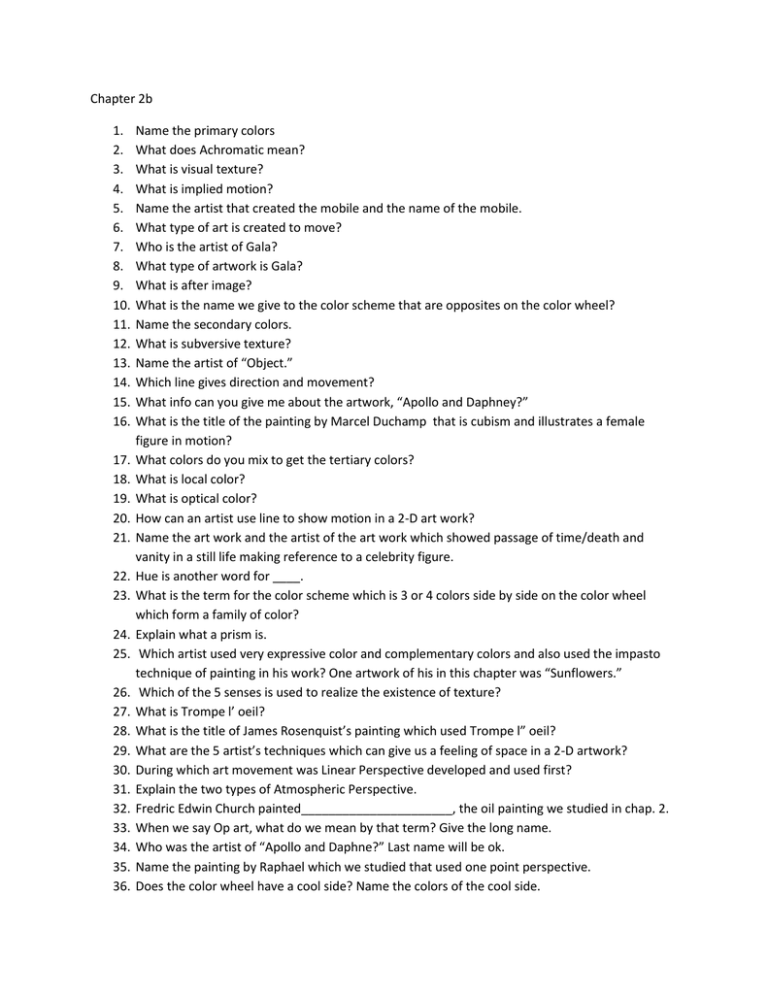 Chapter 2b
1.
2.
3.
4.
5.
6.
7.
8.
9.
10.
11.
12.
13.
14.
15.
16.
17.
18.
19.
20.
21.
22.
23.
24.
25.
26.
27.
28.
29.
30.
31.
32.
33.
34.
35.
36.
Name the primary colors
What does Achromatic mean?
What is visual texture?
What is implied motion?
Name the artist that created the mobile and the name of the mobile.
What type of art is created to move?
Who is the artist of Gala?
What type of artwork is Gala?
What is after image?
What is the name we give to the color scheme that are opposites on the color wheel?
Name the secondary colors.
What is subversive texture?
Name the artist of "Object."
Which line gives direction and movement?
What info can you give me about the artwork, "Apollo and Daphney?"
What is the title of the painting by Marcel Duchamp that is cubism and illustrates a female
figure in motion?
What colors do you mix to get the tertiary colors?
What is local color?
What is optical color?
How can an artist use line to show motion in a 2-D art work?
Name the art work and the artist of the art work which showed passage of time/death and
vanity in a still life making reference to a celebrity figure.
Hue is another word for ____.
What is the term for the color scheme which is 3 or 4 colors side by side on the color wheel
which form a family of color?
Explain what a prism is.
Which artist used very expressive color and complementary colors and also used the impasto
technique of painting in his work? One artwork of his in this chapter was "Sunflowers."
Which of the 5 senses is used to realize the existence of texture?
What is Trompe l' oeil?
What is the title of James Rosenquist's painting which used Trompe l" oeil?
What are the 5 artist's techniques which can give us a feeling of space in a 2-D artwork?
During which art movement was Linear Perspective developed and used first?
Explain the two types of Atmospheric Perspective.
Fredric Edwin Church painted______________________, the oil painting we studied in chap. 2.
When we say Op art, what do we mean by that term? Give the long name.
Who was the artist of "Apollo and Daphne?" Last name will be ok.
Name the painting by Raphael which we studied that used one point perspective.
Does the color wheel have a cool side? Name the colors of the cool side.