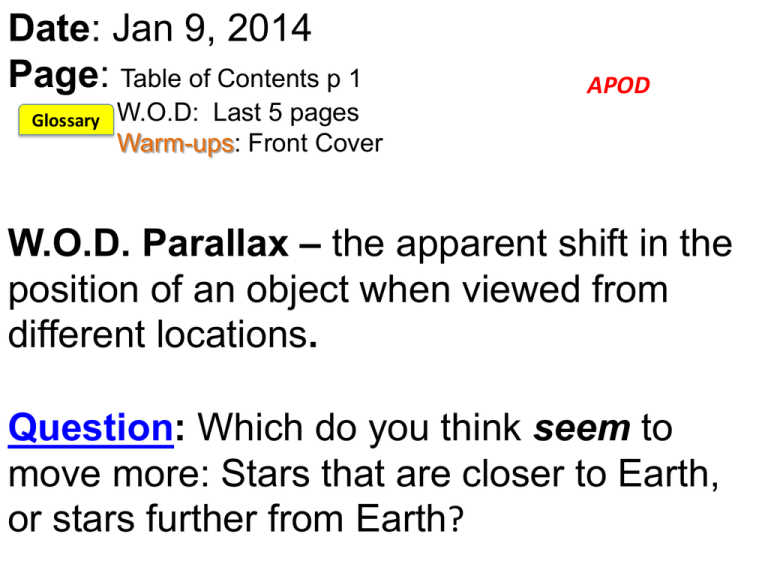 Date: Jan 9, 2014
Page: Table of Contents p 1
Glossary
APOD
W.O.D: Last 5 pages
Warm-ups: Front Cover
W.O.D. Parallax – the apparent shift in the
position of an object when viewed from
different locations.
Question: Which do you think seem to
move more: Stars that are closer to Earth,
or stars further from Earth?
Today's Plan
•
•
•
•
Yoga
Parallax demo
Finish text reading about stars
Finish Milky Way Galaxy and hang it from
ceiling.
• Reflection
• Current Events due next week
The Milky Way has 4 Spiral Arms
Thanks to
students who
reported this
in their
current
events!
Constellation Perseus
Astronomy Table of Contents (p. 1)
Title
Page Number:
• Cosmic Death Ray
p. 2
• Find someone who…/Famous Astronomers p.3
• Electromagnetic Spectrum
p.4
• Current Events #1
p. 5
• Big Bang Theory Video Questions
p. 6
• Big Bang Balloon Lab
p.7
• Current Events #2
p.8
• Galaxy Notes
p. 9
• Milky Way mini-Lab/Webquest
p. 10
• Model of the Milky Way Directions p.11
• Current Events #3
p.12
• Stars reading and questions
p. 13
Stars Reading Text p. 32-39
• Read the section review questions on page 39.
• Read the chapter (p. 32-39)
• Answer 5 reading checks as you read (SNB p.
13)
• Answer section review questions (SNB p 13).
• Complete Milky Way Galaxy Model.
• If complete, go on to read and answer p. 4045.
Build your own Galaxy
Supplies:
• Directions
• Glue (share)
• Glitter
• Cotton Balls
• 2 black construction-paper circles, 30cm diameter
• Directions page
• String to hang your project
Reflection : How many main
arms does the Milky Way have?