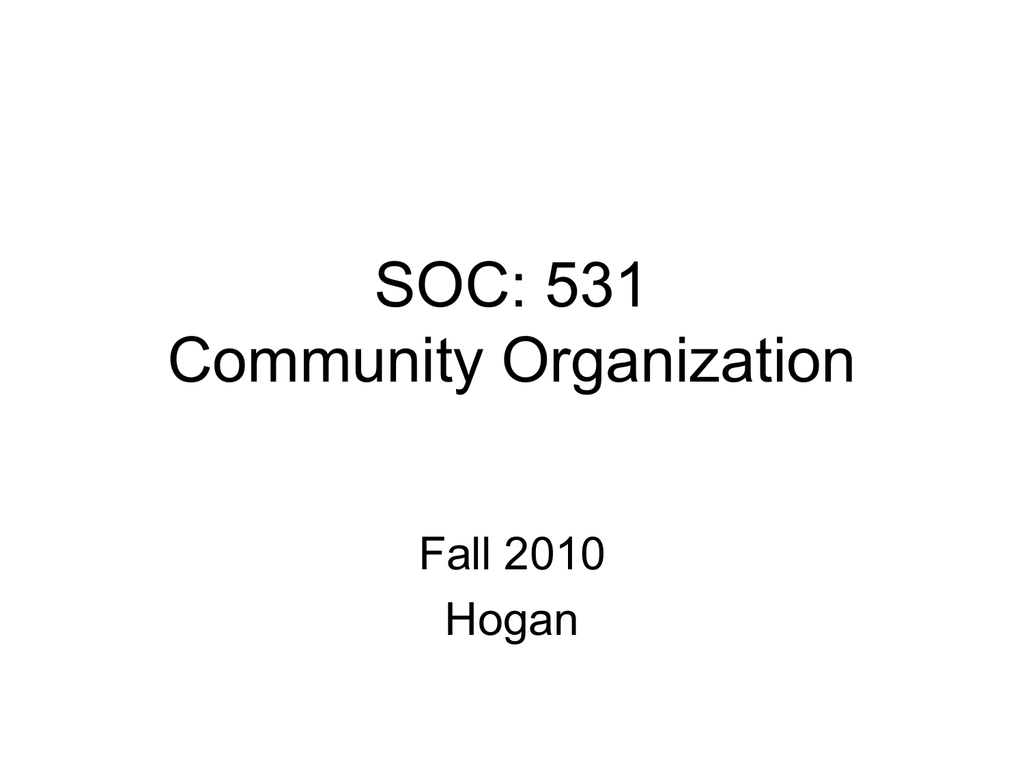 SOC: 531
Community Organization
Fall 2010
Hogan
About SOC 531
• This course has been taught for years
– by Profesor Emeritus Harold Potter
– who is still pursuing research on the origins
environmentalism
• the environmental movement
• environmental science
• environmental sociology
About 531 (continued)
• Why this course is called Community
Organization is a mystery to me
– but it certainly was part of the old Social
Organization (called "Structure and Process"
at Purdue) section
– when (in late 1970s) all sociology (at least at
Michigan and at Purdue) was divided into
three parts
• social organization
• social psychology
• demography and ecology
SOC 531 (cont)
• In keeping with tradition
– I have not changed the name or number of
this course
– I have accepted a cart load of books and
videos which my dear friend and colleague,
Harry Potter, offered me when he was
cleaning out his office
– I will continue to focus on the social
organization (or macro) aspects of community
About 531 (cont)
• However, I will give this course my own
stamp (or distinctive style)
– the approach will be theoretical: what is a
community?
– the approach will be historical: we will start in
the late nineteenth century and proceed to the
21st
– we will read and write a lot
– and I will try to get you engaged in the course
About 531 (cont)
• Engaging the student
– first, I will try to learn your names and will
institute a seating chart for that purpose
– second, I will encourage you to talk in class
• by asking questions
• by enduring awkward silences
• by forming small groups for more intimate
discussion
– third, I will ask you to write about something
that interests you
About Soc 531
• If you are not interested in these questions
– What is a community?
– What are community studies?
– How are communities established?
– How and why do communities change?
• Then you should look for a different 500
level SOC course (e.g., 525: Social
Movements)
SOC 531 (cont)
• Alternatively, even if you don't like theory
or history
• And you don't like the questions
• You might be interested in a community
– where you live (West Lafayette)
– where you grew up (San Diego)
– where you would like to visit (Madison, WI)
– where your anscestors lived (Limerick,
Ireland)
SOC 531 (cont)
• This course will offer you the opportunity
to do some research
– you will read classic studies
– you will read the best of latest crop of awardwinning community studies people
– you will be encouraged to read more of both
– you will also be encouraged to gather
information on your own
SOC 531 (cont)
• The rules are simple
– read the syllabus for the details
– come to class prepared to discuss
• assigned readings
• topics (four questions and previous discussions)
• assigned writing (what you have actually written
and I have commented on and returned to you)
• your community or community study or whatever
you intend to write about for your final paper
Questions?
• We will populate the website with stuff that
you and I produce
• I will also ask my students, colleagues,
and friends to allow me to share stuff that
they have produced
• Is there anything else I can tell you today?