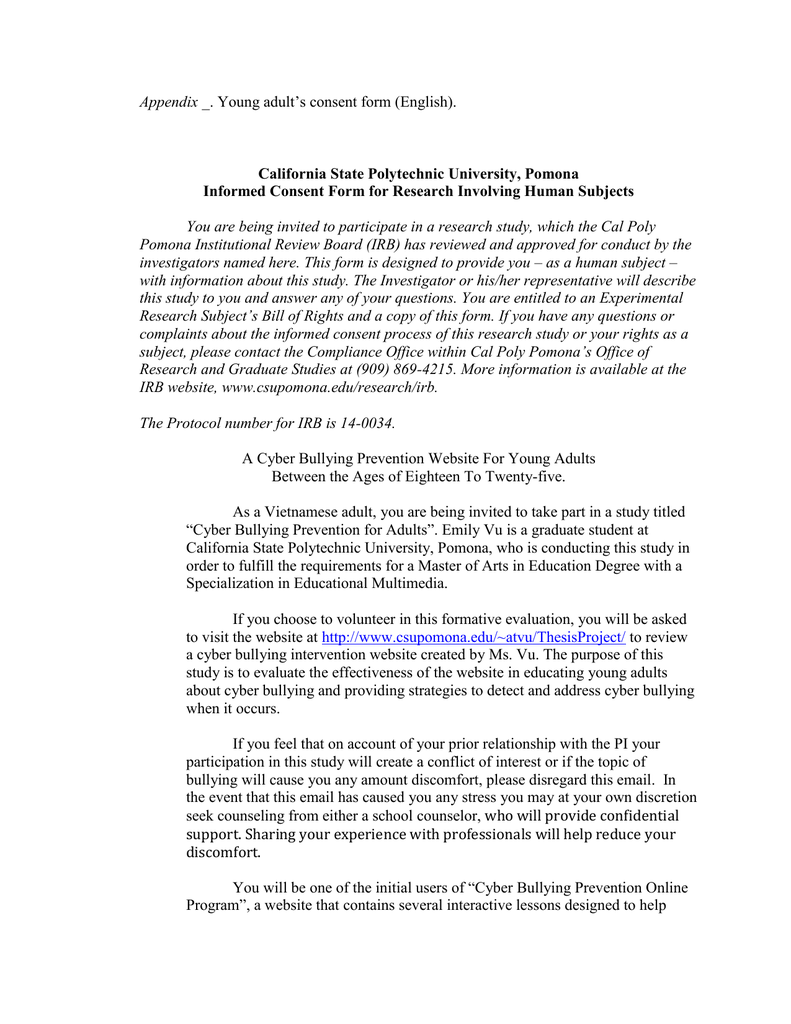 Appendix _. Young adult's consent form (English).
California State Polytechnic University, Pomona
Informed Consent Form for Research Involving Human Subjects
You are being invited to participate in a research study, which the Cal Poly
Pomona Institutional Review Board (IRB) has reviewed and approved for conduct by the
investigators named here. This form is designed to provide you – as a human subject –
with information about this study. The Investigator or his/her representative will describe
this study to you and answer any of your questions. You are entitled to an Experimental
Research Subject's Bill of Rights and a copy of this form. If you have any questions or
complaints about the informed consent process of this research study or your rights as a
subject, please contact the Compliance Office within Cal Poly Pomona's Office of
Research and Graduate Studies at (909) 869-4215. More information is available at the
IRB website, www.csupomona.edu/research/irb.
The Protocol number for IRB is 14-0034.
A Cyber Bullying Prevention Website For Young Adults
Between the Ages of Eighteen To Twenty-five.
As a Vietnamese adult, you are being invited to take part in a study titled
"Cyber Bullying Prevention for Adults". Emily Vu is a graduate student at
California State Polytechnic University, Pomona, who is conducting this study in
order to fulfill the requirements for a Master of Arts in Education Degree with a
Specialization in Educational Multimedia.
If you choose to volunteer in this formative evaluation, you will be asked
to visit the website at http://www.csupomona.edu/~atvu/ThesisProject/ to review
a cyber bullying intervention website created by Ms. Vu. The purpose of this
study is to evaluate the effectiveness of the website in educating young adults
about cyber bullying and providing strategies to detect and address cyber bullying
when it occurs.
If you feel that on account of your prior relationship with the PI your
participation in this study will create a conflict of interest or if the topic of
bullying will cause you any amount discomfort, please disregard this email. In
the event that this email has caused you any stress you may at your own discretion
seek counseling from either a school counselor, who will provide confidential
support. Sharing your experience with professionals will help reduce your
discomfort.
You will be one of the initial users of "Cyber Bullying Prevention Online
Program", a website that contains several interactive lessons designed to help
young adults learn about safe strategies when faced with cyber bullying situations.
You will be encouraged to explore the website and try several of the lessons.
After you have spent some time interacting with the website, you will be asked to
submit your opinions about the website through an anonymous survey available at
https://docs.google.com/forms/d/1hrqwN7LRES8_boQg3wV5PsEsLK9mI4MFYXy8_eWPC0/edit.
Participation in this study is not mandatory – it is completely voluntary. If you
choose to participate, you may elect to stop participating in the study at any time,
with no consequence. Choosing to participate will not improve your current
leadership standing in the Vietnamese Eucharistic Youth Group in any way, while
choosing not to participate will not harm you in any way. You will not be
compensated for participating.
Based on the research that is being done, there is a minimal risk to you.
Any data collected will be compiled so that no responses can be linked to any
participant. The researcher (Emily Vu) will be the only individual who will have
access to any data collected during this study. To ensure the protection and
security of any data collected, it will all be stored in the researcher's password
protected home computer. All data will be provided anonymously and kept
anonymous. Furthermore, any data collected through this study will be destroyed
after the study is complete.
If you have any questions or concerns, you may contact the researcher by
phone at (626) 217-7919, or by e-mail at [email protected] You may also
contact the researcher's graduate advisor at California State Polytechnic
University, Pomona, Dr. Christina Dehler, by phone at (909) 869-4084 or by email at [email protected] If you would like to visit the website, you
may do so by going to: http://www.csupomona.edu/~atvu/thesisproject/.
Your feedback will inform the researcher of the modifications needed to
improve the website and will be included in her master's thesis. If you consent to
participate in this review of the website, please type your name and today's date
in the spaces provided at the bottom of this consent form, save, and return it to the
researcher at [email protected], via email attachment, from your email
account. This will serve as your electronic signature and your consent to
participate in this study.
Printed Name of Principal Investigator: Emily Vu
Printed Name of Graduate Advisor: Christina Dehler
I hereby consent to participate in this voluntary study. I will return the consent form
electronically through email to Emily Vu at [email protected] This is an anonymous
survey and it cannot be traced back to me.
_____________________________________________
__________________
Printed Name of Participant
Date
You may print out a copy of this consent form for your record. Thank you for your
time and participation.