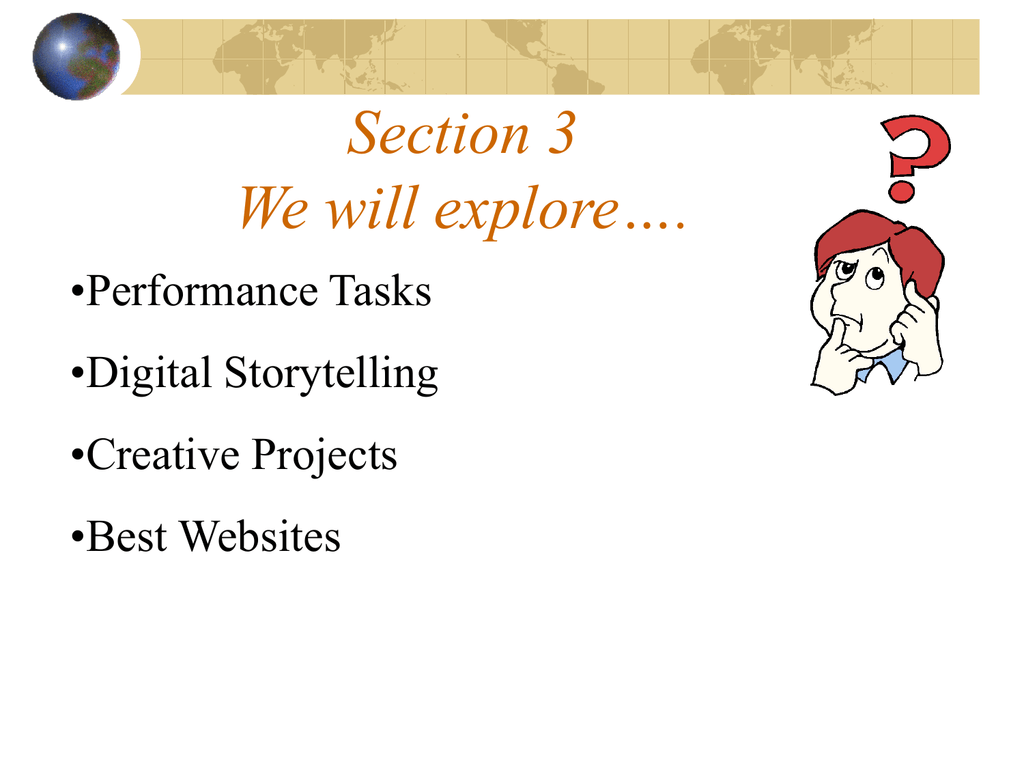 Section 3
We will explore….
•Performance Tasks
•Digital Storytelling
•Creative Projects
•Best Websites
Performance Tasks
95
We Were There, Too
Creative Reporting
Historical figures,
Reports in a box
Stamp collections
Political Cartoons
Game Boards
130
Student Projects
100
101
Photo Story 3
Photostory on France
Digital Storytelling Using
PowerPoint
Holocaust
Chicago Fire
Industrial Revolution
Celebrations
History of the
World
Climates
126
Student Treasures
Sample Pages
Best Websites: Digital History
www.digitalhistory.uh.edu
Best Websites: teachinghistory.org
Best Websites: National Council for the Social
Studies www.ncss.org
Best Websites: World History Ideas
mrdonn.org
Best Websites: The Best of History
www.besthistorysites.net
More Performance Tasks
PRO
CON
PRO
CON
Academic Controversy
Was the United States right to drop an atomic bomb on Hiroshima?
138
Should the United States, in its world leadership role, renounce
and dismantle its nuclear weapons?
Creative Reporting
Historical
Highlights Book
Jacket
Inside
Front
Flap
(summary)
Front Cover
(illustration)
Inside
Back
Cover
(About the
author)
140
Performance Tasks
Reporting Live
From the
Scene…
140
Assignment: Prepare a 3-5 minute newscast as if you were a
news reporter on the scene when the event occurred.
Quilts and Collages
History's link
to Geography
TGT
People, Places
and
Environments
Silent
Trade
Virtual
Field Trips
People, Places, and
Environment
23
•Think/Pair/Share
Do your students read the
newspaper?
Do your students watch the
television news?
www.current.com
Virtual Field Trips
A virtual field trip is a web tour of
sites that allow students to go to
places and explore topics as if they
were really there.
28
http://www.uen.org/utahlink/tours/
Utah Education Network
Teaching with Video: PBS.org
Webquests
How many types of performance
tasks can you name?
Cereal boxes
Diaries
Historic figures
Technology projects
Photostories
Digital story telling
Videos
Virtual field trips
Webquests
It's Time for a Break!!
TPS
Take
10
When you return
for the final
section, you will
look at classroom
uses for Google
Earth and
strategies for
discussion and
review!