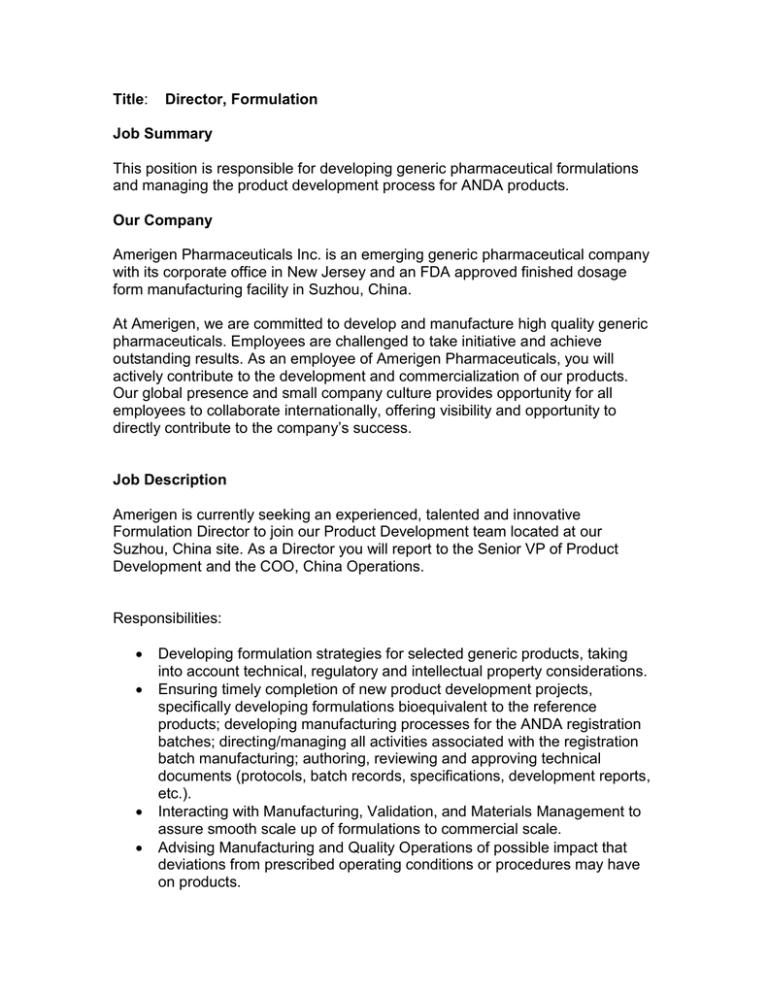 Title:
Director, Formulation
Job Summary
This position is responsible for developing generic pharmaceutical formulations
and managing the product development process for ANDA products.
Our Company
Amerigen Pharmaceuticals Inc. is an emerging generic pharmaceutical company
with its corporate office in New Jersey and an FDA approved finished dosage
form manufacturing facility in Suzhou, China.
At Amerigen, we are committed to develop and manufacture high quality generic
pharmaceuticals. Employees are challenged to take initiative and achieve
outstanding results. As an employee of Amerigen Pharmaceuticals, you will
actively contribute to the development and commercialization of our products.
Our global presence and small company culture provides opportunity for all
employees to collaborate internationally, offering visibility and opportunity to
directly contribute to the company's success.
Job Description
Amerigen is currently seeking an experienced, talented and innovative
Formulation Director to join our Product Development team located at our
Suzhou, China site. As a Director you will report to the Senior VP of Product
Development and the COO, China Operations.
Responsibilities:




Developing formulation strategies for selected generic products, taking
into account technical, regulatory and intellectual property considerations.
Ensuring timely completion of new product development projects,
specifically developing formulations bioequivalent to the reference
products; developing manufacturing processes for the ANDA registration
batches; directing/managing all activities associated with the registration
batch manufacturing; authoring, reviewing and approving technical
documents (protocols, batch records, specifications, development reports,
etc.).
Interacting with Manufacturing, Validation, and Materials Management to
assure smooth scale up of formulations to commercial scale.
Advising Manufacturing and Quality Operations of possible impact that
deviations from prescribed operating conditions or procedures may have
on products.





Developing, interpreting and explaining standard practice instructions and
procedures, and ensuring that they are complied with.
Managing, training, and developing scientific staff. Maintaining effective
communication within areas of responsibility.
Responsibility and authority for matters such as maintaining quality,
accuracy and quantity of work; giving advice, guidance, and direction;
dealing with routine problems; developing detailed internal work methods;
initiating recommendations on personnel matters.
Monitor and appraise the performance of personnel reporting to the
position
Overseeing and/or collaborating with external parties involved with
formulation development and/or manufacturing.
Qualifications












A Science degree is required, preferably in Pharmaceutics or Chemistry.
An advanced degree (PharmD, Masters, or PhD in a science related
discipline) is strongly preferred.
Minimum of 8-10 years of experience with pharmaceutical development
programs, preferably with generic product development.
Hands on experiences in developing and manufacturing solid oral dose
product, especially modified release products.
Solid understanding of cGMP.
Excellent interpersonal, supervisory, investigative, and implementation
skills.
Must have desire to work and excel in a rapidly changing, small company
environment where a "hands-on" approach is required.
Must have strong leadership abilities.
Requires the ability to influence others and communicate effectively,
written and orally, both internally and externally.
Must possess excellent written and verbal communication skills. Requires
the ability to prepare and review technical reports
Requires the ability to motivate, lead, and develop departmental staff from
an organizational as well as technical perspective
Demonstrated ability to work effectively in a team environment, manage
multiple priorities, exercise sound judgment, be well organized, take
initiative, be flexible, work well under pressure and produce accurate and
timely work.
Fluent in both Chinese and English.
Contact: Please send your resume to cwang@amerigenpharma.com.